If you're looking for an easy non-alcoholic drink to share with friends, then my fruit punch mocktail recipe is for you.
Packed with fruit juice and a refreshing ginger fizz, this pretty pink mocktail will have everyone chatting over the punch bowl.
This fruit punch recipe is a delicious mix of sweet orange juice, tangy cranberry, and tart lemon juice.
It's the perfect party drink that everyone can enjoy. My fruit mocktail is:
Easy: filled with a mix of juices you'll find in the supermarket year-round. So, you'll always have the ingredients on hand.
Healthy: vitamin C packed orange juice, and cranberry juice are the heroes of this mocktail. Use freshly squeezed (or squeeze yourself) orange juice to increase the nutritional benefits.
Fast: if you're looking for a drink that's quick and easy to make, punch is a great choice. It can also be made in advance for guests. Simply mix the fruit juices in the jug or bowl and keep them covered in the fridge. Then, add the ginger ale and garnishes once you're ready to serve.
Looks spectacular: this easy fruit punch mocktail is delicious and beautiful with vibrant cranberry hues. Tip: serve in a vintage punch bowl for the perfect baby shower drink.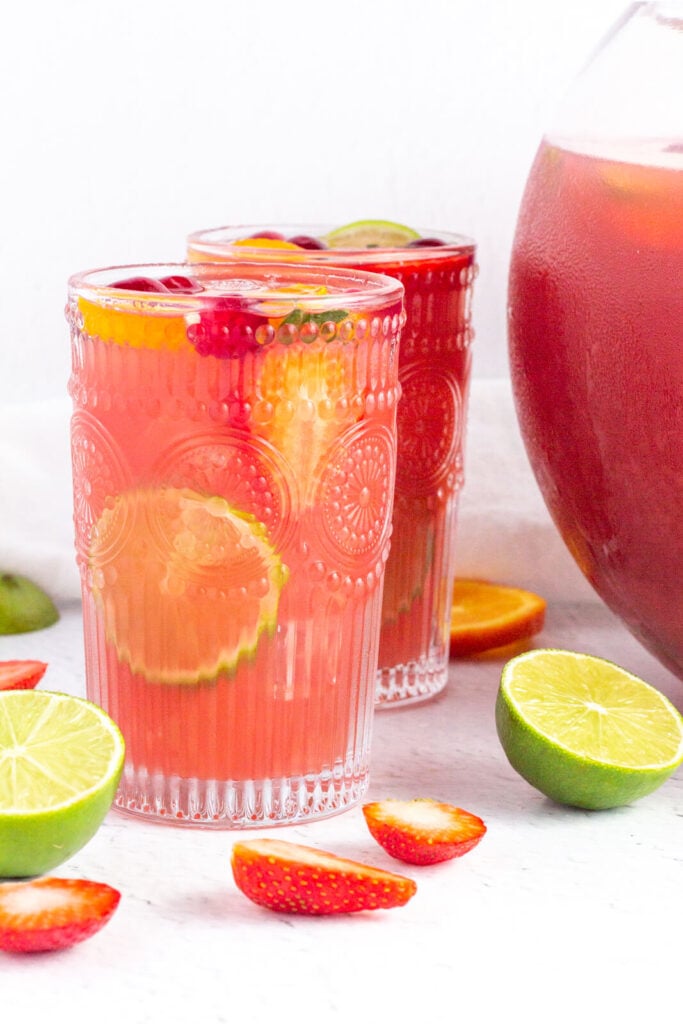 WHY IS IT CALLED FRUIT PUNCH?
Popular belief is that the word punch is borrowed from the Sanskrit word pañc, which means 5. Originally punch was made with 5 ingredients: alcohol, sugar, lemon, water, and tea or spices.
Nowadays, punch is commonly used to name alcoholic and non-alcoholic drinks containing a mixture of fruit or fruit juices.
My fruit punch mocktail uses cranberry juice to give it a natural pink hue. Whilst keeping the traditional flavours of orange and ginger ale that we all know and love.
EQUIPMENT YOU'LL NEED
Half the fun of making your mocktail fruit punch is in the presentation! So, go on, pull out a fancy bowl and make this lovely pink fizz the star of the show!
Glasses: punch is traditionally served in small glass cups, similar to a teacup. Mason or jam jars are an attractive modern option. However, feel free to use any glasses you have on hand.
Punch bowl: now's the time to bring out that punchbowl that's been sitting in the back of the cupboard! A large bowl or pitcher work just as well.
Ladle: if you're serving your fruit punch mocktail in a bowl, you'll need a ladle. Choose a style with a small spout on the side to ensure your punch is easy to pour.
Citrus juicer: a citrus juicer will make juicing your lemons and oranges a breeze. If you're short on time, store-bought freshly squeezed or regular orange juice works just as well.
FRUIT PUNCH INGREDIENTS
This delicious fruit punch mocktail recipe is the perfect combination of tangy citrus, mellowed by a sweet ginger fizz.
Oranges: packed full of vitamin C, homemade or store-bought freshly squeezed is my pick for this recipe. Regular store-bought orange juice works as well; just keep in mind that some nutrients will be lost in processing.
Cranberry juice: vibrant red and full of Vitamin C; cranberry juice is what gives my fruit punch its gorgeous pink colour. Choose a diet or low sugar cranberry juice for a lower sugar option.
Lemon juice: freshly squeezed lemon juice continues the Vitamin C hit and adds a glorious tang to this punch. You can use bottled lemon juice if needed. However, fresh lemons are really worth seeking out for this punch recipe!
Ginger ale: the spicy undertones of ginger ale are the perfect balance for this citrusy punch. Any brand of ginger ale works. Just make sure you're selecting ginger ale and not ginger beer. Choose a diet or reduced sugar ginger beer for a lower sugar fruit punch mocktail.
VARIATIONS
For added zing, add 1-2 cups of pineapple juice. Packed with Vitamins C, A, B6, E, K plus calcium,
pineapple is a delicious and healthy addition. Experiment with the quantity until you find your perfect mix.
If you're making this punch for an adult crowd, opt for a fancier fizz like non alcoholic sparkling wine.
Simply replace the ginger ale with a dry sparkling wine to balance the sweetness of the juice.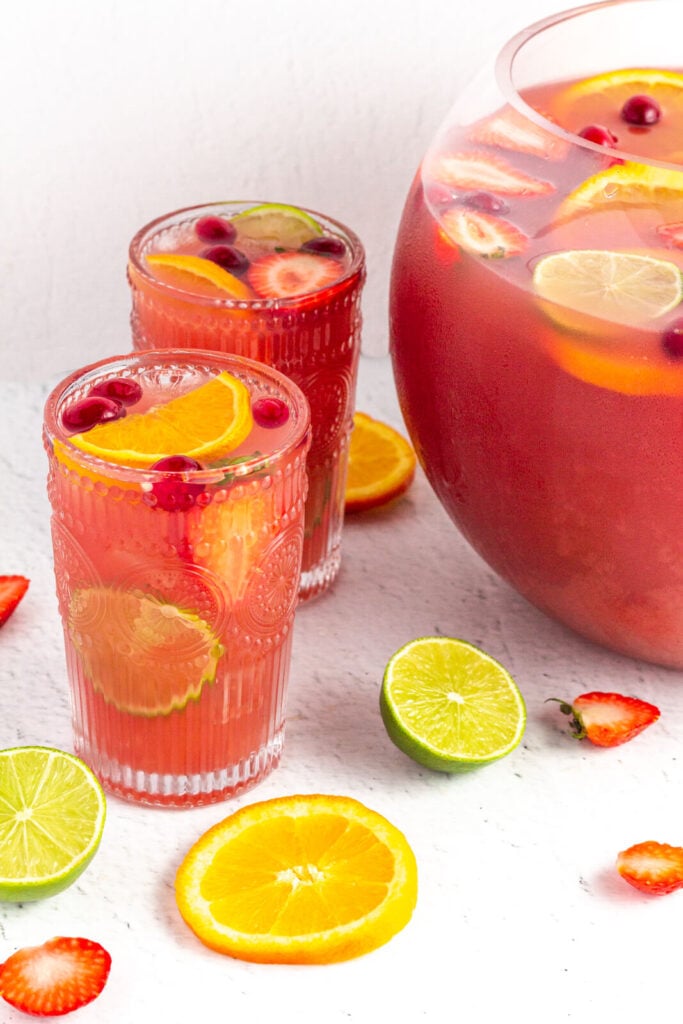 HOW TO MAKE FRUIT PUNCH MOCKTAILS
Making fruit punch couldn't be easier.
In a large bowl or pitcher, add the orange, cranberry, pineapple, and lemon juice. Stir well.
Just before you're ready to serve, add the ginger ale and stir gently (you don't want to disturb those lovely bubbles too much!)
Add ice (or frozen cranberries). Then, garnish with orange or lemon wheels, fresh cranberries and mint. Your fruit punch mocktail is ready to serve!
Frequently asked questions
What can I use instead of a punch bowl?
If you don't have a punch bowl, a large mixing bowl, tureen, or deep soup pot work well. Alternatively, a pitcher or drinks dispenser are great options.
Can you put punch in a metal bowl?
Whilst glass or crystal bowls are the traditional choices, metal punch bowls are becoming more popular. Metal bowls are best for cold beverages and should be washed and dried by hand to keep them in top condition.
How do I keep my punch cold without watering it down?
Instead of ice cubes, frozen cranberries are an excellent option for keeping your fruit punch mocktail cold. Buy fresh and freeze or pre-frozen. Add a handful to the punch bowl and top up as required.

Alternatively, you can make the drink ahead of time and freeze it into ice blocks. Large blocks such as spheres and rings look impressive and stay frozen longer.
If this fruit punch mocktail has got you thinking about inviting a few friends over for a drink, I think you'll love these recipes too:
Perfect for a crowd, my fruit punch mocktail will soon become your go-to party drink. I hope you (and your guests) enjoy this easy mocktail as much as I enjoyed creating it!
Fruit Punch Mocktail
An easy to make fruit punch with a lovely fizz and refreshing citrus zing.
Print
Pin
Rate
Ingredients
3

cups

orange juice

3

cups

cranberry juice

1

cup

lemon juice (or more to taste)

3

cups

ginger ale

1-2

cups

pineapple juice

optional but adds a lovely zing!

Lemon, orange, cranberries, mint or strawberries

to garnish

Ice cubes or additional frozen cranberries
Instructions
Add orange, cranberry, pineapple and lemon juice to a large bowl or pitcher. Stir well.

Just before you're ready to serve, add ginger ale and stir gently. (You don't want to disturb those lovely bubbles too much).

Add ice or frozen cranberries.

Garnish with fruit and mint.
Nutrition
Serving:
1
cup
|
Calories:
163
kcal
|
Carbohydrates:
41
g
|
Protein:
1
g
|
Fat:
1
g
|
Saturated Fat:
1
g
|
Polyunsaturated Fat:
1
g
|
Monounsaturated Fat:
1
g
|
Sodium:
13
mg
|
Potassium:
366
mg
|
Fiber:
1
g
|
Sugar:
38
g
|
Vitamin A:
322
IU
|
Vitamin C:
78
mg
|
Calcium:
29
mg
|
Iron:
1
mg
NUTRITIONAL VALUES ARE ESTIMATES ONLY AND DO NOT INCLUDE CARBS FROM SUGAR ALCOHOLS.