With just 4 ingredients this rose lemonade recipe is simple to make and looks so pretty. It's a gorgeous pink mocktail that would be perfect for baby showers, bridal showers or special occasions.
Are you looking for a pink mocktail that's perfect for a party? Then you'll love my homemade rose lemonade recipe.
Why this recipe works
My rose mocktail is a healthy twist on sugary store-bought varieties. With just 4 ingredients and a few easy steps, it's fancy without the fuss. You'll love this lemonade recipe because it's:
Easy: with no bartending skills required, this recipe is easy to follow and simple to make. Make the rose syrup in advance and you'll have your mocktail in hand even quicker!
Low sugar: replace sugar with your favorite sweetener for a low carb and low sugar option. Monkfruit sweetener is my pick for this recipe.
Oh so pretty: the gorgeous pink color of this non-alcoholic drink makes it perfect for baby and bridal showers. Best of all, it's naturally colored so no artificial nasties.
Perfect for a crowd: need to make this rose lemonade for a crowd? Simply increase the quantities and serve in a pitcher for the perfect party drink. Just chill until ready to serve.
Ingredients
This pink rose lemonade is floral and sweet. Make it your signature baby shower mocktail or serve it as a refreshing summer mocktail on a warm day.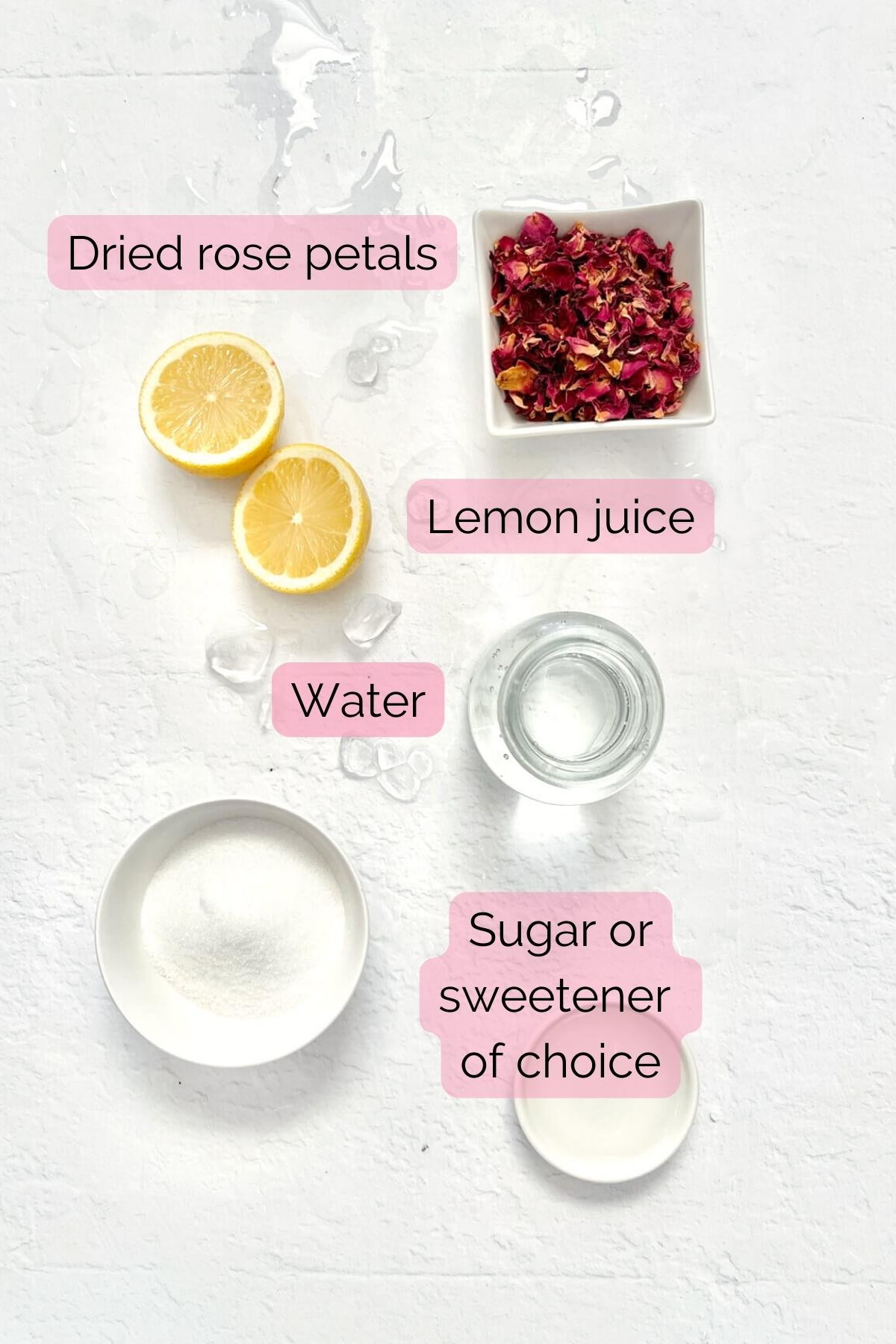 Dried rose petals: edible petals can be bought online or at health food stores. The petals come bagged in either a light or dark mix. I chose a light mix when making my rose lemonade. Darker petals will have the same delicious taste, but your rose mocktail will be a much darker shade of pink. See example below: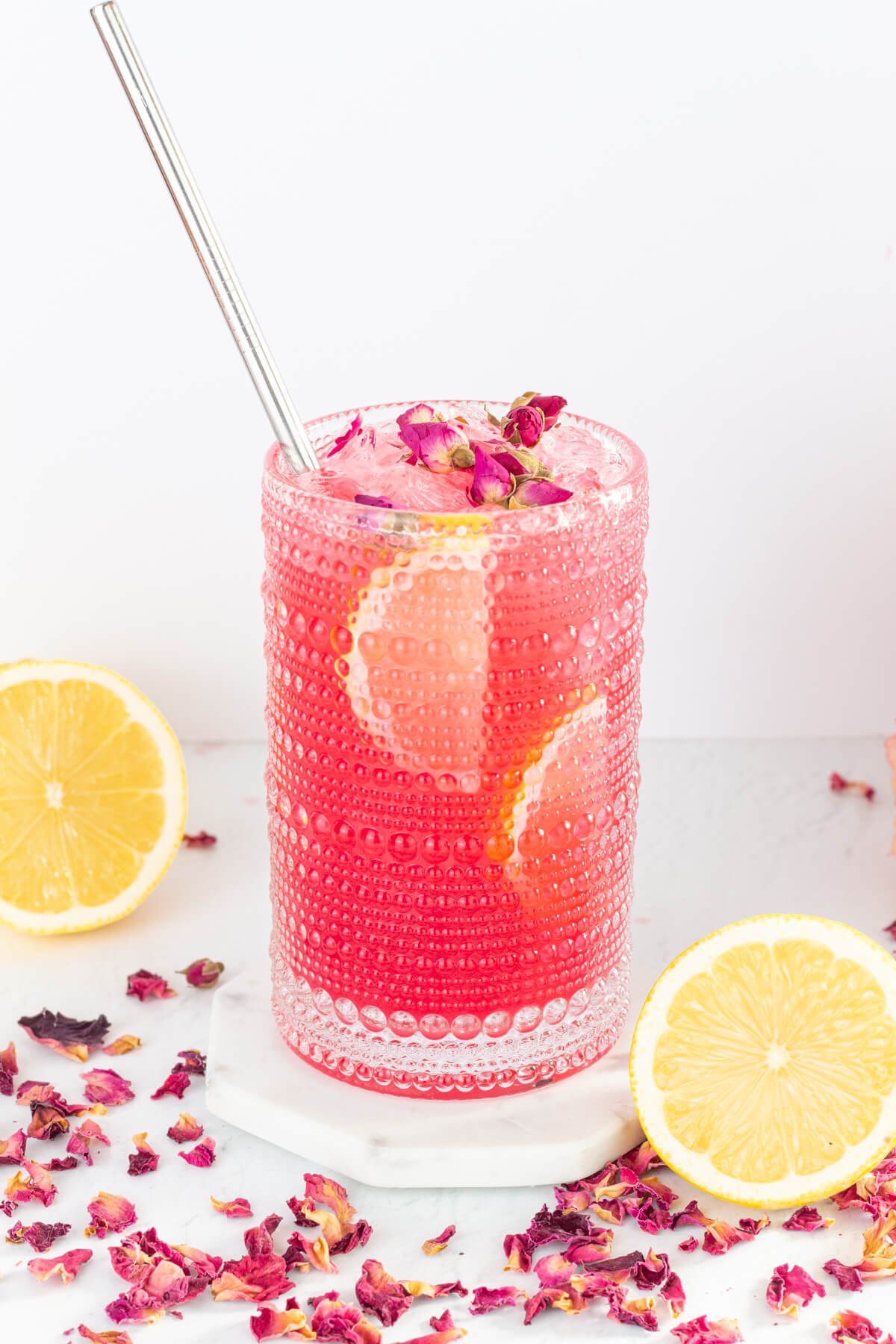 Lemon juice: fresh lemon juice perfectly balances the floral rose water. I'm going to put it out there that it isn't a homemade lemonade recipe without freshly squeezed lemon juice. Bottled works if you can't get your hands on fresh lemons; however, it won't taste quite the same.
Sweetener or sugar: choose caster sugar (granulated sugar) when making the rose simple syrup. For a lower sugar option, you can replace the sugar with a sweetener of your choice. Monkfruit sweetener or stevia are great choices.
How to make rose lemonade
The instructions below show you how to make 1 serving of rose lemonade (with plenty of syrup leftover!). Please follow instructions in the recipe card at the end of the post to make it in a pitcher.
To make the rose syrup:
1. To make the rose syrup, combine water and sweetener of choice in a saucepan over medium heat. Stir occasionally until the sweetener is dissolved.
Turn heat to low and add the dried rose petals. Stir until all the petals are wet. Leave on low, occasionally stirring until most of the color fades from the petals. This should only take a few minutes.
Remove from the heat and leave to steep for a further 10 minutes.
2. Strain and cool. This is your rose syrup.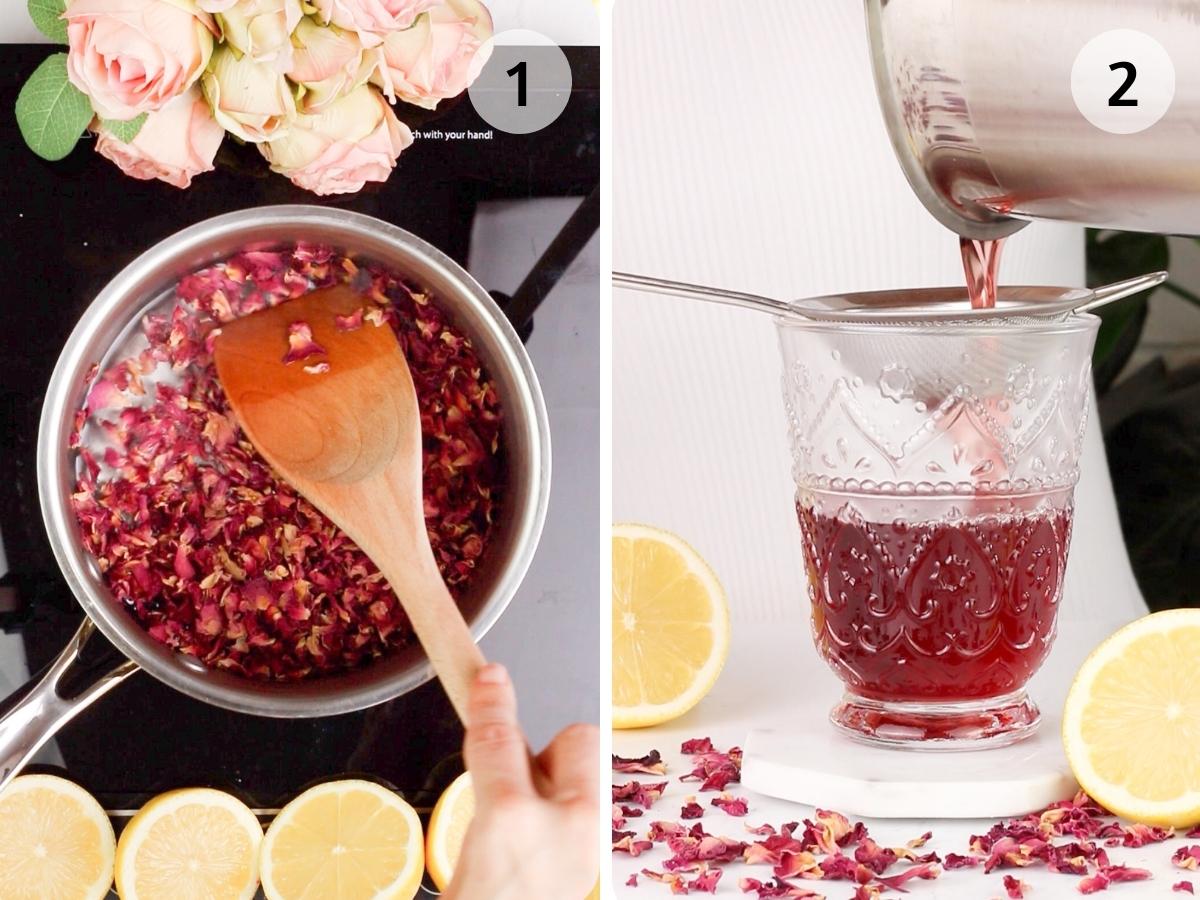 3. Place 2 tablespoons of rose syrup into your glass.
4. Place 3 tablespoons of freshly squeezed lemon juice into each glass.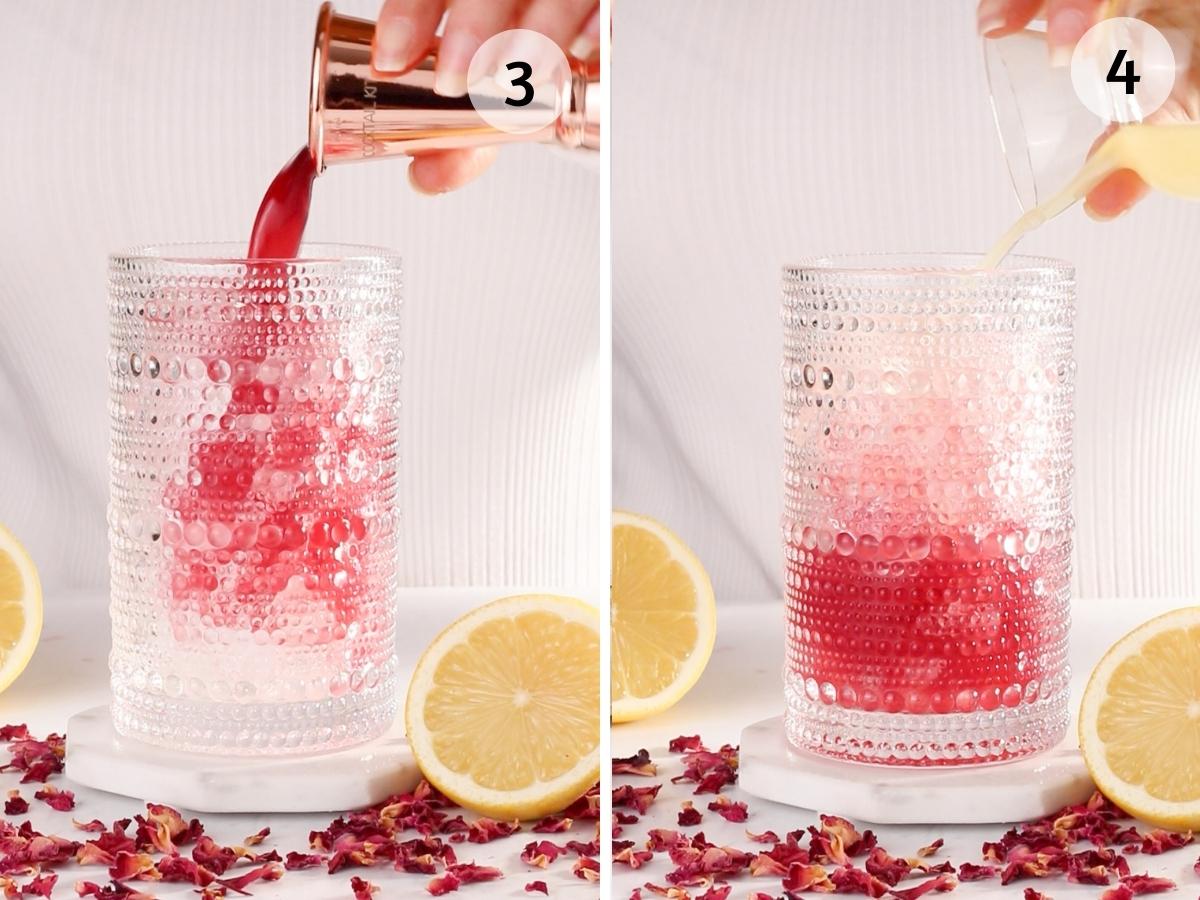 5. Top with sparkling water.
7. Garnish with rose petals or lemon slices.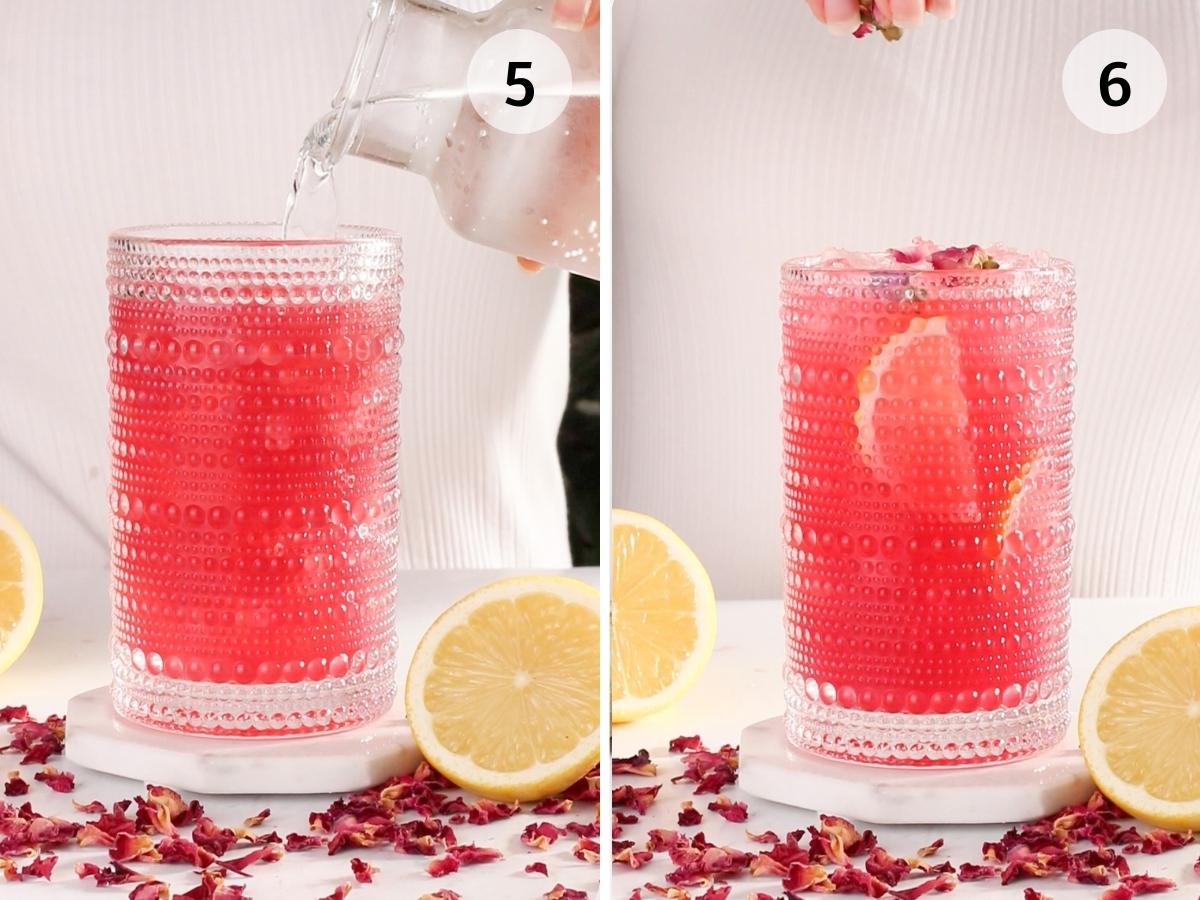 FAQ's
Does rose lemonade have alcohol?
My rose lemonade recipe is alcohol-free making it the perfect baby shower mocktail. Not to be confused with the French wine rosé, this rose mocktail is colored and flavored with dried rose petals. 
My version of rose lemonade combines rose simple syrup with fresh lemon juice and club soda. It has a delicious sweet fizz that gives the feel of a cocktail without any regret.
Is rose lemonade good for you?
Rose isn't an ingredient we tend to consume all that often, but we actually should! Rose petals are packed with Vitamins A, C, E and B. Rose is also said to aid in digestion.  Distilling is the traditional way of creating rose water. It's more time consuming, but it has a clearer color and even more natural benefits than steeping.
When made with sweetener, my refreshing rose lemonade is low sugar and low carb. Fresh lemon juice also provides vitamin C, making this mocktail a healthy choice.
How long does rose syrup last?
Like my mint  simple syrup, this rose syrup will last up to two weeks. It is best stored 
in the fridge. Keep it in an airtight container or jar to preserve it for longer. If the rose syrup becomes cloudy or discolored, throw it out and make a new batch.
Simple syrup will have a slightly different flavor and taste if frozen, so this is an ingredient best enjoyed fresh.
How do you use rose syrup?
Rose syrup is a delicious way to sweeten drinks. It's too good to throw out, so make sure to use up any leftovers in iced tea, ice slushies, iced coffee and other cold drinks. When baking, it makes a delightful syrup cake or topping on pancakes.
Rose syrup is a popular ingredient in India and the Middle East. It's sometimes consumed like a cordial. In Lebanon, it is used to flavor syrupy sweets such as malhabia (milk pudding) or atayef (filled pancakes).
Rose water is often combined with orange blossom water for a vibrant floral taste.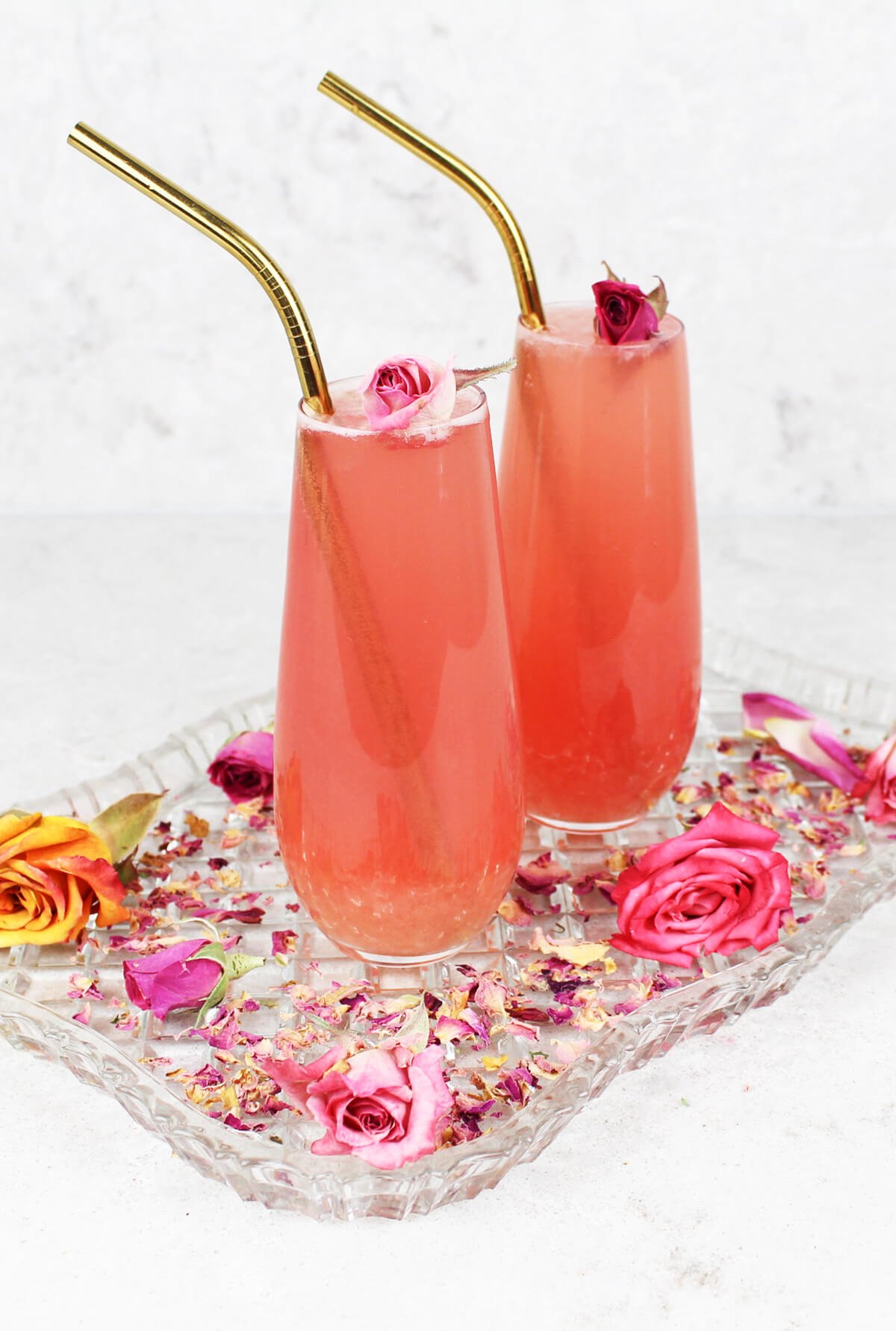 Expert Tips
Be sure to avoid letting the mixture boil while making the rose syrup. Boiling will cause the water to evaporate, leaving you with less syrupy goodness! If it does boil, add a tablespoon of water to make up for the loss.
Freshly squeezed lemon juice is a must in this recipe. I am yet to find a decent bottled version - but I'm all ears if you've found one you like!
I purchased my dried rose petals online from The Source Bulk Foods. I've always found their quality and quick delivery to be of the highest standard.
Related Recipes
Love this recipe?
Please leave a 5-star 🌟🌟🌟🌟🌟 rating in the recipe card below or leave me a comment if you REALLY love it!
Like what you see? Stay in touch with me via Instagram, TikTok and Pinterest. I love connecting with you!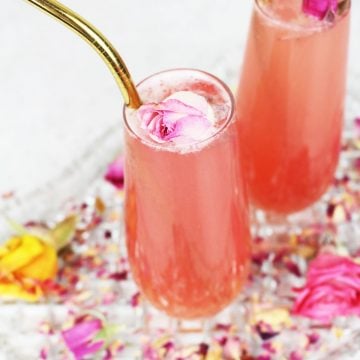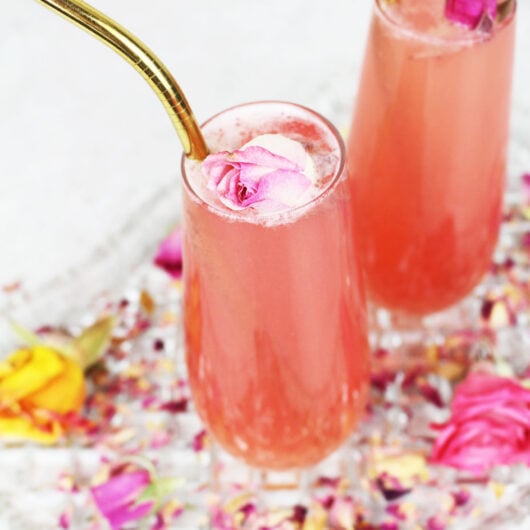 Rose Lemonade
Beautiful pink rose lemonade recipe. Ideal for baby showers and bridal showers. Easy to make with simple ingredients and it looks great.
Print
Pin
Rate
Ingredients
To make the rose syrup
1

cup

water

1

cup

edible dried rose petals

¾

cup

sugar

*see notes for low carb option
To make the rose lemonade
1.5

cups

freshly squeezed lemon juice

5-6

cups

sparkling water

see note 2
Instructions
To make the rose syrup, combine water and your sugar or sweetener of choice over medium heat. Stir occasionally until the sweetener has dissolved.

Turn heat to low, add rose petals and stir until all the petals are wet. Leave on low stirring occasionally until most of the color fades from the petals This should only take a few minutes, 10 minutes at most.

Remove from the heat and leave to steep for a further 10 minutes.

Strain and cool. This is your rose syrup.

Combine rose syrup, lemon juice and soda water in a pitcher and stir gently until combined.

Serve in ice filled glasses and garnish with lemon slices and edible rose petals.
Video
Notes
Note on edible rose petals: You can purchase edible rose petals online or from most health food stores. Be sure to purchase edible or culinary rose petals that are made for cooking.
Both light and dark rose petals will work. I have included an example of both in the post above the recipe, so please scroll up if you'd like to compare.
Note on sweetener: When making a syrup, sugar will always give the best result. I also tested this with ¾ cup monkfruit powder instead of sugar for a low carb option, and it worked exceptionally well. 
If you'd prefer to use your own sweetener, refer to packet instructions for how much to use.
Note on soda water: I adore serving this as a sparkling rose lemonade. If you prefer still, simply replace the soda water with still water.
Nutrition
Serving:
1
cup
|
Calories:
86
kcal
|
Carbohydrates:
22
g
|
Protein:
1
g
|
Fat:
1
g
|
Saturated Fat:
1
g
|
Sodium:
2
mg
|
Potassium:
46
mg
|
Fiber:
1
g
|
Sugar:
9
g
|
Vitamin C:
17
mg
NUTRITIONAL VALUES ARE ESTIMATES ONLY AND DO NOT INCLUDE CARBS FROM SUGAR ALCOHOLS.