Garnished with a maraschino cherry, this Roy Rogers drink is a classic mocktail that's quick to make and delicious to drink.
If you thought that soda was boring, think again! A Roy Rogers mocktail combines cola and grenadine for the fanciest cherry cola on the block.
With everyday ingredients and just a few steps, it's the perfect, easy mocktail to whip up when unexpected guests drop by.
It's safe to say that an ice cold Roy Rogers drink is a classic that has stood the test of time. The naturally non-alcoholic mix of sweet cola and tart grenadine appeals to both adults and older kids. You'll love this mocktail because it's:
Fast: containing just two ingredients and an ice-filled glass, you'll have your drink in hand before you can say, well, Roy Rogers!
Easy: if shaking, mixing, and muddling sound a little too complicated, then this is the recipe for you. Simply pour soda and grenadine into an ice-filled glass and garnish with a cherry.
Looks fancy: the bright red maraschino cherry gives this mocktail a real pop. Impress your guests or enjoy with a meal when you feel like something different from regular Coca Cola.
Tip: make your drink really special by using ice cubes that are fancy shapes.
WHY IS IT CALLED A ROY ROGERS?
Who was Roy Rogers, and why does he have a drink named after him?
Well, Roy was an American cowboy and singer who featured in dozens of western movies from the 1930s to 1950s.
Unlike the well-known story of the Shirley Temple mocktail, the Roy Rogers drink origin is a little less certain. What is known is that the famous cowboy didn't drink alcohol. It's thought that the cola and grenadine-based drink was named after him as a more masculine option.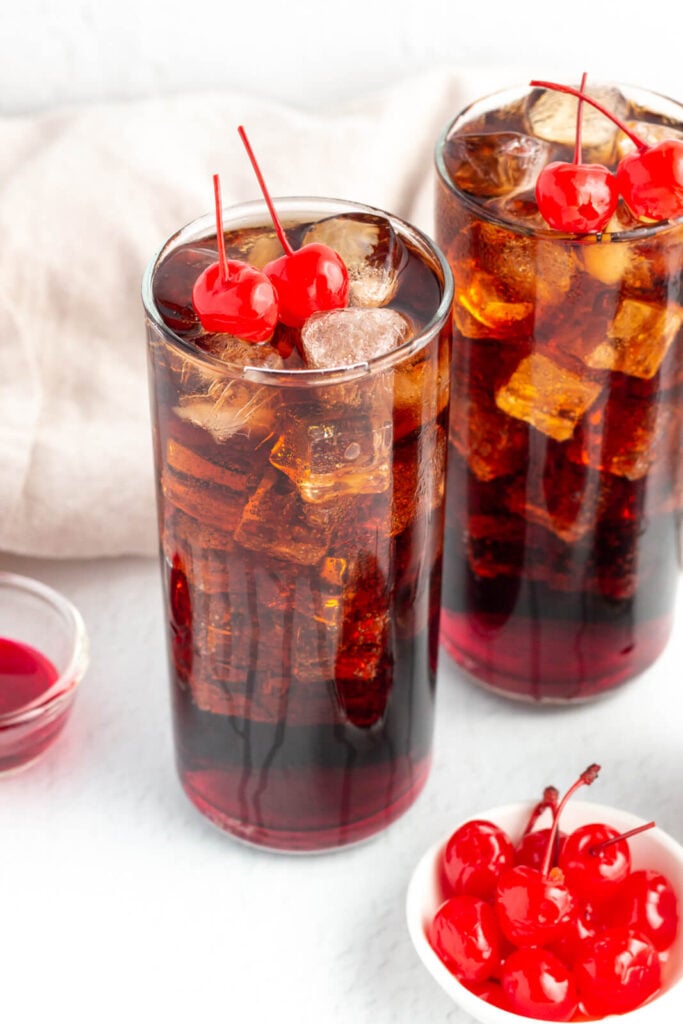 EQUIPMENT YOU'LL NEED
Close the utensil draw because this easy mocktail requires little equipment or preparation. You will need:
Glasses: a Roy Rogers drink is traditionally served in a highball glass. This glass style has a small opening so that it will keep your drink fizzier for longer. You can use whatever type of glass you have on hand. Mason jars also work well.
INGREDIENTS
Craving a delicious mocktail made with cola and grenadine? You'll be happy to know that just a few inexpensive ingredients are needed.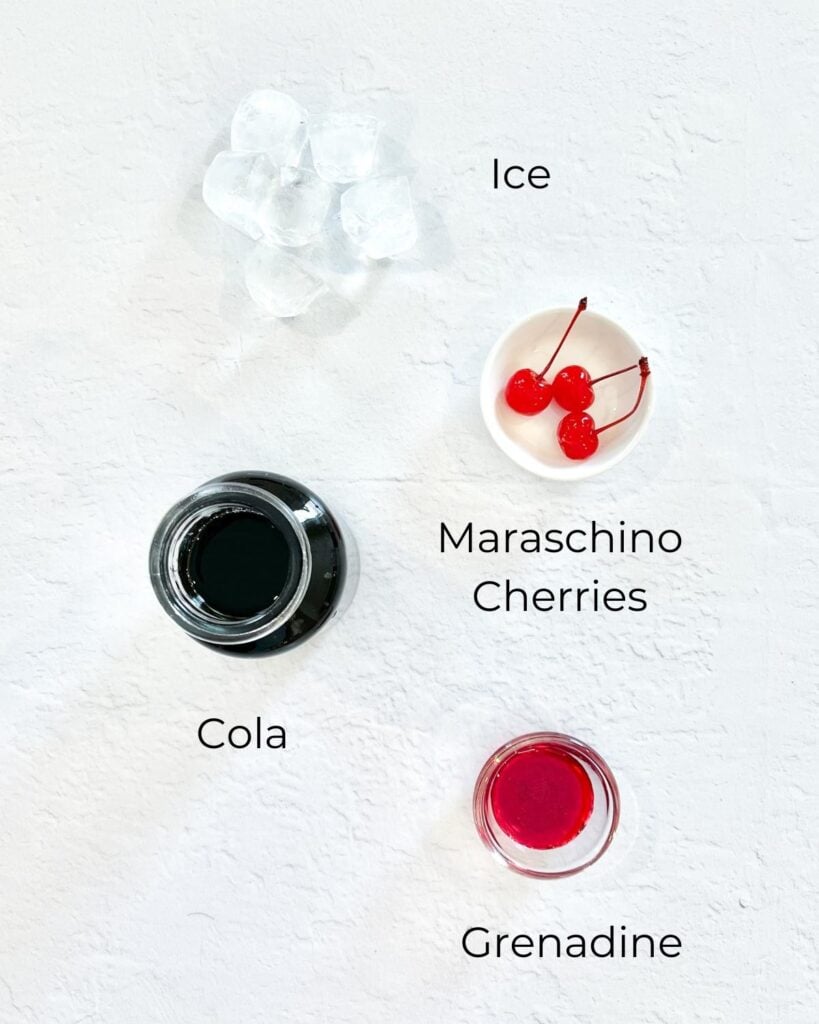 Cola: fizzy and sweet, cola forms the base of a Roy Rogers drink. For a lower sugar option, choose diet cola. Alternatively, you can make your mocktail with sugar-free organic cola.
Grenadine: deep red and deliciously tart, you'll find grenadine in many mocktail recipes. Grenadine syrup gets its taste and intense colour from pomegranate juice.
Its concentrated flavour means you only need a little to give your mocktail a boost.
Tip: Although it's non-alcoholic, you'll find grenadine syrup with the mixers at your local liquor store.
Maraschino cherry: glossy and red, these cocktail cherries will make your drink pop. Find them in jars at your supermarket and store them in the fridge to increase their shelf life.
If you don't have Maraschino cherries on hand, fresh cherries are a great alternative.
HOW TO MAKE A ROY ROGERS DRINK
This recipe couldn't be easier. There are just three simple steps, and a quick stir
required. Simply:
Fill a tall glass with ice.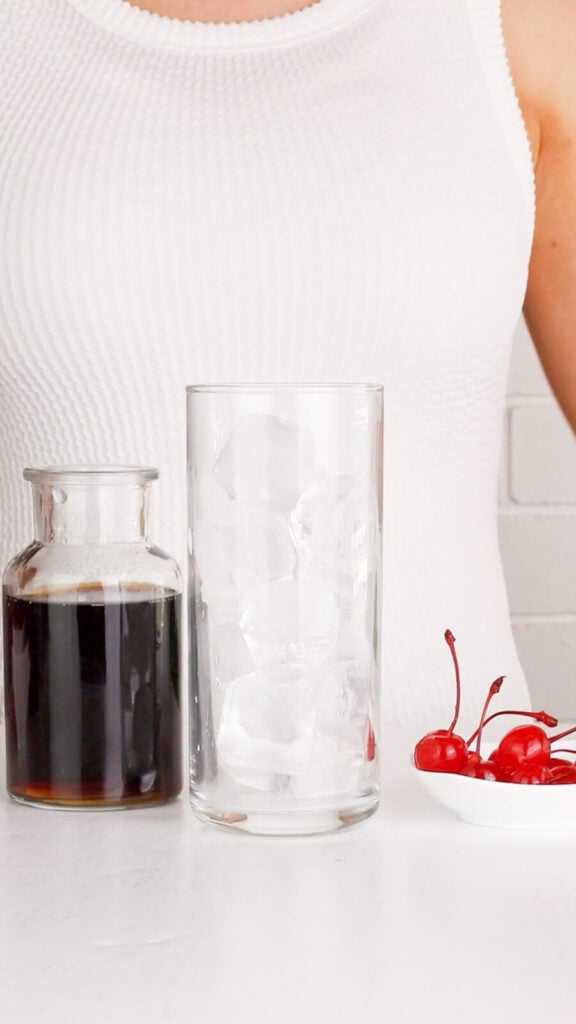 2. Add the grenadine to the glass.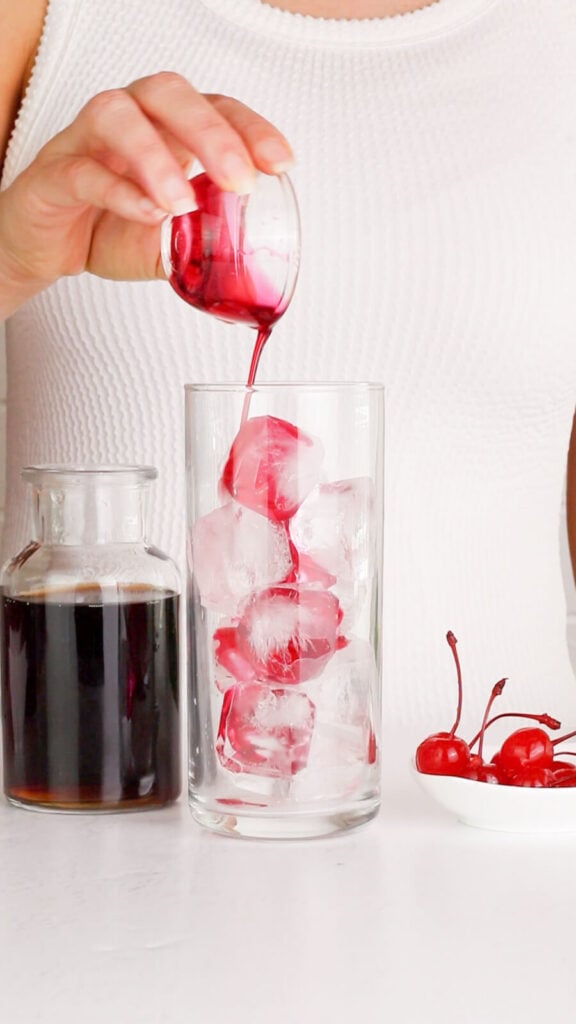 3. Top with Cola.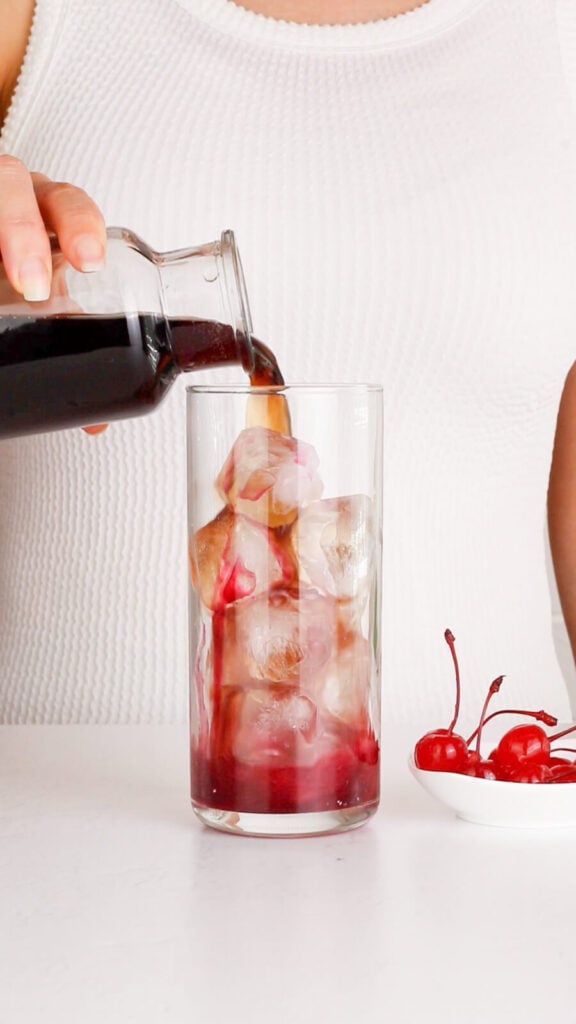 4. Stir well.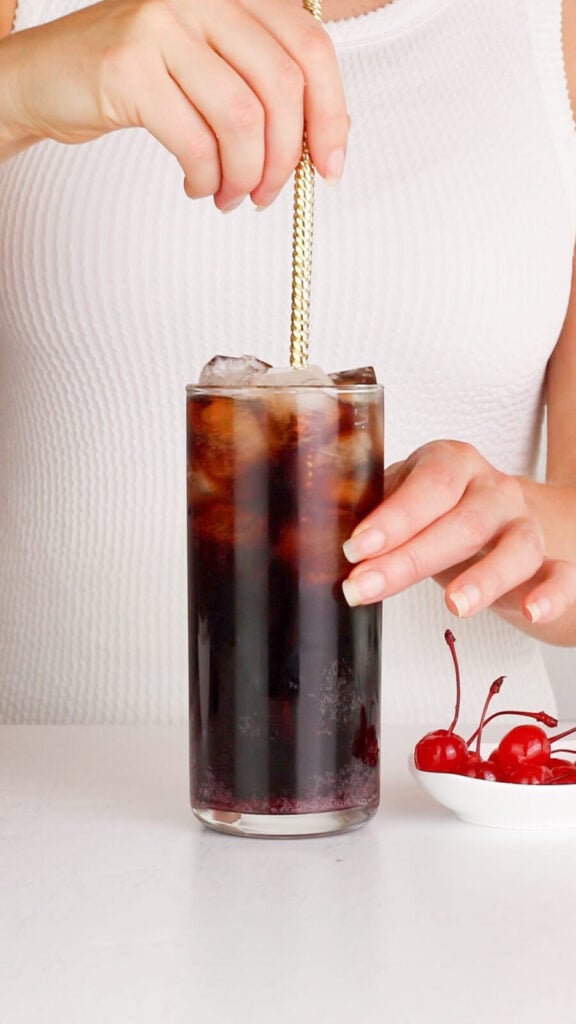 5. Garnish with a maraschino cherry.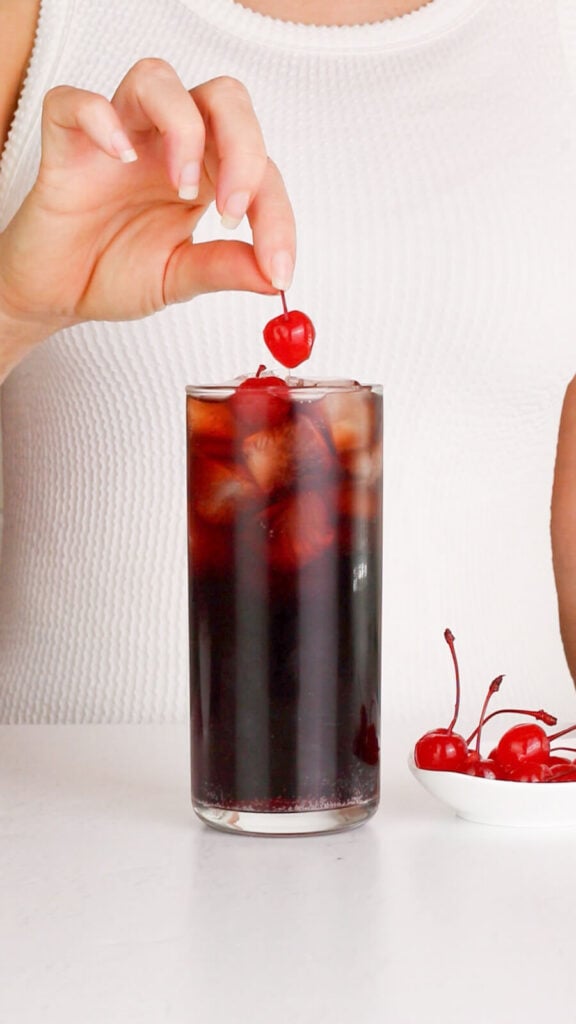 Frequently asked questions
What is the difference between a Roy Rogers and a Shirley Temple?
They're both famous mocktails created in a similar era. However, they do differ in taste and ingredients. A Shirley Temple is made with ginger ale, grenadine and a squeeze of fresh lime juice. 
In comparison, a Roy Rogers drink has a cola base with a dash of grenadine. They're both garnished with Maraschino cherries and are naturally alcohol-free. 

Why not try both and let me know your favourite?
What are Maraschino cherries?
Often called cocktail cherries, a Maraschino cherry is a sweet, preserved cherry. The word maraschino is derived from the marasca cherry, which has its origins in Croatia.

Traditionally the cherries were crushed and preserved in alcohol.

These days a variety of light coloured sweet cherries are used. They're first preserved in a brine solution that contains sulfur dioxide and calcium chloride to bleach the fruit. Then they're soaked in a suspension of food colouring and sugar syrup.

Maraschino cherries make a beautiful garnish. However, the healthier choice is to skip eating them once your drink is finished.
Which cola makes the best Roy Rogers?
Part of what makes a Roy Rogers drink delicious is that it is so simple. There's no need to overthink your cola choice beyond those you regularly buy at the supermarket.

However, if you'd like to dress up the recipe a little, why not splurge on an organic cola?

Many organic colas are sugar-free, which is great if you'd like a lower sugar mocktail option. Additionally, some are naturally flavoured with kola nut so that you can skip the artificial nasties. 

Personally, I love Diet Coke, so no judgement from me!
If quick and easy mocktails like this Roy Rogers drink are your thing, you'll be whipping up these recipes in no time: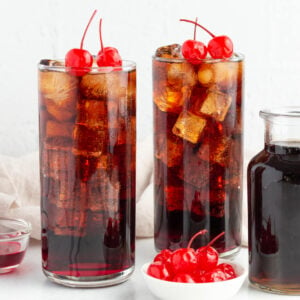 Easy Roy Rogers Drink
A classic cola based mocktail that's effortless to make and tangy on the taste buds.
Print
Pin
Rate
Ingredients
1

cup

cola

1

tablespoon

grenadine

1-2

Maraschino cherries, to garnish
Instructions
Fill a tall glass with ice.

Add the grenadine to the glass.

Garnish with a Maraschino cherry.
Nutrition
Serving:
1
cup
|
Calories:
147
kcal
|
Carbohydrates:
37
g
|
Protein:
1
g
|
Fat:
1
g
|
Sodium:
15
mg
|
Potassium:
11
mg
|
Sugar:
32
g
|
Calcium:
6
mg
|
Iron:
1
mg
NUTRITIONAL VALUES ARE ESTIMATES ONLY AND DO NOT INCLUDE CARBS FROM SUGAR ALCOHOLS.