Fresh and fruity, this classic Cinderlla mocktail makes the most of tangy citrus. It's easy to make and perfect for a backyard BBQ - or even a ball.
Just like the fairytale, a Cinderella drink combines humble ingredients to create a bit of magic.
Your tastebuds will be treated to the sweet but tangy combination of citrus, grenadine, and ginger.
This fruity mocktail does not require the skill of a fairy godmother. In just a few pours and a shake, you'll have a delicious drink in hand. And no one will be any wiser as to how you performed your mixing magic.
A Cinderella Mocktail is the perfect drink for one or for a crowd. Filled with zesty citrus, it's perfect for those who love fresh juice. This fruity mocktail is:
Easy: filled with fresh juice and easy to find ingredients, so you can make this drink year-round.
Healthy: a citrusy base of pineapple, orange and lemon means that there's plenty of vitamin C. Use freshly squeezed (or squeeze yourself) orange and lemon juice to increase the benefits.
Perfect for a crowd: this easy mocktail can be made for one or for many. Simply multiply the ingredients to magic your mocktail into a Cinderella punch. Tip: add the ginger ale at the last minute if you're making it into a punch. That way you'll preserve the fizz!
Looks spectacular: with a beautiful golden hue, this is a non-alcoholic drink that looks as good as it tastes .
WHAT IS IN A CINDERELLA MOCKTAIL?
A Cinderella drink is a refreshing mocktail made from a mix of citrus juice plus grenadine and ginger ale. The sweet grenadine mellows the tart flavour of the citrus. Ginger ale provides an earthy spice and its signature fizz.
If you love tropical mocktails that are ready in just a few shakes, then this is the drink for you.
EQUIPMENT YOU'LL NEED
Sometimes mocktails are just as fun to make as they are to drink. The Cinderella mocktail is one of those! Flex your bartending muscles as you pour and shake your way to a delicious drink.
Cocktail shaker: it's always fun to make mocktails that require a shaker. If you don't have a cocktail shaker, any container with a tight lid works. (Think smoothie shaker, drink bottle or mason jar). Alternatively, a quick stir works too.
Highball glass: a tall glass such as a highball or Collins glass is perfect. However, you can use any glass you have on hand.
Citrus juicer: a citrus juicer will make juicing the fresh lemon and oranges a breeze. If you're short on time, freshly squeezed store-bought orange juice works just as well.
Punch bowl: if you're making a Cinderella mocktail for a crowd consider using a punch bowl. Alternatively, she looks great in a pitcher or a drink dispenser. Tip: if you're using a pitcher or dispenser keep chopped fruit and tongs nearby. This way your guests can garnish their own drink.
CINDERELLA DRINK INGREDIENTS
This refreshing mocktail is perfect on a hot day. Filled with freshly squeezed citrus, it's a favourite the whole family can enjoy.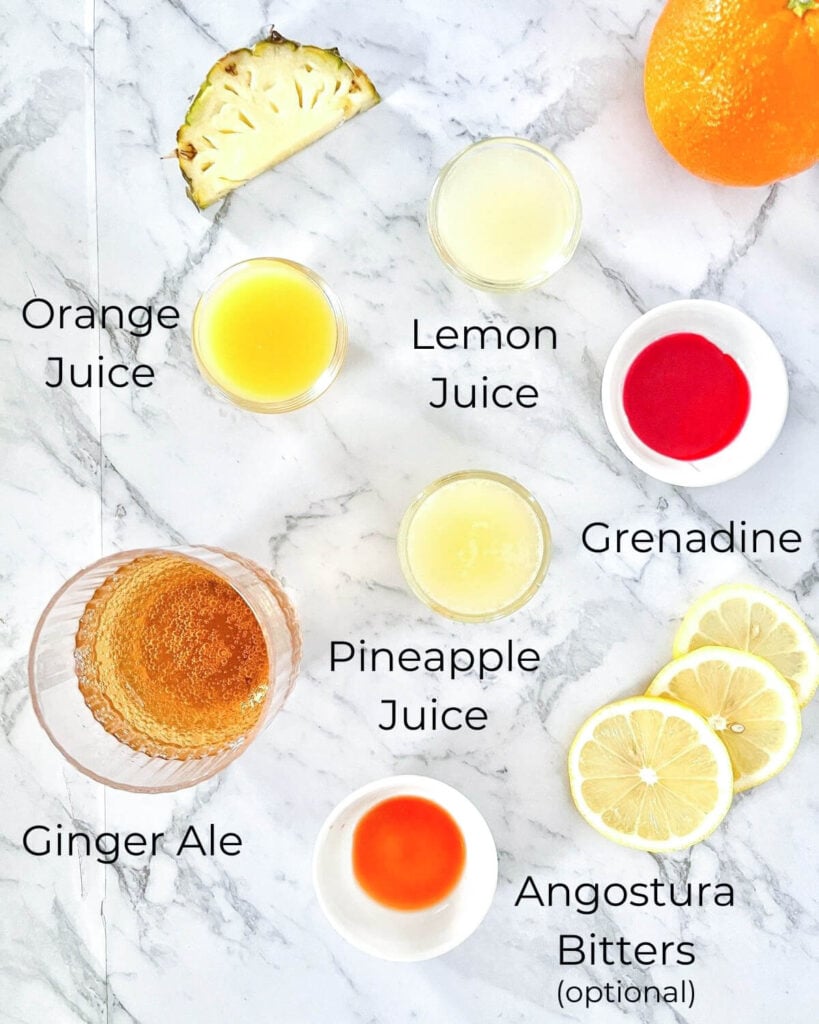 Orange juice: homemade or store-bought freshly squeezed orange juice is the best option. Fresh juice will best preserve the vitamin C and nutrients from the oranges. Regular store-bought juice also works. Just keep in mind that some nutrients will be lost in processing. 
Lemon juice: freshly squeezed lemon juice boosts the vitamin C and provides a lovely zesty kick. You can use bottled lemon juice if needed. However, it's worth getting the juicer out and squeezing fresh lemons for this Cinderella mocktail if you can.
Pineapple juice: the perfect combination of sweet and tangy pineapple juice rounds out the citrus beautifully. Pineapple juice is filled with vitamins C, B6, magnesium and antioxidants. Look for freshly squeezed rather than tinned juice so fewer nutrients are lost in processing.
Soda water: if you'd like the flavours of the fruit juice to be the star of the show, use your favourite sparkling water to complete your drink. Light and fizzy, soda water is a refreshing option on a hot day.
Ginger ale: skip the soda and head straight for the ginger ale if you're looking for a mocktail with a spicy ginger undertone. Any brand of ginger ale works, just make sure you pick ale and not ginger beer. Choose a diet or reduced sugar ginger beer for a lower sugar mocktail.
Grenadine syrup: this vibrant red syrup provides sweetness and adds depth to the colour of the Cinderella mocktail. Made from pomegranates and sugar, it's the perfect non-alcoholic way to add flavour and colour to mocktails. As grenadine is a syrup, it contains refined sugars. For a healthier drink, swap it for pomegranate juice.
Tip: despite being alcohol-free, you'll find grenadine for sale in the mixer section of liquor stores. 
Angostura bitters: if you're committed to being alcohol-free, skip this ingredient or choose a non alcoholic bitters. Angostura bitters are easy to find at liquor stores, so are the most commonly known. These bitters contain alcohol however, only a few dashes are used so the overall volume is minimal. They add a delicious depth of flavour to the mocktail that's worth a mention.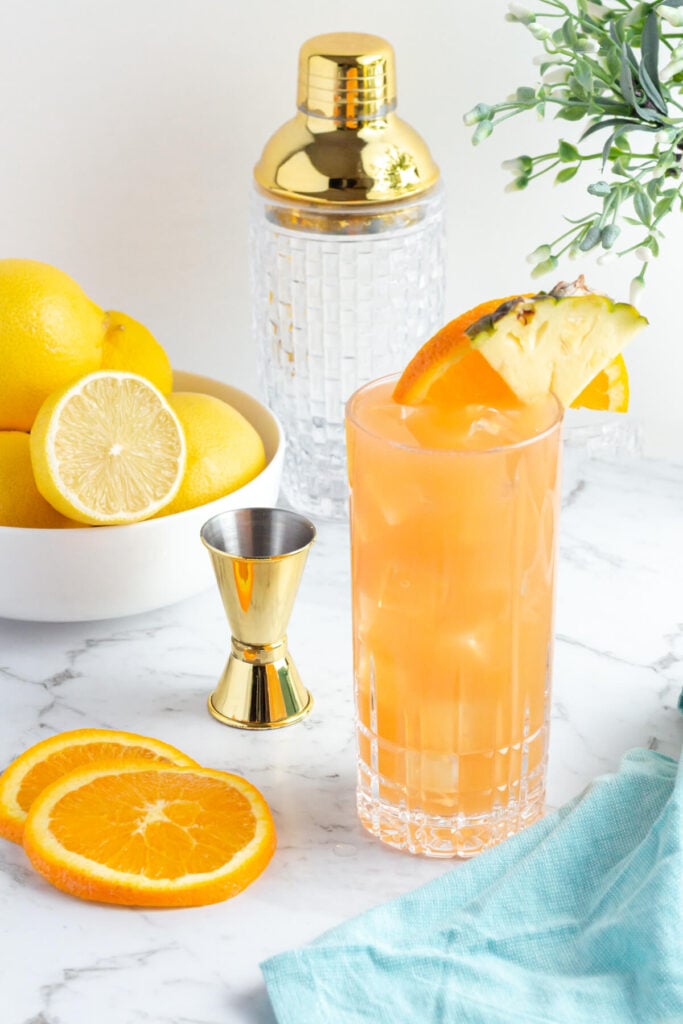 VARIATIONS
The Cinderella mocktail is perfect for a party. Just increase quantities by 5 or more to make Cinderella punch. If you're making the punch in advance, add the ginger ale or soda water right at the end so you don't lose the fizz.
If you like the fire of ginger ale but prefer a lighter drink, experiment with a soda water and ginger ale combination.
A few dashes of Angostura bitters add a lovely complexity to this drink. If you'd prefer a drink that is 0% ABV you'll be excited to know that you can buy non-alcoholic bitters. 
Non-alcoholic bitters contain the signature botanical and fruit flavours without an alcoholic base.
Most are available online directly from the maker. A quick Google search will bring up a range of options.
HOW DO YOU MAKE A CINDERELLA?
Put on a show with your shaker or give it a sedate stir. Either way, the Cinderella mocktail is an easy drink that you'll be able to whip up in minutes.
First, add the orange, lemon, pineapple juice and grenadine to a cocktail shaker with ice.
Then shake to combine. If you don't have a cocktail shaker, you can add the ingredients to a tall glass and stir with a spoon instead.
Fill a tall glass with ice and pour the mixture in.
Add ginger ale or soda water and bitters. Gently stir.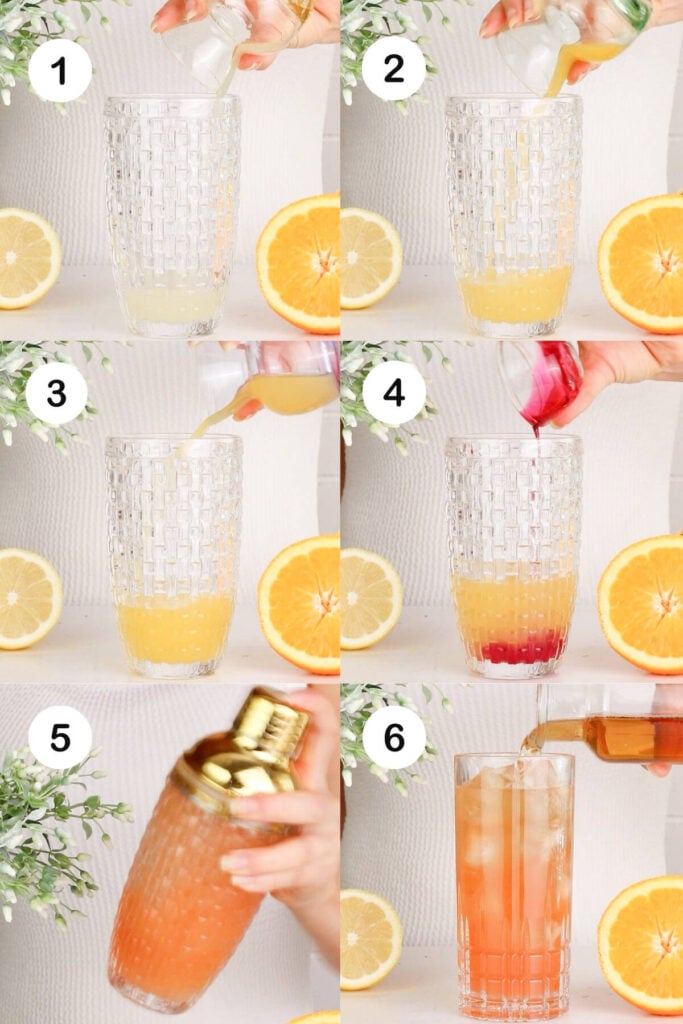 Garnish with an orange and pineapple slice, or a cherry.
Is a cocktail shaker necessary?
Shaking mixes up the ingredients and chills your drink faster than stirring. It also ensures your ingredients are mixed properly. This means that your Cinderella mocktail will have a consistent flavour right through to the last sip. 

The most important thing is that your cocktail is well mixed, so any container with a tight lid will work. Get creative and use a drink bottle, smoothie shaker or mason jar. If you plan on making mocktails regularly, a cocktail shaker is an inexpensive investment.
What is a good substitute for grenadine?
Traditionally grenadine was made from pomegranate juice, sugar, lemon juice and water. These days it can contain nasties such as high fructose corn syrup. Some recipes require the weight of the sugary syrup for their signature look. This mocktail is a mixed drink, so pomegranate juice is a great substitute. It's also a healthier, less processed option.
Why is it called a Cinderella mocktail?
Unlike the famous Shirley Temple mocktail, the Cinderella doesn't have a famous back story. Despite her mysterious origins, she's the perfect tropical mocktail whatever the occasion.
If fast, family-friendly drinks like the Cinderella mocktail are your thing, I think you'll love these recipes too:
Fizzy and fresh, this gloriously golden mocktail is sure to impress. I hope you enjoy this Cinderella mocktail as much as I enjoyed drinking it.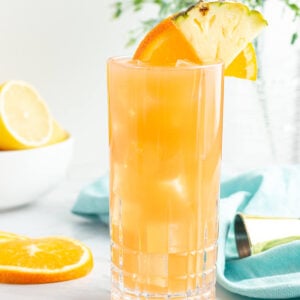 Cinderella Mocktail
A sweet but tangy mocktail with a refreshing fizz and pretty golden glow.
Print
Pin
Rate
Ingredients
2

tablespoons

freshly squeezed orange juice

2

tablespoons

freshly squeezed lemon juice

2

tablespoons

pineapple juice

½

teapsoon

grenadine

2-3

dashes

Angostura bitters

½

cup

soda water or ginger ale

Extra pineapple and orange, to garnish
Instructions
Add the orange, lemon pineapple juice and grenadine to a shaker with ice.

Shake to combine. If you don't have a cocktail shaker, you can add the ingredients to a tall glass and stir with a spoon instead.

Fill a tall glass with ice and pour mixture in.

Add ginger ale or soda water and bitters (if using). Gently stir

Garnish with your choice of orange, pineapple or cherries.
Nutrition
Serving:
1
cup
|
Calories:
34
kcal
|
Carbohydrates:
7
g
|
Protein:
1
g
|
Fat:
1
g
|
Saturated Fat:
1
g
|
Polyunsaturated Fat:
1
g
|
Sodium:
1
mg
|
Potassium:
71
mg
|
Fiber:
1
g
|
Sugar:
4
g
|
Vitamin A:
3
IU
|
Vitamin C:
15
mg
|
Calcium:
6
mg
|
Iron:
1
mg
NUTRITIONAL VALUES ARE ESTIMATES ONLY AND DO NOT INCLUDE CARBS FROM SUGAR ALCOHOLS.