This mimosa mocktail recipe is non alcoholic and so easy to make. A perfect virgin drink for breakfast, brunch or special occasions.
Are you looking for an easy mimosa mocktail? You've found it. These classic non alcoholic mimosas are simple and delicious.
It's easy - there's no heat, mixing or shaking required, simply pour and go.
It's quick - there's no need to prepare anything in advance.
Low in calories - choose an alcohol free sparkling wine that is low in sugar, or an organic juice if you're not using wine. That combined with freshly squeezed orange juice makes these a healthy alternative to the real thing.
They look great! Who can resist the elegance of these delicious drinks.
What is a mimosa Mocktail?
A mimosa is a classic cocktail typically made with champagne and citrus juice.
Orange juice is primarily used, although there are some lemon lime variations out there. The alcoholic version is usually served with brunch - or breakfast!
Mimosa is a type of plant with a gorgeous orange/golden colour very similar to the colour of champagne and orange juiced mixed together.
It's often served at baby showers, breakfast, brunch and other special occasions. My easy virgin mojito recipes also make beautiful brunch drinks.
The alcohol free version is made with alcohol free sparkling wine, or sparkling water. I love these virgin mimosas because they can be served at any time, without consequence!
Should I use sparkling wine or sparkling water?
I highly recommend sparkling wine for this recipe.
The wine gives it a beautiful flavour and tastes much closer to the original mimosa recipe.
Of course, if alcohol free wine is not your thing, go for the sparkling water instead!
I recommend a citrus flavoured sparkling water, such as lime, lemon or grapefruit, just to add a little kick. When I tried it with normal sparkling water, it tasted like watered down fizzy orange juice.
Another option is ginger ale, which also tastes delicious.
If we were going back a few years ago, sparkling water would have been our only choice. But the alcohol free market has come along in leaps and bounds and now there are plenty of zero proof sparkling wines available.
Just google 'non alcoholic sparkling wine' and you are sure to find a distributor near you.
I'd recommend a dry sparkling wine because the orange juice is quite sweet. If you are a sweet tooth, feel free to go all out and use a sweeter wine.
Which orange juice is best for non alcoholic mimosas?
Personally I prefer to squeeze my own fresh orange juice so I know exactly whats in it. But there are so many fantastic alternatives out there there is no harm in buying in bottled to skip the squeezing step.
Tip: if you do squeeze your own, or buy it from a store with the pulp, I like to strain it before I use it. Some people love the pulp - personally I'm not a fan of floaties in my drink.
Equipment you'll need
Champagne flutes are a must - although if you only have wine glasses thats ok too. I absolutely adore high quality glassware and think it makes the drink extra special.
Juicer: if you're squeezing your own oranges you'll need a juicer or citrus squeezer.
Thats it - I told you these were easy!
virgin mimosa Ingredients
Equal parts orange juice and sparkling wine or your choice of citrus sparkling water..
For a classic mimosa, simply pour your orange juice into the champagne glass, and top with equal parts alcohol free champagne, sparkling wine or flavoured sparkling water.
Garnish with your choice of fruit (I like a piece of orange, a cherry or strawberry also works well) and voilà - you're done.
I hope you enjoy making this classic mimosa mocktail as much as I did!
Don't forget to rate this recipe if you enjoyed it too.
Cheers!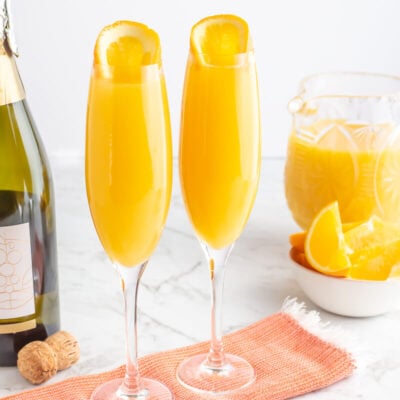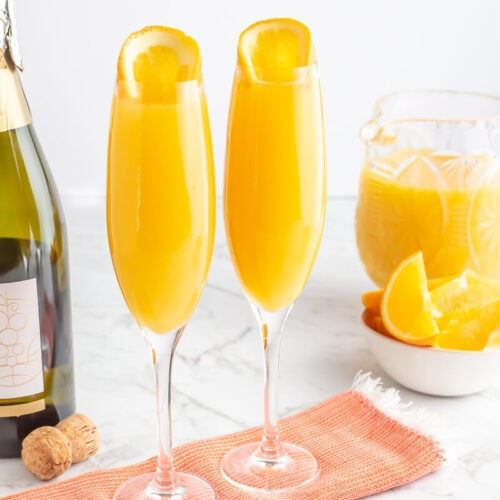 Mimosa Mocktail
An easy non alcoholic mimosa mocktail, the perfect virgin drink for special occasions.
Print
Pin
Rate
Ingredients
Orange juice

chilled

Non alcoholic sparkling wine, citrus sparkling water or ginger ale

chilled
Instructions
Add equal amounts orange juice and non alcoholic sparkling wine (or alternative) to a champagne flute.

Garnish with orange, strawberry or cherries and serve.
Nutrition
Serving:
1
cup
|
Calories:
56
kcal
|
Carbohydrates:
13
g
|
Protein:
1
g
|
Fat:
1
g
|
Saturated Fat:
1
g
|
Sodium:
1
mg
|
Potassium:
248
mg
|
Sugar:
10
g
|
Vitamin A:
248
IU
|
Vitamin C:
62
mg
|
Calcium:
14
mg
|
Iron:
1
mg
NUTRITIONAL VALUES ARE ESTIMATES ONLY AND DO NOT INCLUDE CARBS FROM SUGAR ALCOHOLS.
This post may contain affiliate links.