Are you looking for a virgin Sangria recipe? You've found it! This easy mocktail recipe is non-alcoholic and PERFECT to make for CROWD AT HOME.
This easy, delicious non alcoholic Sangria mocktail is a perfect variation of a classic.
I remember trying Sangria for the first time in Spain, many years ago now. It was so easy (too easy!) to drink with it's beautiful combination of wine and fruit. Sitting in the hot Spanish sun sipping this delicious drink resulted in a very early night and rotten hangover the next day!
So I went on a mission to find the perfect non alcoholic Sangria recipe and it was much easier than I thought.
This simple Sangria is:
Delicious: what could be better than beautiful non alcoholic wine or juice infused with delicious fruit flavours? Divine!
Looks great: with the fruit and liquid creating a spectacular colour combination, this mocktail recipe both tastes AND looks great.
Versatile: don't have access to non alcoholic red? Prefer a different type of fruit? No problem! There are so many variations available for this recipe you are sure to find one that suits you.
Perfect for a crowd: this non alcoholic Sangria is made in advance and can be made in huge batches, so its perfect for guests.
Can be made for kids: looking for a kids mocktail recipe? Replace the non alcoholic red wine with juices and sparkling beverages and you've got the perfect kids drink!
What is non alcoholic sangria?
Traditional Sangria originates in Spain and Portugal. It's a punch like beverage made with red wine and fruit. Depending on where you purchase it, it may also be made with a combination of spirits and other ingredients. It's seen most frequently in bars, clubs and restaurants.
My non alcoholic Sangria recipe is made with alcohol free red wine or juice (depending on what you can get your hands on!), fruit and some optional sweetener should you need it.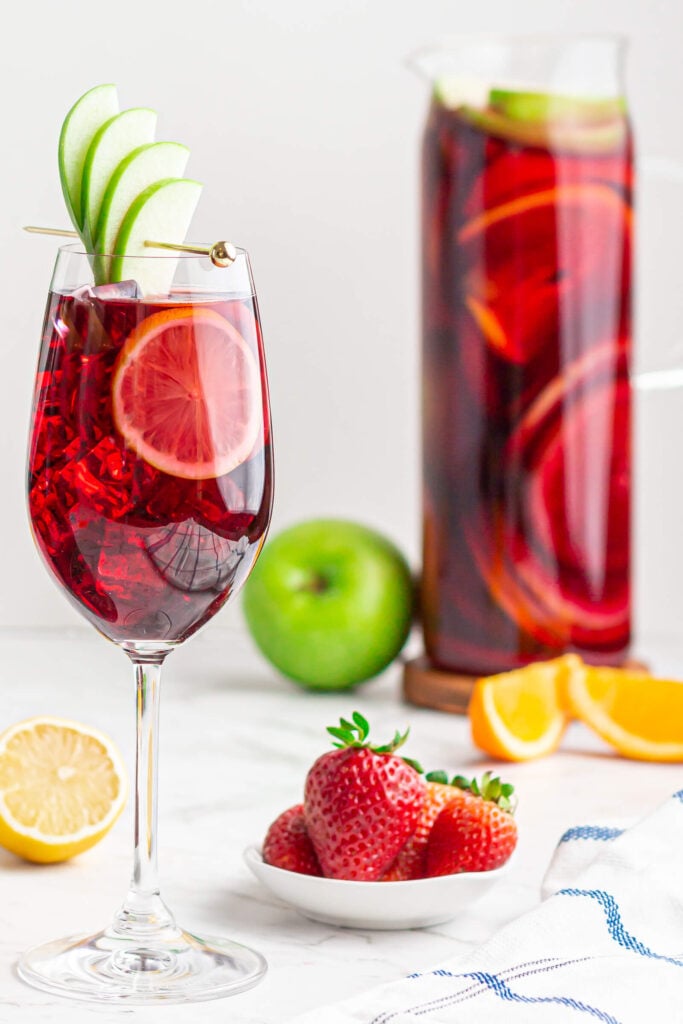 Ingredients you'll need
Non alcoholic red wine: I used Edenvales Premium Reserve Pinot Noir, which you can read more about below. Any medium bodied fruity wine works well. If you are unable to find it where you live, I've listed plenty of variations below that still taste great.
Chopped fruit: I personally love green apples, fresh oranges and lemon slices in this non alcoholic cocktail. They release the best flavour, and are a gorgeous colour combination with the green, orange and yellow.
Something sparkling: do you prefer a few bubbles in your mocktail? Whilst some love the combination of just the wine and fruit, adding a few bubbles can add a little something extra to this already beautiful drink. Ginger beer or ale tastes particularly good, or regular sparkling water works well too.
Optional sweetener: if you're not a sweet tooth, you might find there is plenty of sweetness with the red wine and fruit. If you like a little extra, maple syrup is divine, or you can use a sugar replacement, such as monk fruit sweetener.
VIRGIN SANGRIA Variations
The best thing about virgin Sangria is you really can make it your own. Find the quantities and ratios that work for you and stick with it!
You can replace with wine with fruit juice such as:
Cranberry juice, which still gives you the gorgeous red colour but makes this a little less 'adult' so it's perfect if you're making this mocktail for kids.
Pomegranate juice. This is my favourite juice to use in place of red wine, because I can purchase organic juice. When using juice, I'll always add some sort of sparkling beverage to keep the sugar content down.
Apple juice or grape juice. Again, it's personal preference which juice you decide to use, but a combination of apple or grape juice also works well!
Lime juice or lemon juice. Adding half or a whole cup of citrus juice gives this easy mocktail a nice little kick.
Different fruit. Use fruit of your choice. I love topping it with cranberries or pomegranate seeds - this works especially well if you're making this as a Christmas mocktail.
Make it sparkling! For a sparkling mocktail, try regular sparkling water, ginger beer or ale or citrus flavoured soda water.
Which non-alcoholic wine should I use?
Traditional Sangria calls for Garnacha, which is of course, a Spanish wine. Another great option is Rioja but again, I am yet to find a zero proof version of this wine.
The great news is that any medium bodied, fruity red works well and I found a perfect one - the delicious Premium Reserve Pinot Noir by Edenvale.
Edenvales premium range is quite new and I can absolutely vouch for it being insanely good. The Pinot Noir is my favourite. It has ripe red and dark fruit characters, hints of earthiness and a savoury complexity. Even better, it's made of the finest quality wine grapes and the alcohol is removed in such a way that the healthy antioxidants, vitamins and variety integrity is maintained.
An alcohol free red with health benefits? Yes please!
If you can't find Edenvale where you are, choose a medium bodied fruity red and you can't go wrong.
How to make it
Add sliced fruit and sweetener (if using) to a large pitcher. Give the fruit a gentle press with a muddler to release some juices.
Add the non alcoholic red wine (or juices of your choice) to the pitcher. Stir well.
Chill in the fridge for at least an hour before serving. I like to leave it 3-4 hours.
Serve in glasses with ice and extra fruit slices for garnish.
I hope you enjoy this non alcoholic Sangria recipe as much as I enjoyed creating it!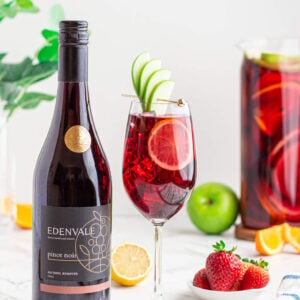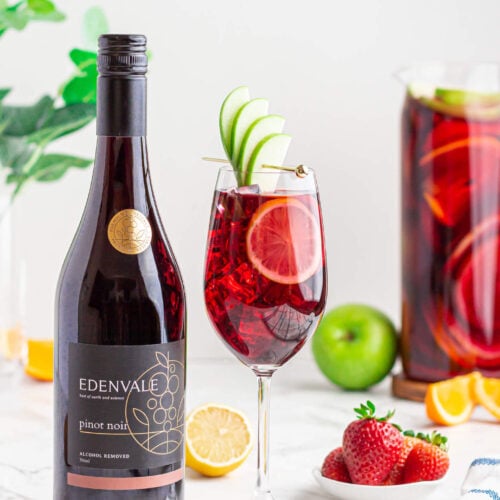 Non Alcoholic Sangria
An easy virgin Sangria recipe with plenty of variations.
Print
Pin
Rate
Ingredients
1

orange

sliced into rings

1

lemon

sliced into rings

35

mls

maple syrup or sweetener of choice

See note 1

1

green apple

sliced into wedges

150

mls

orange juice

See note 2

750

mls

bottle of alcohol-free red wine or juice alternative

See note 3

500

mls

sparkling beverage of your choice

See note 4
Instructions
Place orange, lemon and sweetener of choice in a large glass pitcher.

Muddle gently until some of the juice are released from the fruit. If you don't have a muddler, use the back end of a wooden spoon or similar.

Add the apple wedges, orange juice and non alcoholic wine or alternative. Stir gently to combine all ingredients.

Place in the fridge for at least an hour. I recommend 3-4 hours.

Taste and add more sweetener if needed.

Just before serving, add your sparkling beverage of choice (if making the sparkling version). Stir gently.
Video
Notes
Note 1: I used sugar free maple syrup in this recipe. Alternatives are Stevia, monk fruit sweetener, honey, or any other sweetener of your choice. Note 2: The orange juice is an optional ingredient. I always recommend freshly squeezed juice if possible, but store-bought juice tastes great too! Note 3: I used Edenvale Premium Reserve Pinot Noir, but any medium bodied fruity red will work well. If you can't find an alcohol free red wine, don't despair. I have made recommendations in the 'variations' section above on fruit juice that can be used as a replacement. Note 4: I prefer this virgin Sangria without the bubbles, but if you want to make it sparkling, I love diet ginger ale, soda water or a citrus flavoured sparkling water.
Nutrition
Serving:
250
g
|
Calories:
56
kcal
|
Carbohydrates:
15
g
|
Protein:
1
g
|
Fat:
1
g
|
Saturated Fat:
1
g
|
Sodium:
40
mg
|
Potassium:
220
mg
|
Fiber:
2
g
|
Sugar:
9
g
|
Vitamin A:
168
IU
|
Vitamin C:
52
mg
|
Calcium:
28
mg
|
Iron:
1
mg
NUTRITIONAL VALUES ARE ESTIMATES ONLY AND DO NOT INCLUDE CARBS FROM SUGAR ALCOHOLS.
This post might contain affiliate links.