This easy sunrise mocktail recipe with grenadine takes less than 5 minutes and looks incredible! Perfect for kids, pregnancy and your sobriety.
Are you looking for a sunrise mocktail? You've found it!
With a little twist on my mimosa mocktail, this non alcoholic cocktail ticks all the boxes, so you can be sure it's a winner.
Easy: with no bartending skills or shaking required, this virgin drink is as easy and pour and go. If you're a lover of all things simple, take a look at my easy mocktails too.
Fast: need a quick mocktail that still looks great? This recipe is perfect because it can be made in just a few minutes!
Perfect for a crowd: serving the masses? No worries! These pretty mocktails look perfect when you make a large tray of them for guests.
They look great: these drinks look far harder to make than they actually are, so you can impress your guests with a drink that looks restaurant quality in your backyard at home.
What is a sunrise mocktail?
There are plenty of sunrise drink variations out there, but the original tequila sunrise is thought to be where it all started.
It's made with tequila, orange juice and grenadine syrup and served in a tall glass.
The drink is named after it's appearance, with the red to light orange gradient thought to resemble a sunrise.
My mocktail version has a delicious combination of orange juice, your choice of non alcoholic sparkling wine (or alternatives listed below), and grenadine.
Ingredients you'll need
Orange juice: use freshly squeezed juice for a healthier alternative. There are plenty of great bottled versions out there if you don't have access to fresh!
My advice is to skip the pulp - no one wants floaties in their virgin sunrise mocktail!
Non alcoholic sparkling wine or sparkling water: If you can get your hands on alcohol free sparkling wine I highly recommend it. It tastes more like an 'adult drink'!
If you can't, or you prefer not to drink alcohol free wine, a sparkling water tastes delicious too.
Grenadine: traditional grenadine can be found in liquor stores and some supermarkets. It's made at home by boiling equal parts pomegranate juice and sugar until is develops a syrupy consistency.
Something to garnish: it's not absolutely necessary, but a garnish finishes this recipe off nicely and really adds to the wow factor.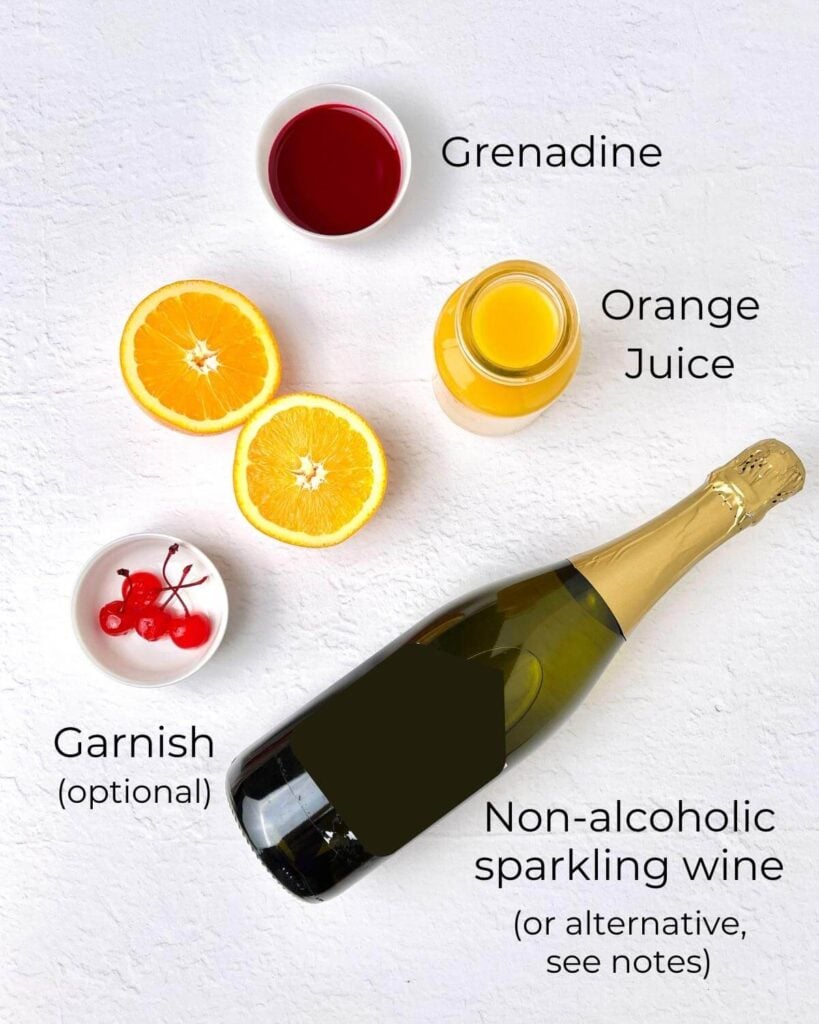 Variations
Not a fan of orange juice? No problem. This mocktail recipe will also work with pineapple juice, tropical juice or any juice of your choice.
Lemonade of your choice or ginger ale can be used to replace the alcohol free sparkling wine.
As for the grenadine, I have read that many have luck with pomegranate molasses, pomegranate juice or raspberry syrup.
As an experiment I tried the pomegranate juice at home, and it was a big fail! The idea with the grenadine is that it is heavier than the other liquids in the glass. This is why it will sink to the bottom, and the light liquid will rise to the top.
If you are going to replace it with something, it needs to be a liquid that is more dense than the other liquids you are using - so a raspberry syrup or pomegranate molasses might be a better choice.
How to make a sunrise mocktail
In a champagne glass, or glass of your choice, pour equal amounts orange juice and your choice of sparkling drink.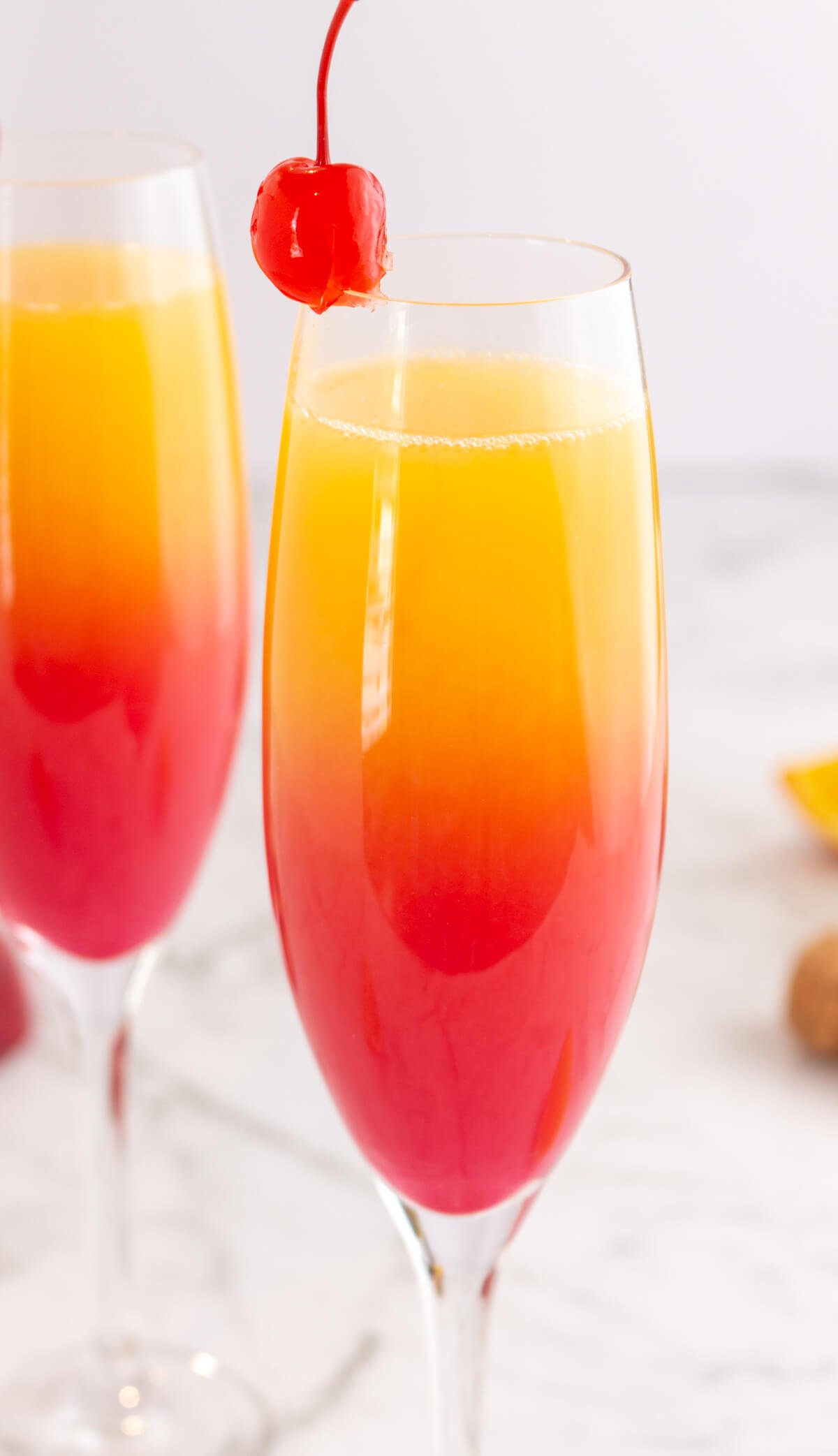 Take the grenadine and slowly pour it into the glass. I like to use a measuring spoon to do this, so I know I am pouring exactly the right amount. Grenadine is very sweet, so you don't need much at all!
Garnish with your choice of fruit. I find strawberries and cherries both work well.
I hope you enjoy making this pretty sunrise mocktail!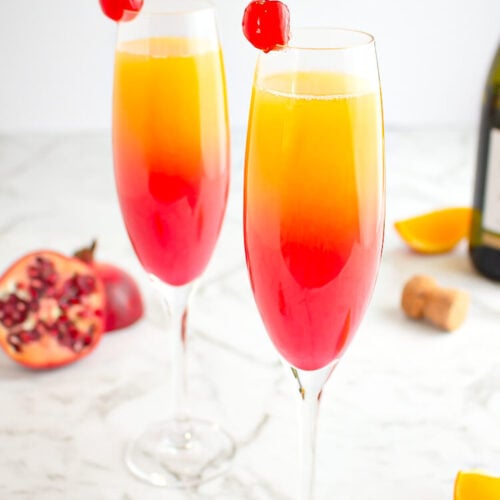 Ingredients
Alcohol-free sparkling wine

or alternatives (see note 1)

Orange juice

½

teapsoon

Grenadine
Instructions
Add equal amounts orange juice and non-alcoholic sparkling wine (or alternative) to a champagne flute.

Gently pour in the grenadine. Refer to video above where I demonstrate how to do this.

Garnish with your choice of fruit and serve.
Notes
Note 1: a citrus flavoured soda water, sugar free lemonade or diet ginger ale can be used in place of the non-alcoholic sparkling wine.
Nutrition
Serving:
250
g
|
Calories:
37
kcal
|
Carbohydrates:
5
g
|
Sodium:
1
mg
|
Potassium:
1
mg
|
Sugar:
4
g
|
Calcium:
1
mg
NUTRITIONAL VALUES ARE ESTIMATES ONLY AND DO NOT INCLUDE CARBS FROM SUGAR ALCOHOLS.