Looking for easy but impressive festival mocktails this holiday season? Ready in just 5 minutes, this 3-ingredient non-alcoholic drink is perfect for entertaining or for sipping whilst decorating your tree.
This festive mocktail recipes is sponsored by Lyre's. Thank you for supporting the brands that make The Mindful Mocktail possible.
The rich, spicy citrus flavors of Lyre's Italian Orange blend beautifully with tart cranberry and bitter tonic for a layered mocktail with a festive feel. Top with a sprig of rosemary and fresh cranberries for the classic red and green color scheme.
Why this recipe works
Bold and beautiful, this bitters-inspired mocktail is a unique twist on more traditional spiced drinks. Perfect over ice, it's a refreshing summer mocktail that is savory enough to enjoy in the cooler winter months. . You'll love this festive mocktail because it's:
Easy: With just 3 ingredients, this

easy Christmas mocktail

is ready in minutes. Best of all, no special skills are required, so you'll have your drink in under 5 minutes!
Pretty: When combined with fizzy tonic, syrupy cranberry juice settles to the bottom of the glass, creating an eye-catching layered effect. A sprig of rosemary and a few fresh cranberries make for a vibrant garnish.
Perfect for entertaining: Best made fresh in the glass, there's no risk of this festive mocktail getting warm on a hot summer's day. Simply pop the bottles into a bucket of ice and allow your guests to pour their perfect mix.
Festive: more modern color schemes have come and gone, but red and green are a classic combination.
Ingredients
Plan ahead and buy a bottle of Lyre's (or two) at their online store. Lyre's ship worldwide, so you can make this festival mocktail in any corner of the globe. The mixers are readily available at the grocery store.
Lyre's Italian Orange: if you are a fan of all things tart and bitter but haven't tried Lyre's Italian Orange yet, you are missing out. With rich notes of grapefruit, blood orange and pomegranate, this non-alcoholic spirit has a full mouthfeel and is a perfect for lovers of Aperol and Campari. Not to mention the color is just perfect for festive mocktails!
Cranberry Juice: a delicious combination of sweet and tart, cranberry juice provides a glorious deep maroon shade and the perfect balance to the bitterness of the tonic water and Italian Orange. For a healthier festive mocktail, select a low-sugar cranberry juice.
Tonic Water: choose a good quality tonic water for a clean, crisp taste. Light tonic water is a good option for a lower-sugar festive mocktail. Keep in mind the overall sweetness of the drink if you choose low-sugar cranberry juice and light tonic water.
If tonic water isn't to your liking, then soda water or non-alcoholic prosecco also works.
Garnish: a sprig of rosemary and a few fresh cranberries make for the perfect festive garnish. Pomegranate arils and a sprig of thyme or mint are great alternatives.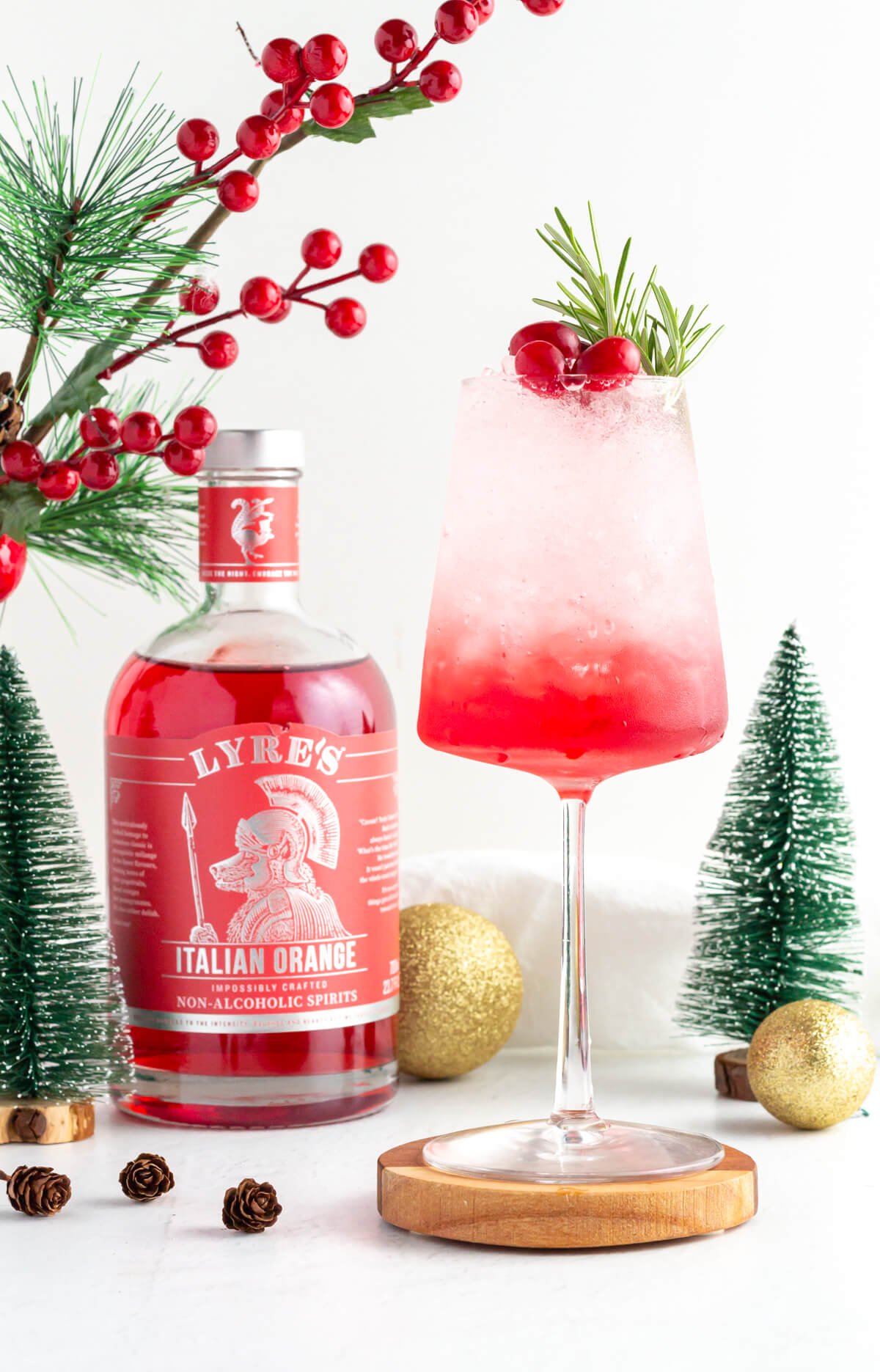 How to make festive mocktails
Fill a wine glass with crushed ice.
Pour in the cranberry juice and Lyre's Italian Orange. Gently pour in the tonic water, trying not to disturb the layered effect. Garnish with a rosemary sprig and some cranberries.
Serve immediately.
FAQ's
What is an apertivo?
This beautiful Italian word is derived from the Latin aperire. Also called an aperitif, this style of drink is designed to be consumed before the main meal. Often bitter, the bold flavors of an apertivo-style drink are perfectly suited to my festive mocktail. This drink is incredibly delicious when served alongside appetizers or grazing-style foods.
What is a traditional Christmas drink?
When you think of the holiday season, egg nog most definitely comes to mind. It's the perfect winter mocktail and is most certainly gaining popularity in the southern hemisphere too. Other popular drinks include mulled non-alcoholic wine and punch.
What is a non-alcoholic spirit?
Non-alcoholic spirits are drinks made from botanical extracts such as roots, leaves and spices. The distilling process allows for a rich palette of flavors without an alcoholic base. They're perfect when served in mixed drinks such as my festive mocktail. Non-alcoholic spirits add a delicious depth of flavor that will please those who like to drink and those choosing to abstain.
Expert tips
I like to chill all my ingredients prior to assembling this mocktail. Using crushed ice can often water down the drink faster, but this can be mitigated by chilling the ingredients first.
If you're not a huge fan of tonic water, oon-alcoholic sparkling wine is a perfect replacement. If you like a sweeter drink, the Lyre's Classico is a great choice. If you prefer dry, a non-alcoholic brut or prosecco with a low sugar content is ideal.
The garnishing options are endless when it comes to this mocktail. You could try mint or thyme for something green, or cherries or pomegranate seeds for the red.
Related recipes
I hope you love these festive mocktails as much as I do!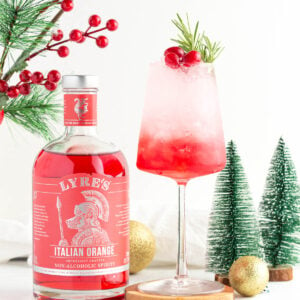 3 Ingredient Festive Mocktails
A simple festive mocktail that can be made in minutes - no bartending skills required!
Print
Pin
Rate
Ingredients
1

ounce

cranberry juice

1

ounce

Lyre's Italian Orange

5

ounces

tonic water

Cranberries and rosemary to garnish
Instructions
Fill a wine glass with crushed ice.

Add the cranberry juice, followed by the Lyre's Italian Orange.

Gently top with tonic water.

Garnish with rosemary and cranberries. Serve immediately.
Nutrition
NUTRITIONAL VALUES ARE ESTIMATES ONLY AND DO NOT INCLUDE CARBS FROM SUGAR ALCOHOLS.