This super refreshing watermelon agua fresca is naturally sweet and can be made in less than 10 minutes. It's healthy, hydrating and perfect for celebrations or to cool down on a warm Summer's day.
If hot weather makes you think of watermelon, then a classic watermelon fresca is for you. Filled with fresh watermelon and lime, this naturally alcohol-free drink is popular with young and old.
Prepare the pitcher and get ready for refills because when it comes to watermelon water, it's hard to stop at one!
Why This Recipe Works
This vibrant pink watermelon drink is a showstopper. You'll love this fruity mocktail because it's:
Easy: this refreshing summer drink is ready in no time. Simply mix, blend, strain and serve.
Hint: Skip the straining step to speed up the process and retain more nutrients.
Pretty: this mocktail allows the pretty pink hues of the watermelon to shine. The bold green of lime slices or mint makes for an eye-catching, simple, and effective garnish.
Perfect for a party: if you've ever wanted to splurge on a whole watermelon, here's your chance. Watermelon agua fresca can be made in bulk and then served in pitchers. Simply multiply the recipe and store it in the fridge until you're ready to serve.
Low in sugar: fresh watermelon is naturally sweet, so you may not need to add any additional sweetener. If you prefer a sweeter mocktail, you can use honey, monkfruit sweetener or liquid stevia. Keep in mind that honey is high in fructose. Monkfruit is my sweetener of choice as it is low-carb and all-natural.
What Is Watermelon Agua Fresca?
Agua frescas are a fruit-based drink that originated in Mexico. In English, the word translates to 'fresh water'.
Strawberry agua fresca is the original. It was traditionally made with strawberries, sugar, water, and lime juice. These days it's made with many different types of fruit.
They were invented as a delicious way to stay hydrated on a hot day. It's a refreshing, non-alcoholic drink that all can enjoy.
Ingredients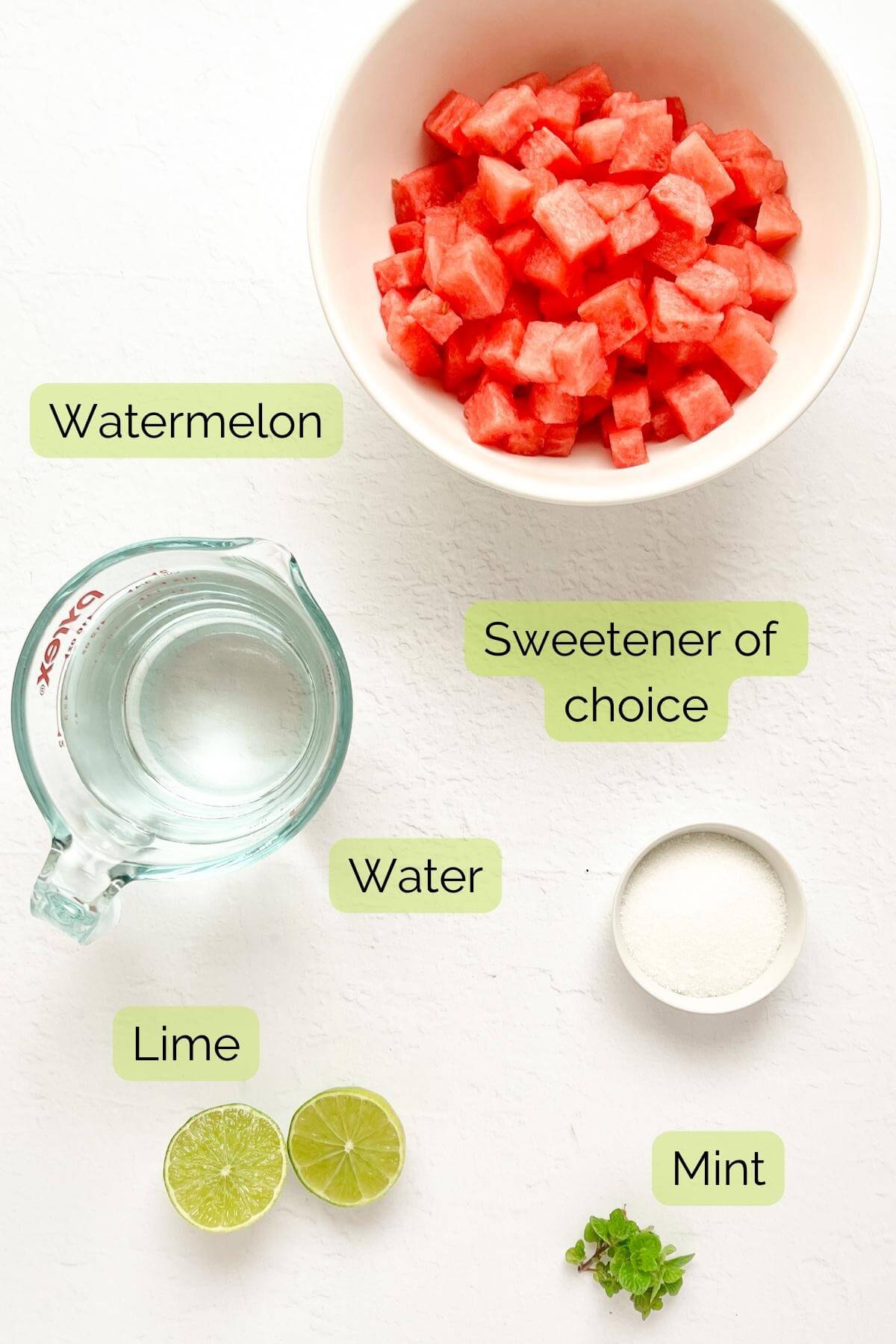 This refreshing watermelon drink calls for easy to find ingredients. It's a perfect summer mocktail when watermelons are in abundance but can be enjoyed year-round.
Watermelon: fresh watermelon is the hero of this mocktail. Watermelon contains potassium, magnesium, Vitamin A, and C. Select a ripe, seedless watermelon where possible.
Seedless watermelon will allow you to enjoy your watermelon agua without straining and retain more nutrients.
Frozen watermelon works if you can't find fresh watermelon in the store. Make sure to fully defrost the watermelon before use.
Honey or sweetener: packed with naturally sweet fructose, honey is an excellent choice of sweetener. Fructose is sweeter than refined sugar, so you only need a small amount to achieve the same sweetness.
The added benefit of honey is that it doesn't have an aftertaste like many sweeteners. It will also add a delicate flavor to your fresca.
For a lower sugar watermelon agua fresca, sweetener is a great choice. Both stevia and monkfruit sweeteners are naturally derived and low carb.
Sweetener can often be used in the same ratio as sugar, but check the label to be sure.
Hint: this watermelon water drink is naturally sweet. Add honey or sweetener in increments until you find the right level of sweetness for you.
Fresh limes: it's hard to go past fresh ingredients, especially when the name 'fresca' literally translates to fresh. Juicy ripe limes are full of vitamin C and have a distinctive fresh tang. You can also cut leftover lime into wheels and use it as a garnish.
Buy limes when they are in season and freeze their juice into cubes. This way, you'll always have fresh lime juice on hand. If fresh limes aren't available, bottled juice works too.
Mint to garnish: gloriously green mint makes the pink watermelon agua fresca pop. Level up your garnish with a lime wheel or watermelon wedge.
Equipment you'll need
A blender is the secret to being a whiz in the kitchen for this easy watermelon agua fresca recipe!
High-speed blender: perfect for blitzing fruit until it's lovely and smooth. A regular stick blender will work; however, you may prefer to strain your drink before serving.
Strainer: if you prefer drinks to be smooth in consistency, then you'll need a strainer. Straining removes some of the nutrients from the fruit, so your drink will be healthier if you skip this step.
Pitcher: perfect for parties; watermelon fresca looks great in a glass pitcher. Place ice cubes in the pitcher to ensure the fresca stays lovely and cold.
How to Make Watermelon Agua
Pretty and pink, this refreshing watermelon agua fresca is easy to make. Simply:
Place watermelon, 1 cup of water and sweetener of choice (optional) into a high-speed blender.
Blend until combined.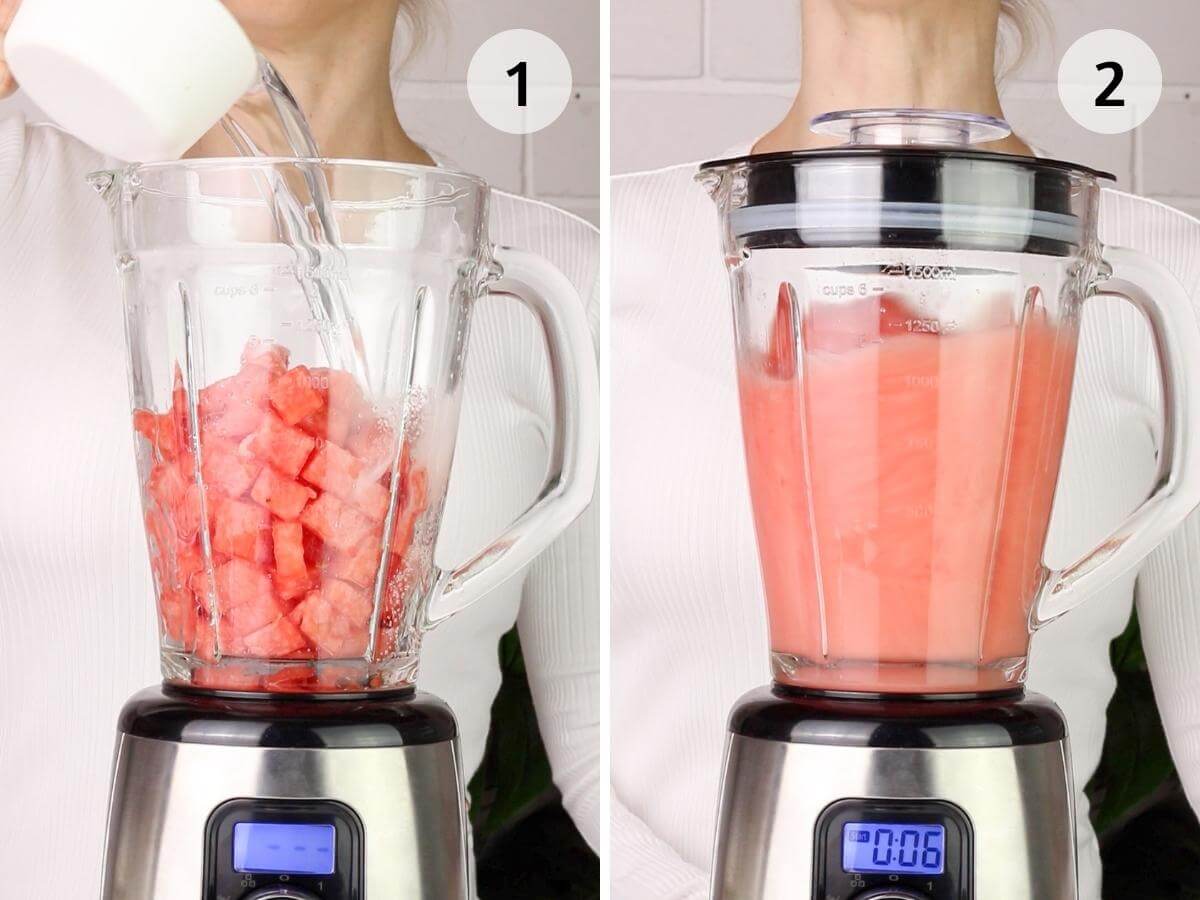 3. Strain liquid through a sieve into a pitcher (leave unstrained to retain more nutrients).
4. Add 1 cup of water and stir.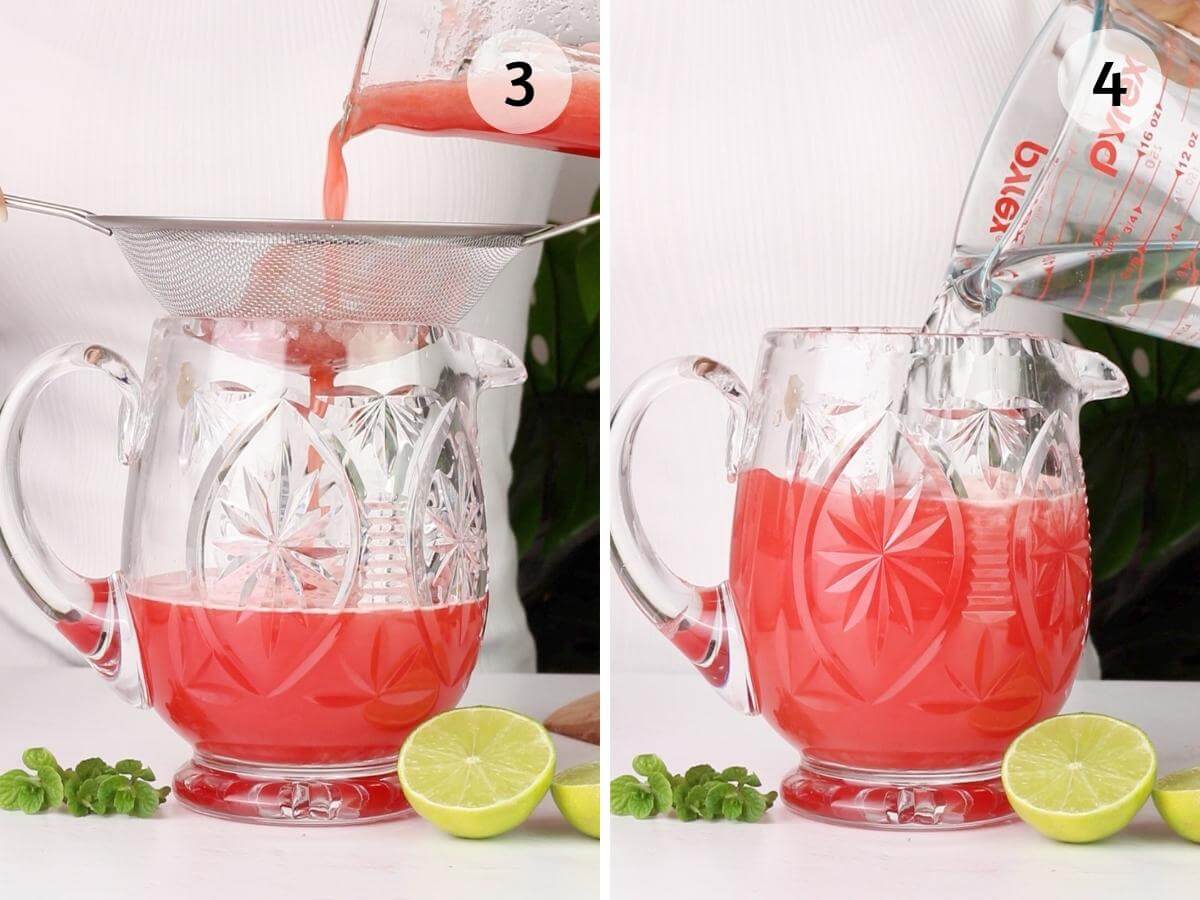 5. Chill in the fridge until ready to serve or serve immediately over ice. Add a squeeze of lime to each glass and stir
6. Garnish with mint sprigs, lime wheels or watermelon wedges.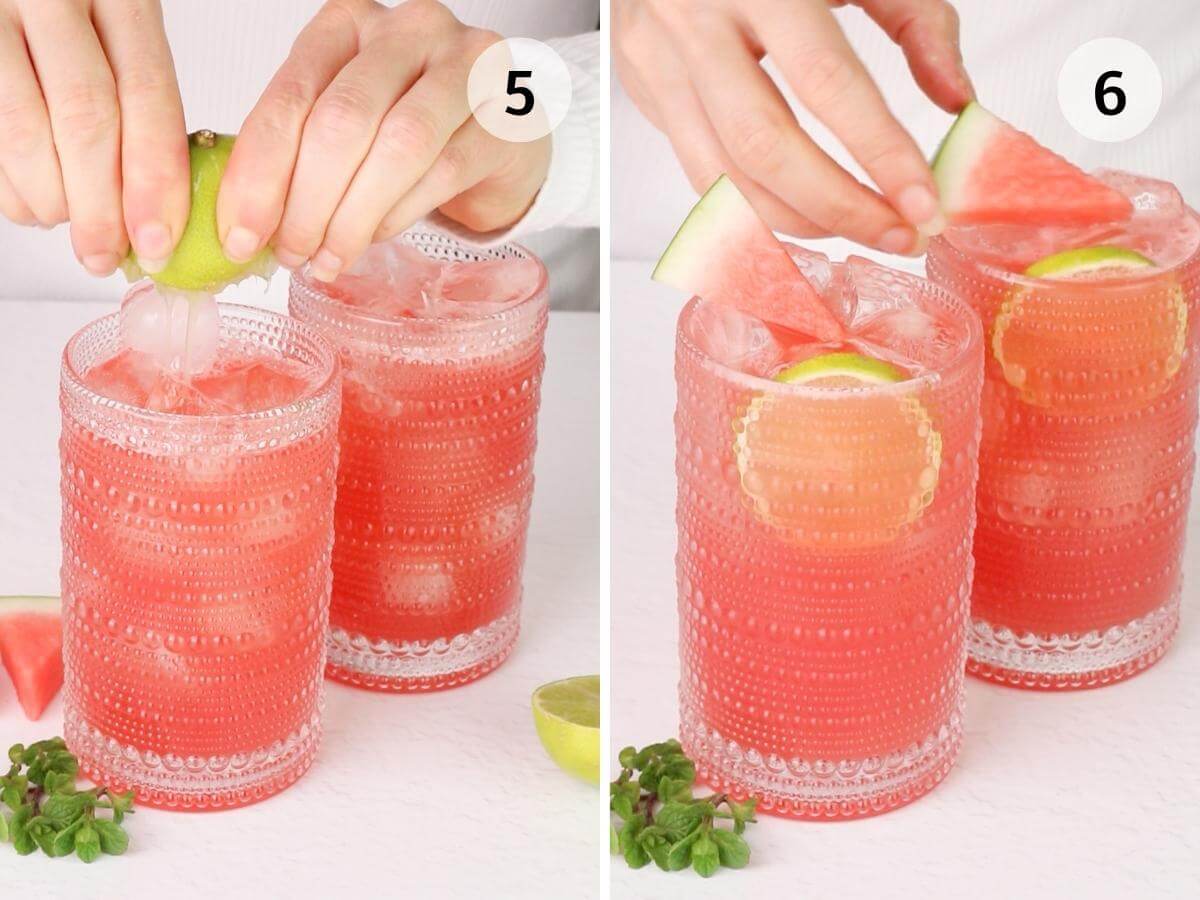 Frequently Asked Questions
Is watermelon agua fresca healthy?
Packed with naturally sweet watermelon, this classic agua fresca is refined sugar-free. Naturally occurring vitamins A, C, and magnesium offer plenty of health benefits.
Some nutrients will be lost in processing. Enjoy your drink unstrained to enjoy more of the nutrients.
Do I need seedless watermelon to make fresca?
A high-speed blender will make light work of watermelon seeds. Straining will also remove any larger pieces of seed or chunks. If you'd prefer to enjoy your drink unstrained, seedless watermelon is the best option.
How long does it last?
The simple ingredients in this fresca watermelon drink mean that it's great to make ahead of time. Fresca will keep in the fridge for around 3 days. Simply give it a quick stir before serving.
Tip: Store fresca in pitchers that have a sealed lid. This way, you can go straight from the fridge to the table.
Expert Tips
For a thicker fresca, skip the straining step and pour straight into your glass from the blender. The end result won't be quite as smooth, but it will retain more of the nutrients.
If you choose to strain, you may need to do it in batches and remove the pulp from the strainer as you go so it doesn't get clogged.
For a refreshing treat, freeze the watermelon fresca mixture into ice pole moulds and enjoy on a warm day!
Related Recipes
If you love this recipe, be sure to check out my:
I hope you enjoy this watermelon agua fresca as much as I did!
Love this recipe?
Please leave a 5-star 🌟🌟🌟🌟🌟 rating in the recipe card below or leave me a comment if you REALLY love it!
Like what you see? Stay in touch with me via Instagram, Facebook and Pinterest. I love connecting with you!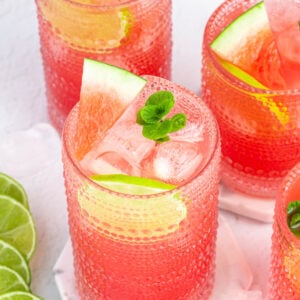 Watermelon Agua Fresca
This classic watermelon agua fresca recipe is easy to make and perfect to sip on warm days.
Print
Pin
Rate
Ingredients
4

cups

cubed watermelon

2

cups

water

¼

cup

lime juice

Your choice of mint, lime or watermelon wedges for garnish
Sweetener options - use your choice of:
1-3

tablespoons

honey

1-3

tablespoons

powdered monkfruit sweetener

1-3

tablespoons

sugar

A few drops liquid Stevia
Instructions
Place watermelon, sweetener and 1 cup of water into a high speed blender. Blend well.

Using a teaspoon, test the sweetness. Add more if you prefer, then blend again.

Strain liquid into your pitcher and add the remaining 1 cup of water.

Add ice to your glasses and pour the agua fresca over the top.

Add some fresh lime juice to each glass and stir. Taste and add more lime if needed.

Garnish with your choice of lime wheels, mint or watermelon wedges.
Notes
A note on sweetener: watermelon water is naturally sweet, so you may not need additional sweetener or sugar. 
If you choose to, add it to the blender 1 tablespoon at a time, then blend, taste and adjust until you reach your preferred sweetness.
A note on straining: to retain all the nutrients of the watermelon, you can skip the straining step and leave the mixture unstrained. The agua fresca won't be quite as smooth, but it will still be delicious!
If you do choose to strain, you might need to do this in batches depending on how large your strainer is. Remove excess pulp from the strainer as you go to make it easier.
Nutrition
Serving:
1
cup
|
Calories:
68
kcal
|
Carbohydrates:
18
g
|
Protein:
1
g
|
Fat:
1
g
|
Saturated Fat:
1
g
|
Polyunsaturated Fat:
1
g
|
Monounsaturated Fat:
1
g
|
Sodium:
8
mg
|
Potassium:
201
mg
|
Fiber:
1
g
|
Sugar:
15
g
|
Vitamin A:
922
IU
|
Vitamin C:
18
mg
|
Calcium:
18
mg
|
Iron:
1
mg
NUTRITIONAL VALUES ARE ESTIMATES ONLY AND DO NOT INCLUDE CARBS FROM SUGAR ALCOHOLS.