Fresh and tangy, my ginger and turmeric infused wellness shots are perfect for those after a delicious boost of goodness. Easy to make, you'll be raising a (small) glass to good health in 10 minutes or less.
If you're looking to boost your immune system and give your body a healthy little zing, then my ginger turmeric shots are for you. Filled with fresh ginger root, earthy turmeric and other anti-inflammatory ingredients, these wellness shots are the perfect morning kickstarter.
Jump to:
Why This Recipe Works
Brimming with antioxidants and anti-inflammatories, my vitamin-packed shots are a healthy way to support your body when you're feeling run down or unwell. You'll love these 10-minute ginger turmeric shots because they are:
Inexpensive: Packed with easy-to-find ingredients like fresh ginger, carrot and citrus, my wellness shots are an inexpensive way to support your health. Homemade shots are a fraction of the cost of store-bought, which are often several dollars each. Whether you are need a little pick-me-up or nursing a cold, premake a pitcher and then pour into shots as required. Your body and wallet will thank you for it!
Naturally fresh: Unlike store-bought varieties, this ginger shot recipe is free from preservatives, additives or concentrates. You'll fully benefit from all of the natural goodness, and best of all, these ginger turmeric shots keep in the fridge for up to 7 days.
Cleansing: Wellness shots aren't only for those feeling under the weather. They are also perfect for anyone on a cleanse or wanting to boost their daily dose of vitamins.
Gloriously golden: You can almost see the nutrients brimming in the vibrant orange of this turmeric shot recipe. Alongside orange and ginger, fresh turmeric shares its intense hues without any need for artificial nasties.
What Are Wellness Shots?
Designed to give your body a boost, wellness drinks are typically a mixture of ingredients rich in vitamins, minerals, antioxidants and anti-inflammatories. When made fresh, the shots offer your body a powerful little explosion of goodness to support your immune system, aid digestion or fight inflammation.
Homemade ginger turmeric shots are especially effective as they're free from preservatives and artificial flavorings. They also offer maximum nutritional benefits when consumed fresh, unlike store-bought varieties that may contain inferior quality ingredients and are processed to extend shelf life.
Ingredients
Earthy, refreshing and with just the right amount of sweetness, these nutrition-packed wellness shots are filled with some seriously healthy ingredients. Best of all, they're inexpensive and easily found at the grocery store.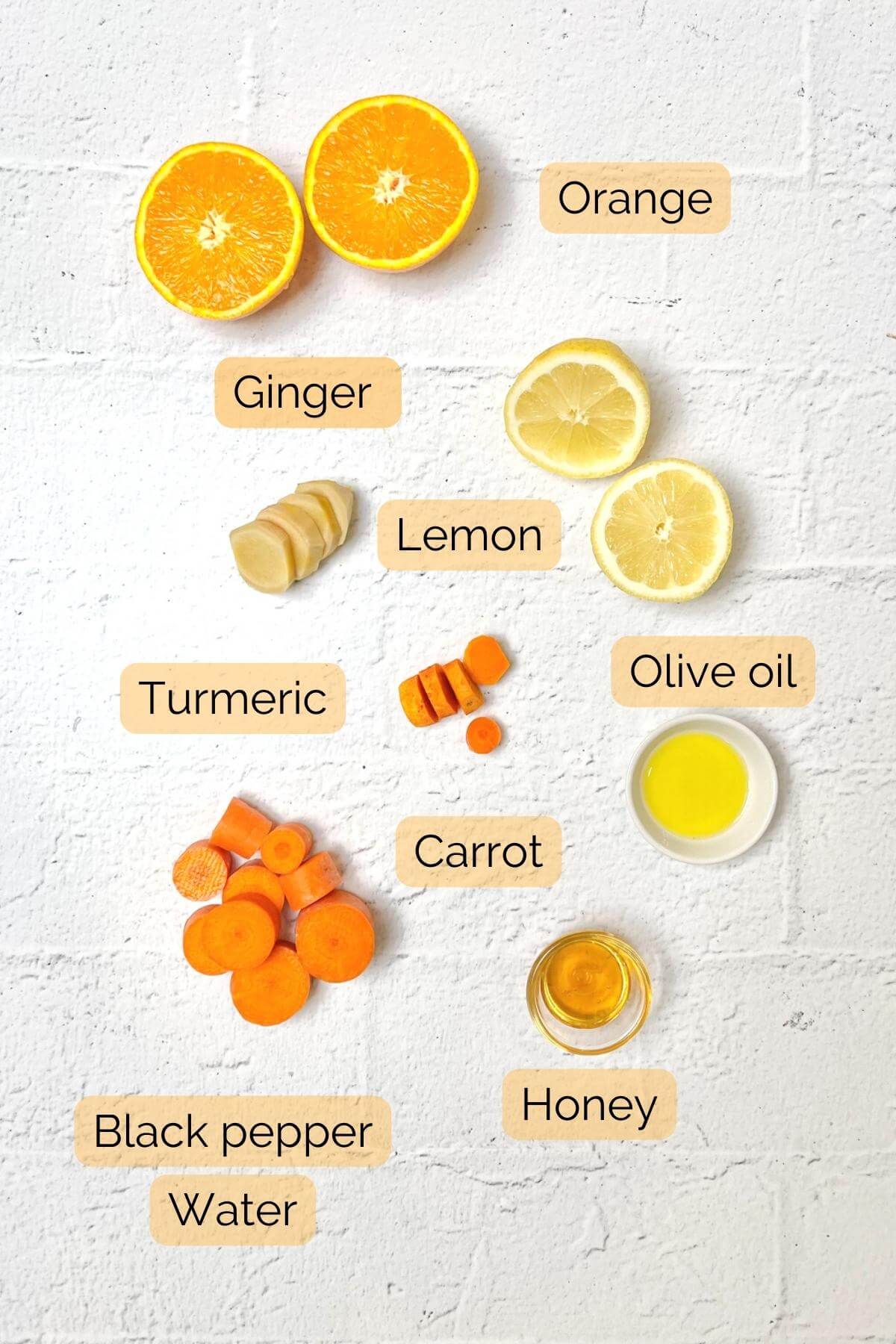 Ginger: Fresh ginger root offers a gentle spice and gingerol, which aids digestion. Select a fresh piece of root that feels firm to the touch and store it in the cooler of your fridge until you're ready to make your shots.
Citrus: Orange and lemon juice add a wonderful acidity to this wellness shot. Packed with vitamin C, they're a powerful ingredient that can support cold and flu symptoms. Replace the lemon with a lime if you want a slightly sweeter mix.
Turmeric: The pale brown skin of the turmeric root hides the most glorious saffron shade below. Packed with curcumin, turmeric has long been hailed as an anti-inflammatory, and its color is incredible.
Carrot: Fresh carrot is a staple ingredient you probably already have in your fridge. Select a firm, fresh carrot and get ready to reap the rewards of vitamin A and beta-carotene. Beta-carotene converts into vitamin A, which supports vision, immune system and skin health.
Ground pepper: As well as adding a spicy kick, ground pepper supports your body in digesting the turmeric. Select a coarser grind if you like a more intense flavor, or select finely ground for less of a kick.
Ginger Shot Benefits
There are many benefits to drinking ginger wellness shots. Here are just a few:
It can aid your digestion
The anti-inflammatory properties of ginger and turmeric may help ease pain
It provides a rich source of vitamins and nutrients which may boost your immune system
Some evidence shows that it may help support healthy blood sugar levels
May aid in weight loss by helping you to feel less hungry
Some research shows that ginger may reduce cholesterol levels
Equipment You'll Need
A high-speed blender is the secret to creating a pulp-free wellness shot that is easy to drink.
High-Speed Blender: perfect for pulverising woody ginger and turmeric root until it's lovely and smooth. A handheld grater can also be used for ginger, turmeric and carrot. Select a fine gauge to reduce lumps.
FAQ's
How often should I take a wellness shot?
Generally, once a day should be sufficient. However, if you're feeling particularly unwell, you may like a second shot to support your body.
Do wellness shots need to be refrigerated?
Once made, you can keep the mixture in a sealed pitcher or container in your fridge. These shots can be consumed at room temperature or cold, but storing in the refrigerator is best for longevity.
Are wellness shots good for you?
These shots are great for you and are packed with nutritious ingredients like manuka honey, fresh ginger, and vitamin C rich citrus. Like all things, moderation is essential, so enjoy your shot and reap the benefits of a small but potent drink.
Expert tips
If you don't have a powerful blender, you can grate the harder ingredients such as the ginger, turmeric and carrot to make it easier to blend.
I prefer not to strain the mixture because I don't want to waste any of the goodness, but you can strain using cheesecloth or a fine mesh sieve if you prefer a smoother shot.
You can keep the mixture for 7 days in the fridge or freeze into large ice cube trays and defrost when required.
Looking for more healthy drink recipes? Try these:
I hope you love these wellness shots as much as I do!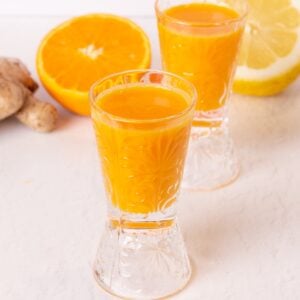 Wellness Shots
Make this easy wellness shot with ginger, turmeric and orange when you need a quick burst of nutritious goodness.
Print
Pin
Rate
Ingredients
1

large orange

peeled and chopped

1

lemon or lime

peeled and chopped

1

inch

turmeric

peeled and chopped

2

inch

ginger

peeled and chopped

1

carrot

chopped

½

tablespoons

honey

1

tablespoon

olive oil

1

cup

water

Pinch of ground black pepper
Instructions
Add all ingredients to a blender and blend well.

Pour into a small bottle or divide into 7 serves.

Keep in the fridge and have 1 shot every day for 7 days.
Notes
Don't have a powerful blender? Just grate the harder ingredients such as the ginger, turmeric and carrot to make it easier to blend.
Prefer a smoother shot? You can always strain it using a cheesecloth or strainer. Personally I don't do this, I like keeping all the goodness!
You can keep the mixture for 7 days in the fridge or freeze into large ice cube trays and defrost when required.
Nutrition
Calories:
41
kcal
|
Carbohydrates:
6
g
|
Protein:
0.5
g
|
Fat:
2
g
|
Saturated Fat:
0.3
g
|
Polyunsaturated Fat:
0.2
g
|
Monounsaturated Fat:
1
g
|
Sodium:
8
mg
|
Potassium:
93
mg
|
Fiber:
1
g
|
Sugar:
4
g
|
Vitamin A:
1501
IU
|
Vitamin C:
19
mg
|
Calcium:
16
mg
|
Iron:
0.2
mg
NUTRITIONAL VALUES ARE ESTIMATES ONLY AND DO NOT INCLUDE CARBS FROM SUGAR ALCOHOLS.