An easy non-alcoholic Baileys recipe that's ready in 5 minutes. Just blend and serve. It's a delicious choice when you are going alcohol-free. This yummy Irish cream is perfect for Thanksgiving, Christmas or just because.
This decadent non-alcoholic Baileys recipe is an easy mocktail that requires little prep or cleanup. It's a perfect Christmas mocktail or to sip with friends.
Why this recipe works
Sweet and milky, my Virgin Baileys recipe tastes remarkably similar to Irish cream liqueur but with none of the regret. Coconut milk brings a lovely level of creaminess with the option to add a tablespoon of light cream for a richer flavor. You'll love my alcohol-free cream liqueur because its:
Easy: simply put the ingredients into a blender to combine. Pour the non-alcoholic Irish cream into an ice-filled glass, and you're ready to drink!
Fast: it only takes 5 minutes to whip up a batch of my alcohol-free Baileys. Best of all, you can increase the quantities for a crowd with no extra effort. It's such an easy drink to make when entertaining over Thanksgiving, Christmas and the New Year.
Healthy(ish!): coconut milk is a lower calorie and lower fat option than recipes with a heavy cream base. Use maple syrup or sweetener for a lower sugar option.
Cream: a tablespoon of cream is all it takes to make this virgin Baileys recipe perfect. Choose light or heavy cream, depending on your taste. If you'd like a lighter or dairy-free option, feel free to skip this ingredient.
Ingredients
Just a few simple ingredients combine to create a delicious non-alcoholic Irish cream drink that I'm sure will become one of your go-to party drinks in no time!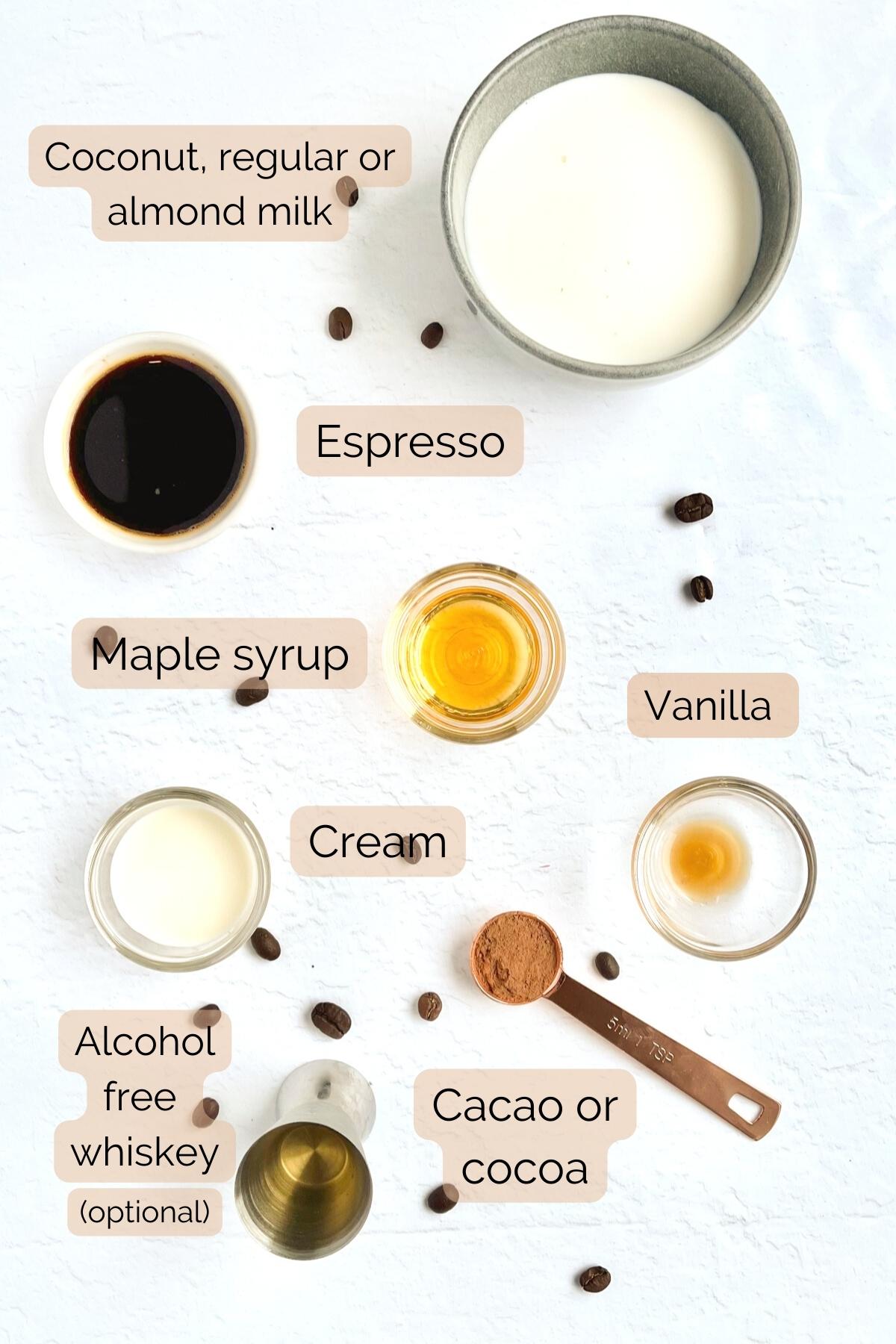 Espresso: espresso is the hero of this Virgin Baileys recipe. It adds a richness of flavor and compliments the creamy coconut milk perfectly. Select your favorite blend or pod for this drink. Just make sure you allow time for it to cool before mixing. Tip! no espresso machine? Check the FAQ's below for an easy instant coffee alternative.
Coconut milk: rich in calcium, vitamin D and B vitamins, coconut milk is the perfect base for my alcohol-free cream liqueur. It's lower in calories and fat than heavy cream yet offers the creaminess you'd expect from a Baileys recipe. If you're not a fan of coconut milk, feel free to substitute this with cow's milk, almond milk or your milk of choice.
How to make Non-Alcoholic Baileys
Place all ingredients in a blender or cocktail shaker.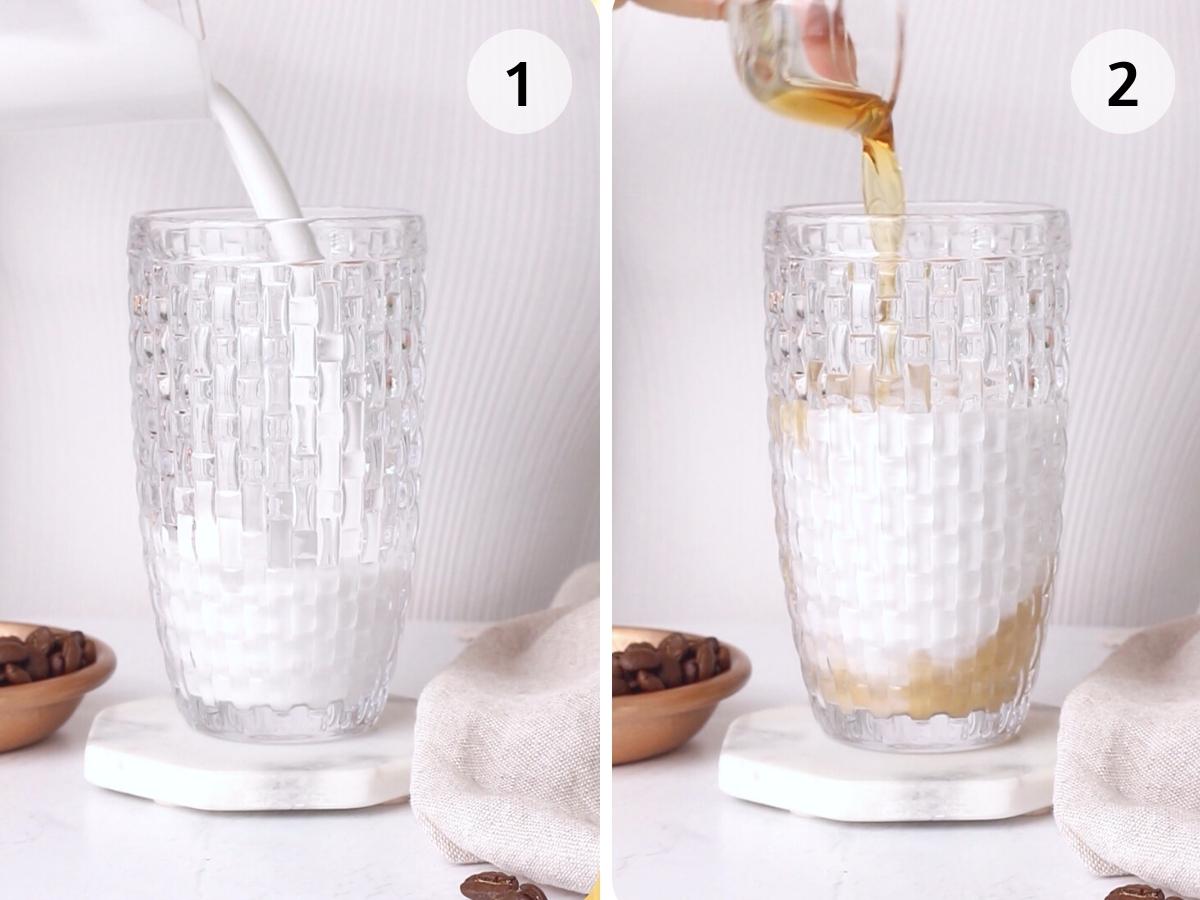 Blend on low until just combine. If using a shaker, shake well with ice.
Serve over ice and garnish with whipped cream, chocolate flakes or coffee beans if you wish.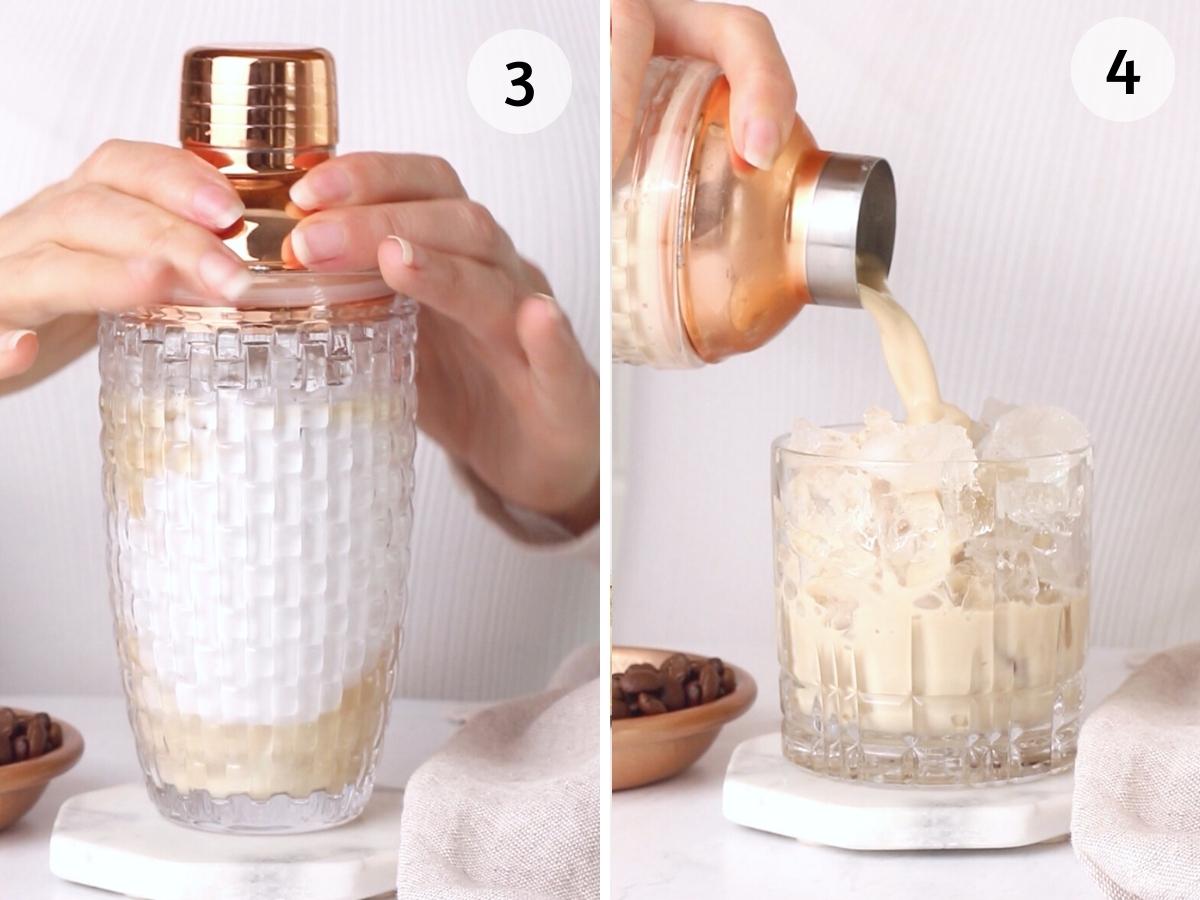 Frequently asked questions
Can I use instant coffee in this virgin Baileys recipe?
If you don't have a coffee machine, you can create something similar to espresso with instant coffee.

You will need good quality instant coffee granules for my virgin Baileys recipe. Espresso is usually made with Arabica coffee beans, so pick a brand of instant coffee that does too.

For a single shot of espresso (perfect for this non-alcoholic Irish cream), mix 1-2 heaped or 
level teaspoons for instant coffee with 30ml/1oz of hot water. Test for strength and increase or decrease the coffee to taste. You can make a double shot by mixing 2-3 teaspoons (heaped or level) into 60ml/grams of hot water.
Is vanilla essence the same as vanilla extract?
Generally, extract is a natural product, whereas essence is synthetic. Vanilla essence is a more processed product that is made using artificial colors and flavors. It's cheaper than extract. However, the flavor often isn't as strong and more is required.

Vanilla extract is made by soaking vanilla beans in an alcohol solution to extract their flavor. Look for terms such as 'pure vanilla extract' on the label to ensure you're purchasing a natural product. 
The nature of producing vanilla extract means this product contains alcohol. If you'd prefer to make this non-alcoholic Baileys recipe 100% alcohol-free, choose vanilla essence and adjust the quantity to taste.
How long does non-alcoholic Baileys Irish cream keep, and does it need to be stored in the 
fridge?
This recipe is best consumed just after it's made. It would keep for up to 2 days in the fridge without the cream. Coconut milk requires refrigeration, so if you're making this recipe in advance, make sure to store it in an airtight container in the fridge until you're ready to serve it. 
When you're ready to serve, give it a quick stir or blend.
Expert Tips
To make your non-alcoholic Baileys extra special, top with whipped cream and chocolate flakes or coffee beans.
I love making a big batch of this and serving it for special occasions. To make it in advance, simply follow all the steps below, and keep in the fridge until you are ready to serve. You might need to give the mixture a quick blend or shake just prior to serving.
I adore the creaminess of the coconut milk, but you can choose a different milk if you prefer. Regular full cream milk is a popular replacement, while almond milk offers a lovely nutty flavor.
Looking for more recipes like this? Try these!
I hop you love this delicious non-alcoholic virgin Baileys as much as I do!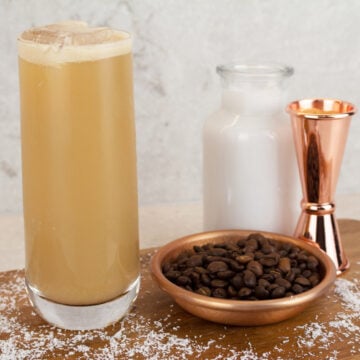 Virgin Baileys Recipe
An easy non-alcoholic baileys recipe, just blend and serve. A perfect drink when you are going alcohol-free. Try this yummy Irish Cream today.
Print
Pin
Rate
Ingredients
¾

cup

coconut milk, or milk of your choice

(see note 1)

1

oz

chilled espresso or instant coffee shot

(see note 2)

2

teaspoons

maple syrup

1-2

drops vanilla essence or extract

(to taste)

½

teaspoon

cacao or cocoa powder

1

tablespoon

light cream

(optional)
Instructions
Place all ingredients in a blender and blend on low until just combined. Alternatively, place all ingredients in a shaker with a few cubes of ice and shake well for about 20 seconds.

Taste, then add more maple syrup and/or cream to reach your desired taste.
Video
Notes
Note 1: I love using coconut milk in this recipe because it adds a delicious creaminess. You can use regular milk if you prefer, or almond milk gives a beautiful nutty flavor. Note 2: For a single shot of espresso (perfect for this non-alcoholic Baileys), mix 1-2 heaped or level teaspoons of instant coffee with 30ml/1oz of hot water. Test for strength and increase or decrease the coffee to taste. You can make a double shot by mixing 2-3 teaspoons (heaped or level) into 60ml/2oz of hot water. Note 3: The cream is an optional ingredient but it really does add a lovely decadence to this recipe! If you are using coconut cream you may choose not to use cream as it's already quite rich. I highly recommend using the cream if you using a regular or almond milk. Note 4: Make this into a true dessert drink by adding whipped cream and chocolate flakes on top!
Nutrition
Calories:
438
kcal
|
Carbohydrates:
17
g
|
Protein:
4
g
|
Fat:
43
g
|
Saturated Fat:
38
g
|
Sodium:
30
mg
|
Potassium:
440
mg
|
Fiber:
1
g
|
Sugar:
8
g
|
Vitamin C:
2
mg
|
Calcium:
51
mg
|
Iron:
7
mg
NUTRITIONAL VALUES ARE ESTIMATES ONLY AND DO NOT INCLUDE CARBS FROM SUGAR ALCOHOLS.