THIS STRAWBERRY MOJITO MOCKTAIL IS A FUN TWIST ON THE ORIGINAL. SERVED OVER ICE, IT'S A SWEET, REFRESHING DRINK THE WHOLE FAMILY CAN ENJOY.
If you're looking for a sweet and fruity mojito recipe, then my strawberry mojito mocktail is for you. Unlike its tangy cousin, this mojito recipe makes the most of juicy fresh strawberries. Sweet and summery, this delicious mocktail is the perfect choice for a warm day.
This mojito mocktail recipe is sweet and refreshing, making it an excellent choice for spring or summer.This virgin strawberry mojito is just as fun to make as it is to drink. Its:
Easy: with easy to find ingredients and a few simple tools, you'll have your mojito mocktail in hand in no time!
Healthy: fibre packed strawberries and vitamin C packed limes, this delicious drink s not just refreshing but good for you too!
Low in sugar: strawberries are the primary source of the sweetness of this mocktail. Use an all-natural, zero-carb sweetener such as monk fruit sweetener for a lower sugar and carb option. Note: you can use regular sugar or another sweetener if you prefer; just be mindful of the sugar content.
Easily adapted: my virgin strawberry mojito mocktail is easily adapted. Replace the plain soda with a lime or add your own twist with kombucha. This recipe also works well when batch made and served in a pitcher.
WHAT IS A TRADITIONAL MOJITO COCKTAIL, AND HOW IS A MOJITO MOCKTAIL DIFFERENT?
Traditionally, a mojito cocktail is made of white rum, lime juice, mint and sugar. The mint and lime are muddled with sugar to release the juice and flavours. Then, ice is added with rum and soda water.
This virgin strawberry mojito mocktail recipe is inspired by the original but omits the rum and uses healthier sugar alternatives. Strawberries, fresh mint, and lime juice are muddled together for a vibrant variation.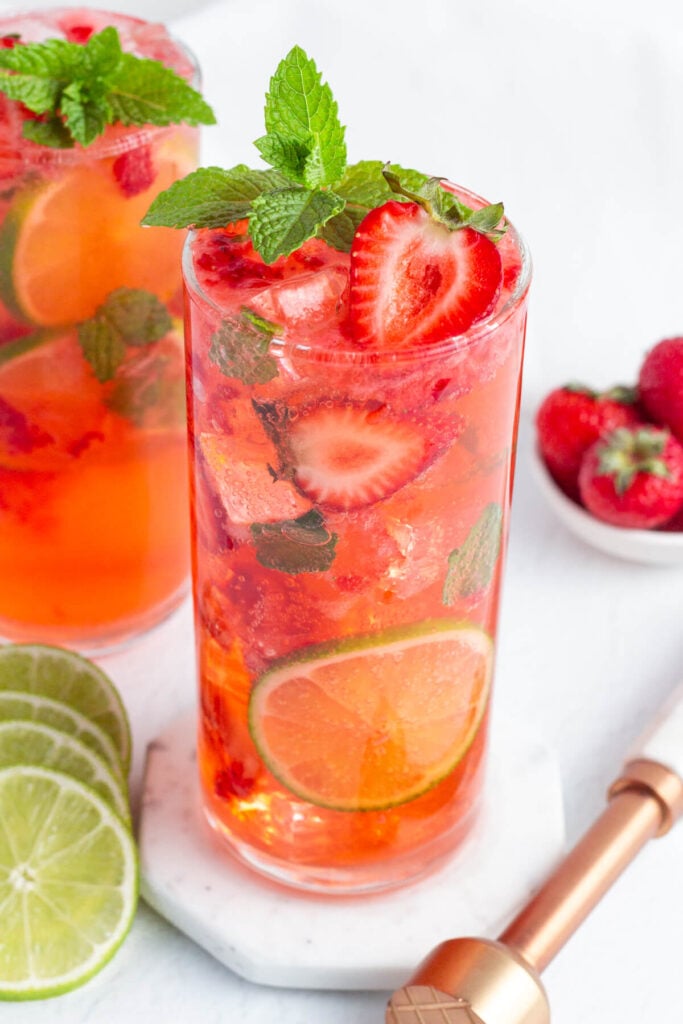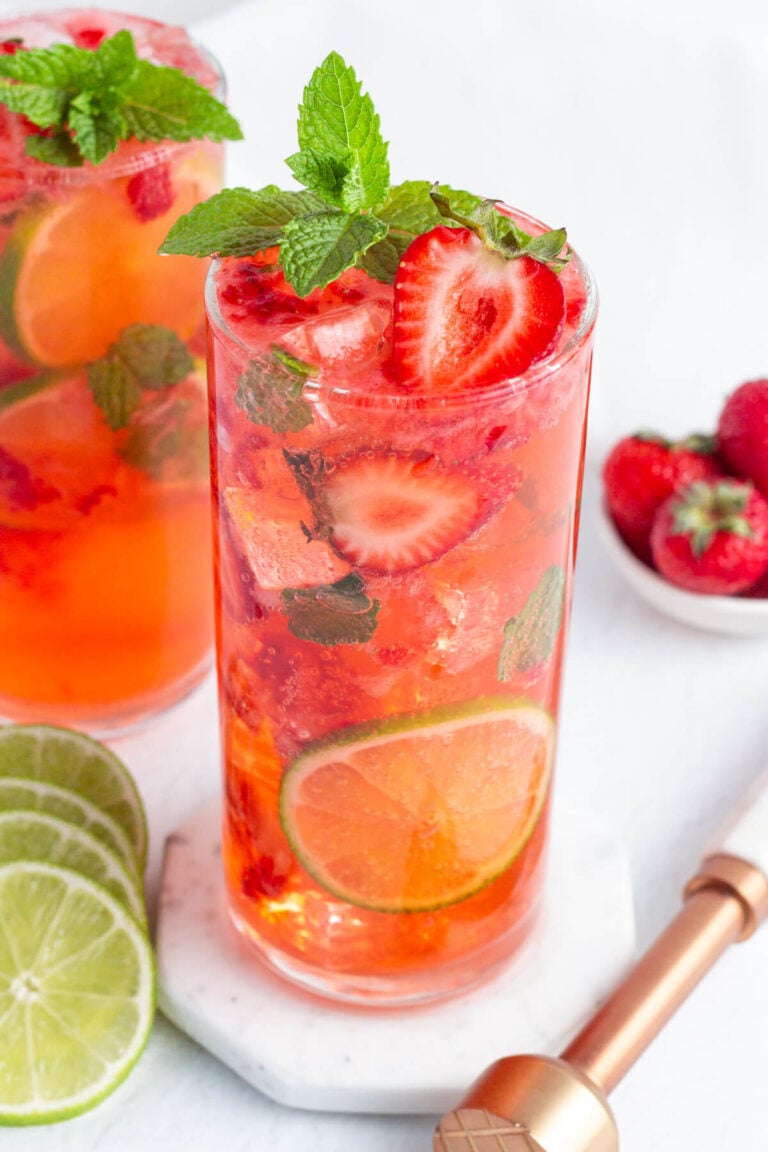 EQUIPMENT YOU'LL NEED
Glasses: mojitos are traditionally served in a highball glass. If you don't have them, don't stress. The vibrant combination of strawberry, mint and lime mean your virgin strawberry mojito will look beautiful in any type of glass.
A muddler: that's perfect if you have a normal muddler! If not, the back of a wooden spoon works too.
Pitcher or jug: just increase the quantities and muddle inside a jug if you want to make this for a crowd. To save time, pre-muddle the ingredients in the jug and simply add the soda water and ice when you're ready to serve.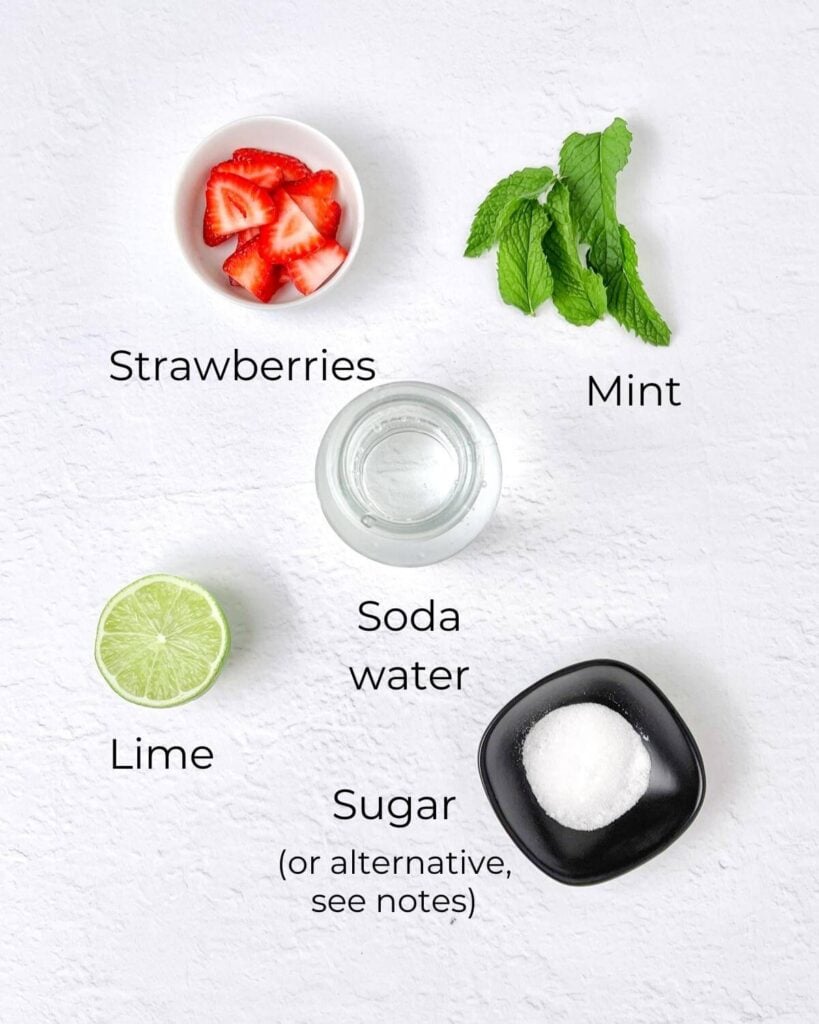 INGREDIENTS
Strawberries: fresh, in-season strawberries are my pick for this recipe. If they're unavailable, frozen strawberries work just as well. Make sure to thaw them before adding.
When you muddle the strawberries, try and get the strawberry pieces small enough to fit through a straw. You can use a blender if preferred.
Fresh mint: the menthol aromatics of fresh mint make this recipe pop. Don't shred or chop it. Clapping it together in your hands and then gently muddling it is the secret to making the most of its flavour.
Lime juice: fresh lime juice is essential for this recipe. Avoid bottled if you can, it doesn't deliver quite the same flavour.
Hint: Freeze fresh lime juice in ice cube trays to make the most of your limes.
Sweetener of choice: Simple syrup is the traditional choice for mojitos. My easy version swaps the syrup out for sugar. For a low sugar option, replace the sugar with a sweetener of your choice.
Soda water: plain club soda creates a fresh fizz however you can use the sparkling water of your choice.
VARIATIONS
For a citrusy tang, replace the plain soda with lime flavoured soda water. Opt for a low or no sugar version. Kombucha is a naturally sweet replacement for soda water. Experiment with plain or flavoured varieties until you find the perfect combination.
For a low sugar option, simply swap the sugar out with monkfruit sweetener to enjoy a refined sugar-free strawberry mojito mocktail. You can also use another sweetener of your choice but be sure to read the packet for any conversions.
HOW TO MAKE A VIRGIN STRAWBERRY MOJITO
Muddle strawberries and sugar (or monkfruit sweetener) in a glass to release the juices. Try and get the strawberry pieces small enough that they will fit through a straw. Use a blender in this step if preferred.
Add the lime juice and stir to combine.
Clap the mint together in your hands. You'll know it's worked when your hands smell minty! Then, add to the glass and muddle very gently a couple of times.
Fill the glass with ice and soda water. Garnish with extra strawberries, mint and lime.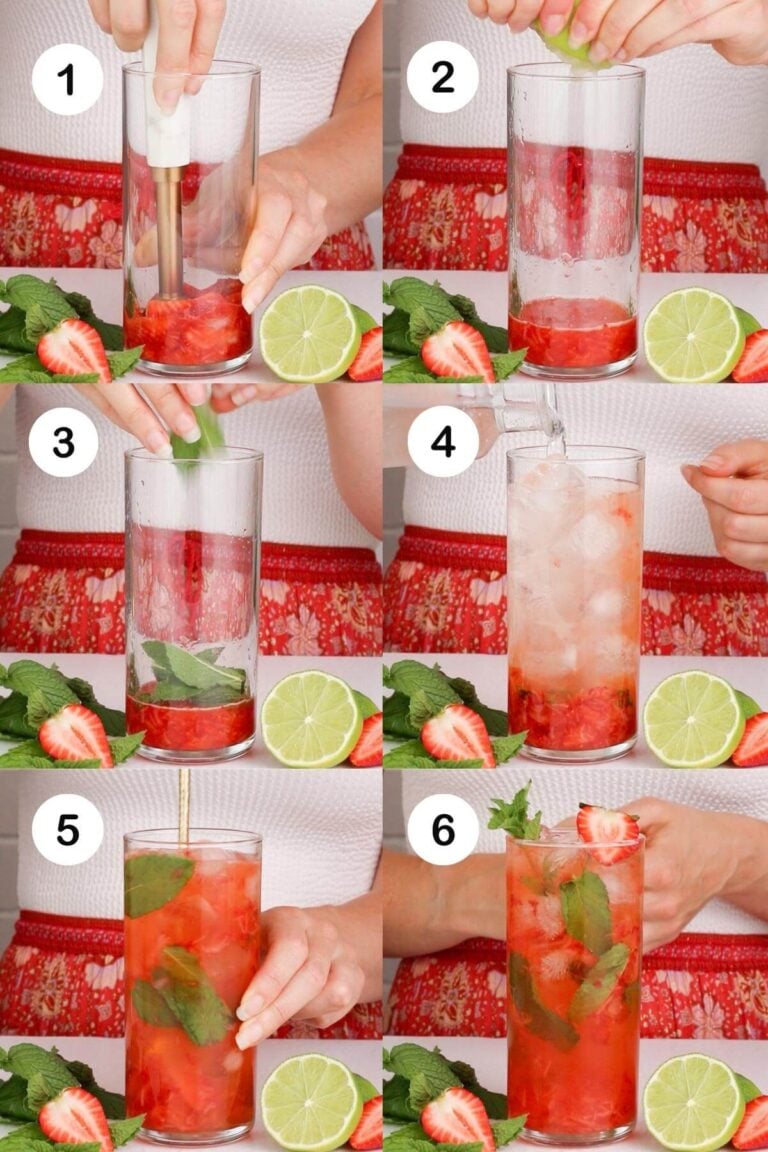 Frequently asked questions
Can I use frozen strawberries?
If you can't get your hands on fresh strawberries, you can also use frozen strawberries. Make sure to fully thaw them before use.
Are strawberry mojito mocktails good for you?
My virgin strawberry mojito recipe is a great way to hydrate yourself on a warm day. Lower the sugar content by using a sweetener such as monkfruit sweetener or stevia.

Fresh strawberries and limes are a fantastic source of Vitamin C. Plus, strawberries are also packed with fibre and antioxidants, which makes them great for your overall health.
How do I muddle strawberries?
Place the berries at the bottom of your glass. Then use a firm pressing and twisting motion to juice and crush the fruit. Muddling is an important step that helps release the fruit's flavour. Alternatively, you can use a blender.
I hope you enjoy this strawberry mojito mocktail as much as I enjoyed creating it!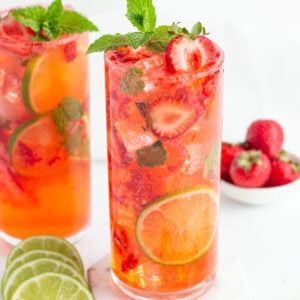 Easy Strawberry Mojito Mocktail
Want to make a sweet and delicious strawberry mojito mocktail? My virgin strawberry mojito recipe is a fun twist on the original.
Print
Pin
Rate
Ingredients
3

strawberries, sliced

10

mint leaves

1

tablespoon

lime juice

1

teaspoon

sugar or sweetener of choice

1

cup

soda water

Extra mint and strawberries to serve
Instructions
Muddle strawberries and sugar/sweetetner in a glass to release the juices. Try to get the strawberry pieces small enough to fit through a straw. You can use a blender for this step if preferred.

Add the lime juice and stir to combine.

Clap the mint together in your hands to release the scent (you'll know it's worked when your hands smell minty!).

Fill the glass with ice and add soda water. Stir to combine.

Garnish with extra mint and strawberry slices.
Notes
I use monk fruit sweetener as my sweetener of choice, but you can use regular sugar, Stevia, coconut sugar, or any other sweetener you choose.
Nutrition
NUTRITIONAL VALUES ARE ESTIMATES ONLY AND DO NOT INCLUDE CARBS FROM SUGAR ALCOHOLS.