These easy watermelon mocktails with mint and lime are low sugar and take just 5 minutes to make. Refreshing and sweet, it's a drink perfect for pregnancy, kids and sobriety.
Looking for a delicious mocktail for a hot day? My watermelon mocktail is light, refreshing and one of my favorite Summer mocktails.
Jump to:
Why this recipe works
Packed with watermelon, mint leaves and fresh lime juice, making watermelon mocktails couldn't be simpler. You'll love this delicious drink because it's:
Healthy: despite being naturally low in sugar, watermelon is deliciously sweet. This means you don't need to add sweetener or sugar to this drink. Fresh lime juice adds a hit of vitamin C, and the high water content means it's super hydrating.
Easy: Anyone can make this mocktail at home. It has easily accessible ingredients and a few simple steps.
Pretty: I've always been a fan of pink and green together, and watermelon mocktails are no exception. They would be perfect for baby showers, brunch and other special occasions.
Versatile: need a larger batch? No problem, just increase the serving sizes below, and you can make this mocktail for a crowd in no time. It looks beautiful in a pitcher with lime slices and fresh mint.
Ingredients
Watermelon mocktails are pretty, pink and naturally sweet. Best of all, this recipe contains a few simple ingredients that are available year-round.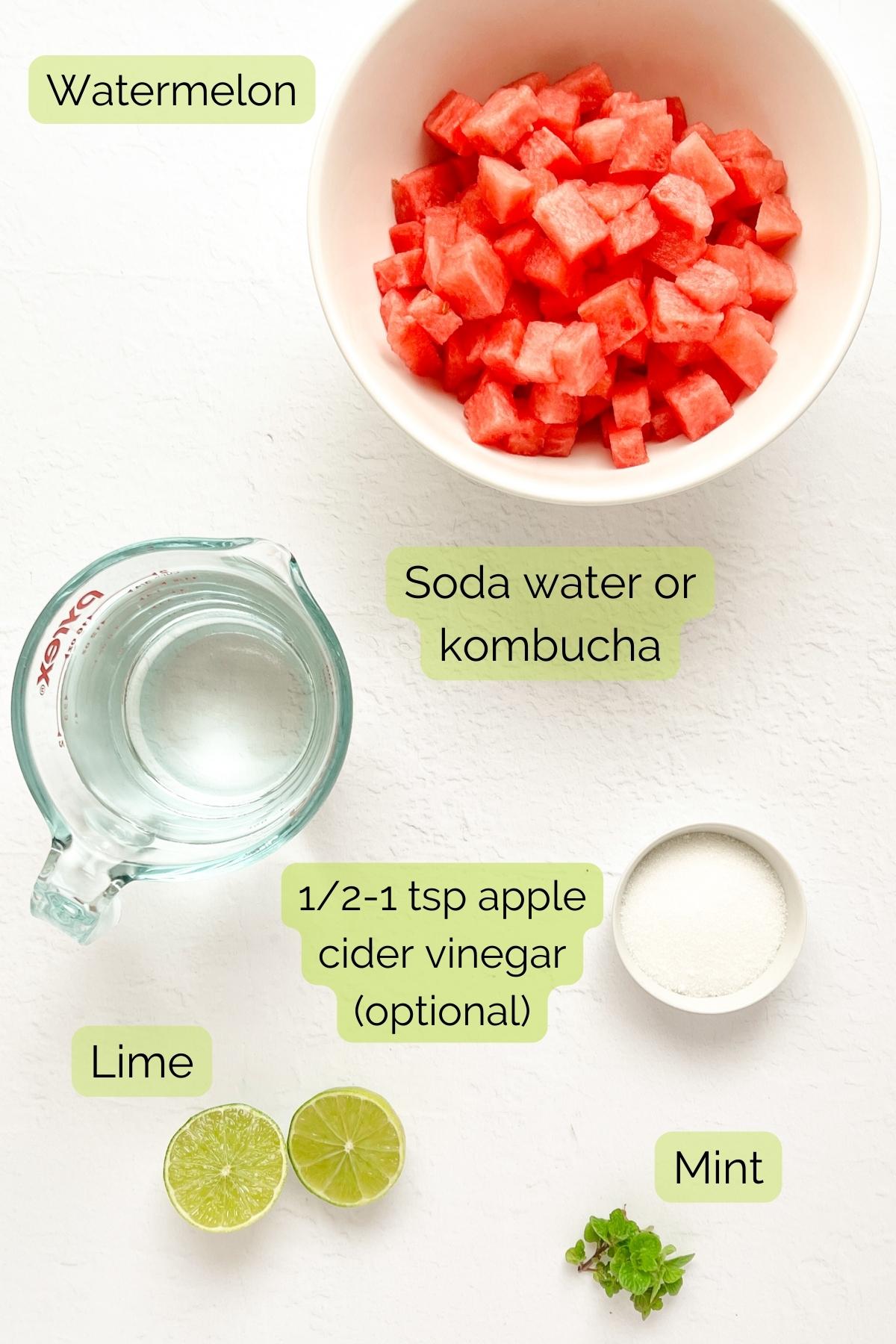 Fresh or frozen watermelon: super hydrating, packed with nutrients and beneficial plant compounds, this delicious fruit is even lower in sugar than berries! Pick fresh or frozen watermelon for the same delicious result. If you're using frozen watermelon, make sure it's fully thawed before use.
Soda water or kombucha: fizzy soda water is an excellent option if you prefer to let the flavor of your watermelon lime mocktail shine through. Choose a plain or flavored kombucha if you're looking for a little more tang and a probiotic boost. Select a low or no-sugar kombucha where possible.
Apple cider vinegar: as well as being packed with antioxidants, apple cider vinegar adds a lovely bite to this recipe. Apple cider vinegar is a byproduct of alcohol, so just a dash can add a similar taste and mouthfeel as alcohol. Choose an unfiltered apple cider vinegar with the mother for the most health benefits.
Equipment you'll need
With just 3 simple ingredients and easy to make, this kid-friendly watermelon mint mocktail might soon be on repeat.
Shaker or mason jar: if you don't have a cocktail shaker, feel free to use a mason jar or a container with a tight lid like a drink bottle also works.
Muddler or wooden spoon: a muddler makes light work of fresh watermelon, but it's not necessary to make watermelon mocktails. The back end of a wooden spoon works perfectly well too. You just need something to release the watermelon juice and flavor. If this sounds like hard work, then blend until smooth instead.
Strainer: an ordinary fine kitchen strainer is ideal. If you strain once and find you have lumps, simply strain the mixture again.
How To Make It
Option 1 – Shaker
Place watermelon and lime into a shaker. You can use a mason jar, drink bottle or anything with a tight lid if you don't have a shaker.
Muddle to extract as much juice as possible from the watermelon.
3. Clap mint together in your hands a few times to release the oils from the mint. Add to the shaker.
4. Add 2-3 cubes of ice to the shaker and shaker well to combine (about 20-30 seconds).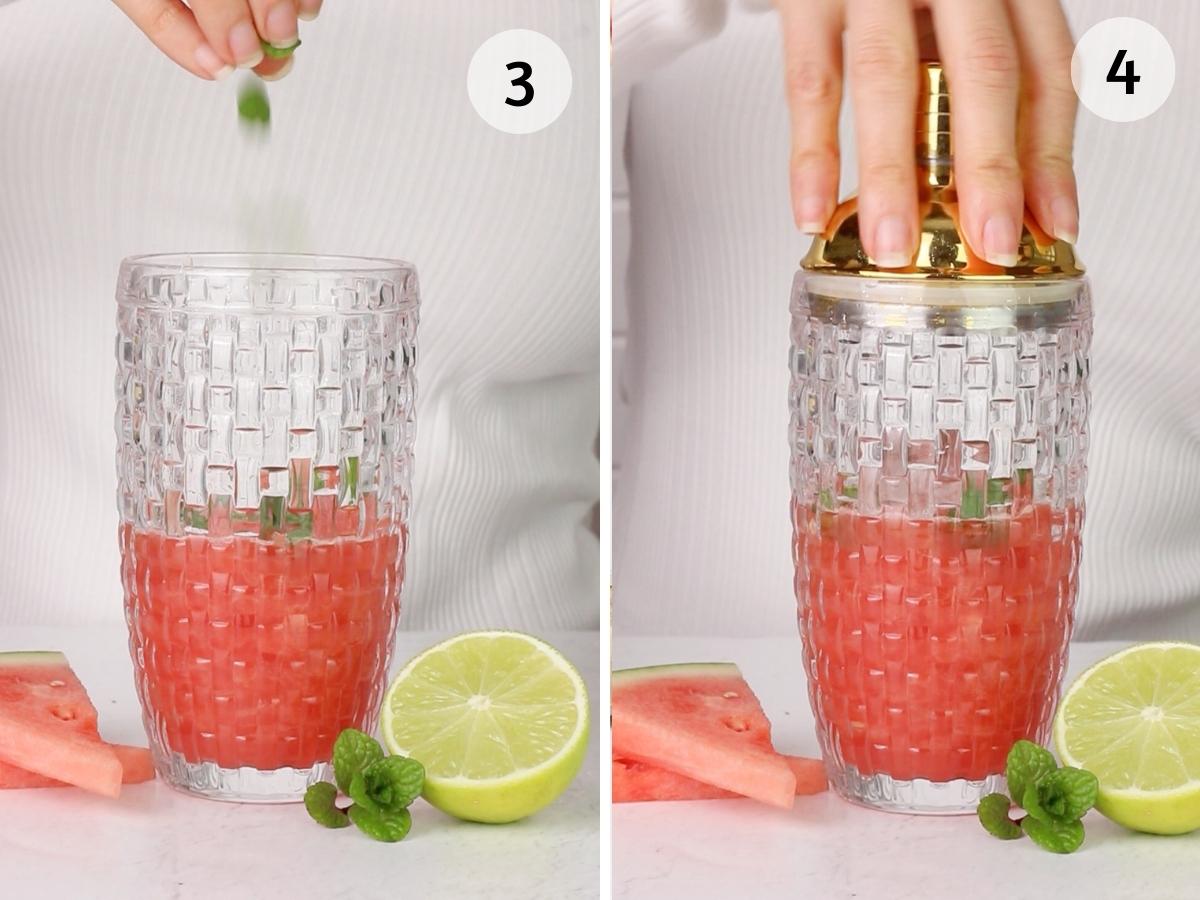 5. Strain the watermelon mixture into an ice filled glass.
6. Top up with soda water (or kombucha if you like!).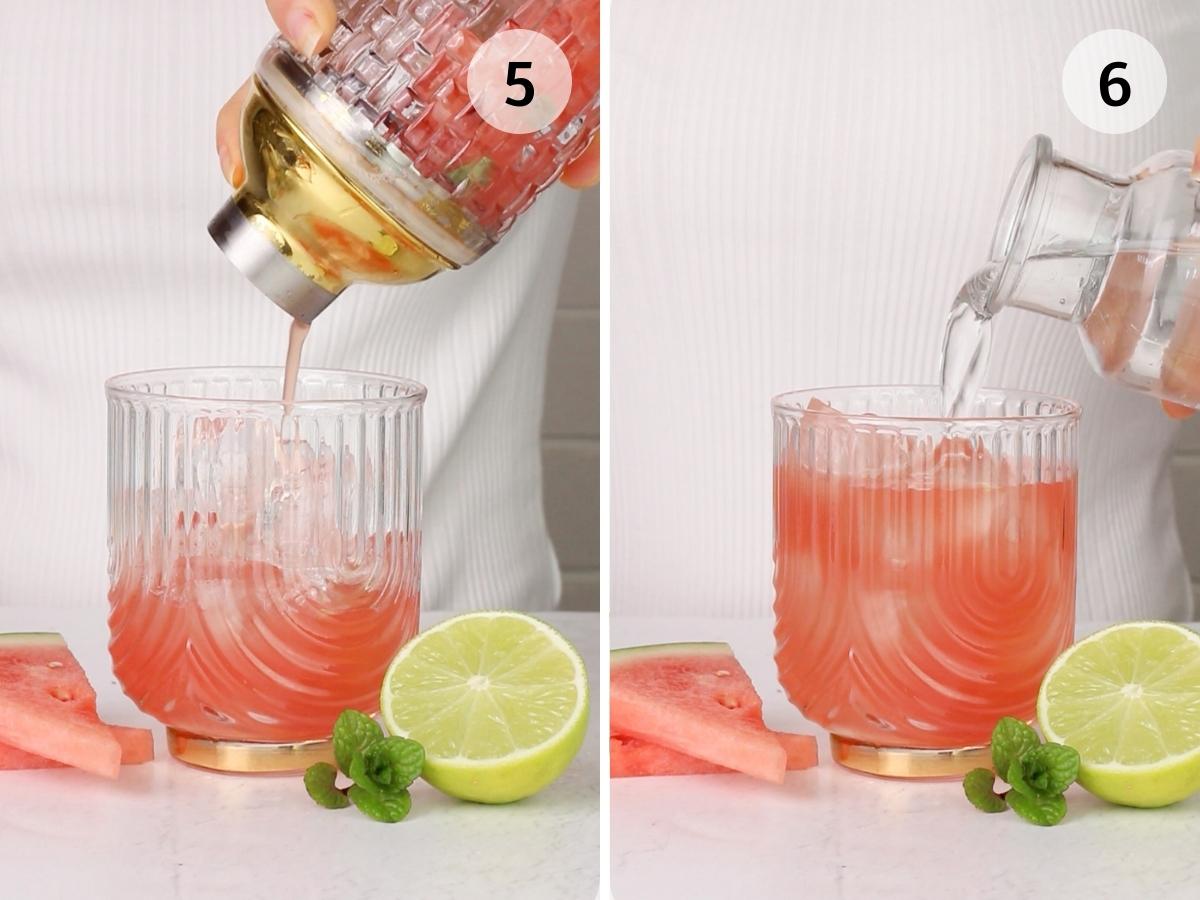 7. Add a splash of apple cider vinegar (optional) and stir well to combine.
8. Garnish with a watermelon wedge and a slice of lime.
Option 2 – Blender
Blend watermelon, lime and mint at high speed.
Strain into an ice-filled glass.
Top with soda water or kombucha. Add a splash of apple cider vinegar (optional). Stir gently.
Garnish with a lime wheel and extra mint.
FAQ's
Can I use frozen watermelon?
Usually, I'd say a big no to frozen watermelon because the thawed result is mushy and has a weird texture.
The watermelon in these watermelon mocktails is muddled/blended first, so the texture isn't a problem.
Make sure to fully defrost the frozen watermelon before muddling.
Do I need to use seedless watermelon?
Seedless watermelon is ideal. However, it's no big deal if you can't find one. The strainer will capture the pips.
How do you pick a good watermelon at the grocery store?
Watermelon mocktails taste best with fresh, in-season watermelon, so selecting a ripe melon is essential.
Look for a melon with a strong, consistent stripe pattern. The stripes should be a deep, dark green, while the pale stripes should be a creamy, light yellow.
Give the melon a gentle tap and listen to the sound it makes. If the pitch sounds deep and hollow, then the fruit has more water and is likely riper. A higher-pitch sound can indicate a thicker rind and an unripe melon. Select a melon that is heavy for its size.
Pick a piece of pre-cut melon if you prefer to see the flesh.
What are the benefits of apple cider vinegar?
Apple cider vinegar has antimicrobial and antioxidant properties. In fact, many people take it as a health tonic each day.
Evidence suggests that it can possibly offer health benefits such as aiding weight loss, reducing cholesterol and lowering blood sugar levels.
Unfiltered apple cider vinegar has a cloud of yeast and good bacteria called 'the mother'. 
The mother adds flavor and is the source of the natural probiotics, so select an unfiltered variety for the most health benefits.
Expert Tips
I love using apple cider vinegar in this recipe. Not only does it increase the health benefits, but it also adds a lovely bite. Apple cider vinegar is quite strong, so you only need a splash.
This watermelon mocktail is best served super cold, so don't be shy with your ice - fill that glass to the brim!
I prefer to use the cocktail shaker method but keep in mind you'll need to muddle the watermelon very firmly to ensure all the juice is extracted. If it gets compacted in the bottom of the shaker, use a spoon to loosen it and continue muddling.
Like a little spice? Add a slice of jalapeno or two in the first step and muddle with the watermelon.
Related recipes
I hope you love these watermelon mocktails as much as I do!
Please leave a 5-star 🌟🌟🌟🌟🌟 rating in the recipe card below or leave me a comment if you REALLY love it!
Like what you see? Stay in touch with me via Instagram, TikTok and Pinterest. I love connecting with you!
Ingredients
1

cup

diced watermelon

(fresh or frozen - see note 1)

1

oz

lime juice

10

mint leaves

½

cup

soda water or kombucha

(see note 2)

Splash of apple cider vinegar

(optional - see note 3)
Instructions
Option 1 - Shaker
Muddle watermelon and lime in a shaker or mason jar until all the juice is released from the watermelon. You may find you need to stir a little if the watermelon compacts at the bottom of the shaker.

If you don't have a shaker, a mason jar or anything with a tight lid will work perfectly.

Clap the mint leaves together in your hands to release the scent and add it to the watermelon mixture.

Add a few ice cubes, replace the lid and shake well.

Strain watermelon mixture into an ice filled glass.

Top with soda water or kombucha. Add a splash of apple cider vinegar (optional). Stir gently.

Garnish with a lime wheel and extra mint.
Option 2 - Blender
Blend watermelon, lime and mint at high speed.

Strain into an ice filled glass.

Top with soda water or kombucha. Add a splash of apple cider vinegar (optional). Stir gently.

Garnish with a lime wheel and extra mint.
Notes
Note 1: It's fine to use frozen watermelon in this recipe, just make sure it's thawed prior to using it. Note 2: soda water tastes delicious in this recipe, but if you want to fancy it up a little and increase the health benefits even further, you can use your favorite kombucha. Note 3: apple cider vinegar is a by-product of alcohol, so gives a lovely little kick that is often missing in alcohol free drinks. Remember, it is strong, so just add a little at a time until you reach your desired taste.
Nutrition
Serving:
250
mls
|
Calories:
40
kcal
|
Carbohydrates:
11
g
|
Protein:
1
g
|
Fat:
1
g
|
Saturated Fat:
1
g
|
Sodium:
5
mg
|
Potassium:
86
mg
|
Fiber:
2
g
|
Sugar:
6
g
|
Vitamin A:
128
IU
|
Vitamin C:
23
mg
|
Calcium:
14
mg
|
Iron:
1
mg
NUTRITIONAL VALUES ARE ESTIMATES ONLY AND DO NOT INCLUDE CARBS FROM SUGAR ALCOHOLS.