HEALTHY, easy VIRGIN MOJITO RECIPEs THAT are SIMPLE TO MAKE. THese MOCKTAILs CAN BE MADE FOR ONE OR FOR A CROWD IN A PITCHER.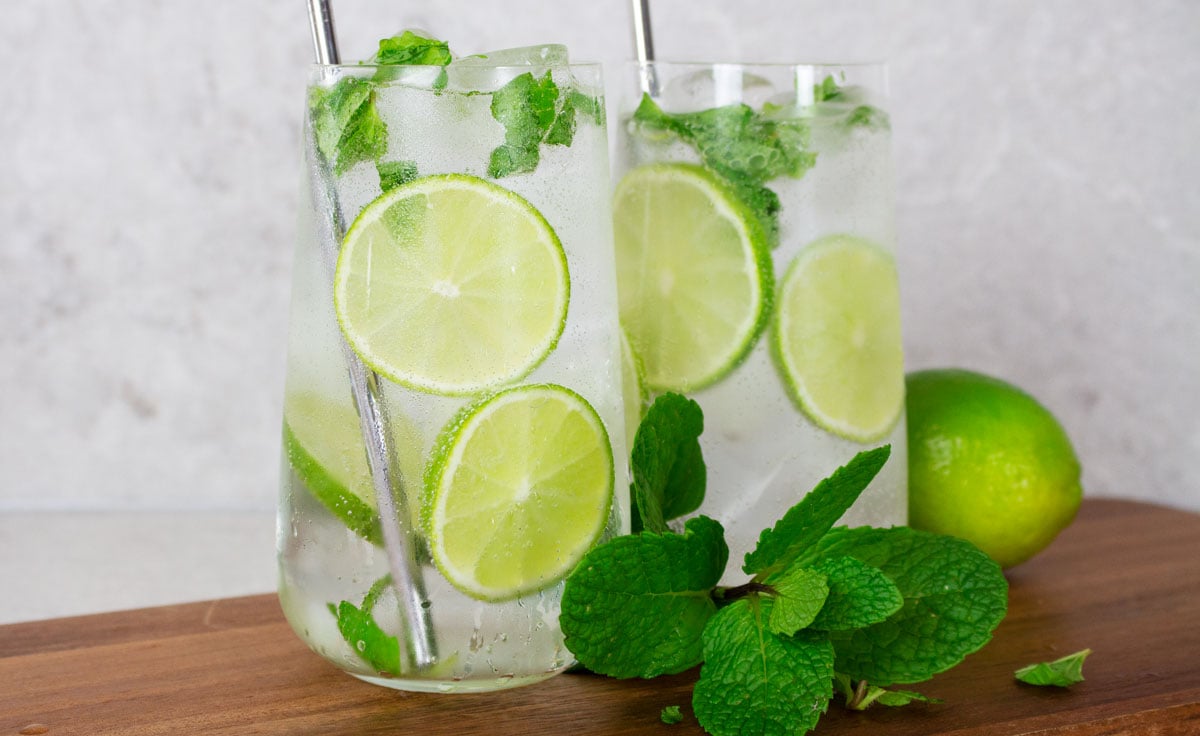 Looking for a simple virgin mojito recipe? What about 9?! I have you covered.
These recipes are easy to make at home for the whole family to enjoy.
These non-alcoholic cocktails are:
Easy- with minimal ingredients and no bartending skills required, these refreshing drinks are simple and cheap to make.
Low in calories- by using a sugar free sweetener and club soda, you can create low calorie mocktails at home
Easily adapted- need a mocktail recipe for a crowd? Simply increase these quantities and make them in a pitcher.
Plenty of variations- don't have or don't like a particular ingredient? There are plenty of variations for each mocktail recipe.
What is a virgin mojito mocktail?
This refreshing mojito drink is typically made during the warmer weather and served in a high ball glass with ice. Classic mojitos are made with rum, sugar or simple syrup, fresh lime juice, soda water and fresh mint.
The glass is then garnished with more mint and lime wedges.
My non alcoholic versions omit the rum and uses healthier sugar alternatives.
Here I round up some of my favourites – and you'll find the classic virgin mojito at the bottom!
Equipment you'll need for virgin mojito mocktails
Glasses: high ball glasses are typically used for virgin mojito mocktails, but if you don't have them no stress! With the gorgeous combination of the mint, lime and ice, these drinks look great in any glass.
A muddler: if you have a normal muddler thats perfect. If not, I find the back end of a wooden spoon works perfectly. There are some notes on muddling below.
Pitcher or jug: if you want to make this for a crowd, just increase the quantities and muddle inside a jug. You can even 'pre-muddle' the lime, mint and sweetener, then pop it in the fridge. Then just top it with ice and sparkling water when your guests arrive.
Non Alcoholic Mojito base Ingredients
The base for all my virgin mojito mocktails is the same. Then I add an extra ingredient or 2 depending on what flavour I feel like at the time. The sky is the limit, so feel free to experiment at home!
Lime: fresh limes are best if you can afford and have access to them. If you can't, there are so many amazing bottled lime juices out there now, so opt for those if that suits you better!
Fresh mint: mint is a must in this mocktail recipe! Don't shred or chop it, the muddling releases it's lovely flavours perfectly.
Sweetener of choice: I used monk fruit sweetener in this virgin mojito recipe, which is a low carb sugar replacement.
You could also use Stevia, coconut sugar, honey, or any sweetener of your choice. If you like tangy flavours, you might omit the sweetener altogether.
Soda water: use your sparkling water of choice. If you're unable to get fresh limes, another option is to use limeade or a citrus sparkling water for some extra flavour.
Ice: I love crushed ice in this recipe, but regular ice cubes are fine too!
Virgin Mojito variations
Instead of soda water, you could also use ginger ale, kombucha, or any other sparkling drink of your choice.
Jalapeños: want to give your mocktails a little kick? Try some jalapeños muddled with the lime – it's divine!
If you feel like the classic is the way to go, below is the original virgin mojito recipe! Enjoy.