Light and refreshing, this delicious non alcoholic mint julep is perfect for the Kentucky Derby or to sip on a warm Spring day.
Nothing says Kentucky Derby like a mint julep. Whether you follow the race or not, this refreshing drink is perfect anytime.
Fresh mint and ginger ale combine to create the signature taste, with the option to use non-alcoholic bourbon for added depth of flavor. Best of all, unlike its alcoholic cousin, a julep mocktail comes with all the fun and none of the regret.
Why This Recipe Works
Pull out your pretty glasses because this refreshing drink is:
Perfect for a party: pull out the pitchers and gather some friends because this virgin mint julep is perfect for sharing. Simply premix the mint simple syrup and ginger ale (or alcohol-free bourbon) in a pitcher and ensure guests fill their glasses with plenty of ice.
Health(ier): a traditional simple syrup is a 1:1:1 ratio of sugar, water, and mint. This recipe halves the sugar and utilizes the sweetness of the ginger ale to perfectly balance the mint. For an even lower sugar option, use diet ginger ale.
Can be made in advance: when stored in an airtight container in the fridge, flavored simple syrup lasts around two weeks. Make in advance, so you're all set for derby day!
Why do they Drink Mint Juleps at The Kentucky Derby?
Whether you're watching from home or enjoying the race from Churchill Downs, you might find yourself sipping on a mint julep. But why?
Mint juleps have been a Kentucky favorite well before the modern-day Kentucky Derby came into place. Interestingly, a julep was traditionally a medicinal drink prescribed for stomach upsets.
The modern mint julep originated in Virginia, where it was known as a 'Virginia dram'. As settlement moved west, so did the drink. The julep became the 'official' drink of the Derby in the 1930, 's but stories suggest that it was being served much earlier.
It's believed that Churchill Downs planted mint outside of the clubhouse to make the first juleps in 1875. The drink was popular in the South during that period, so it was a natural extension of the culture at the time to make it a part of the Derby.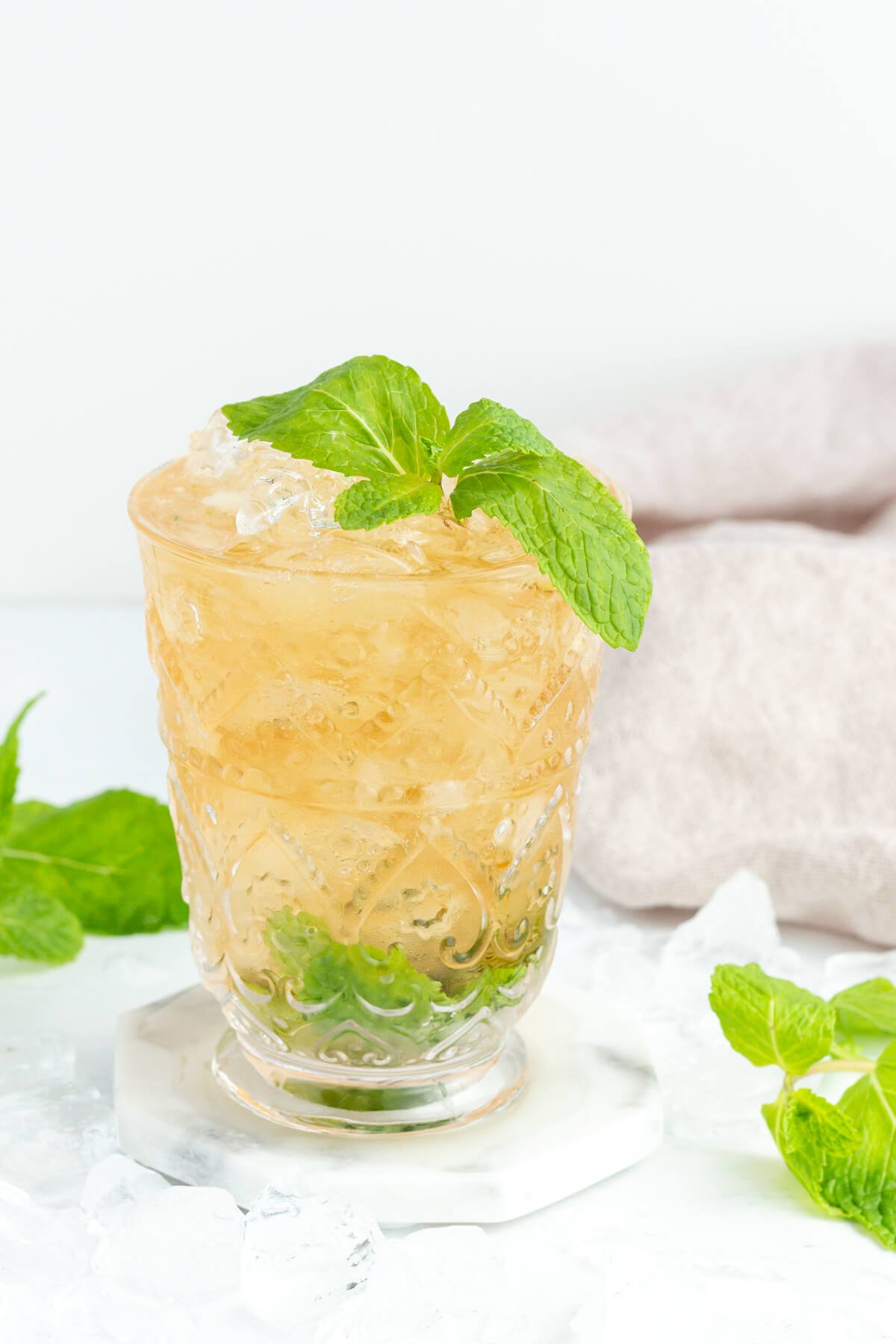 The classic Kentucky mint julep is a mix of simple syrup, mint, and bourbon whiskey. With many people choosing not to drink or preferring an alcohol-free option, a mint julep mocktail is a great solution. There are also several alcoholic variations to the classic, including one that uses crème de menthe syrup.
Ingredients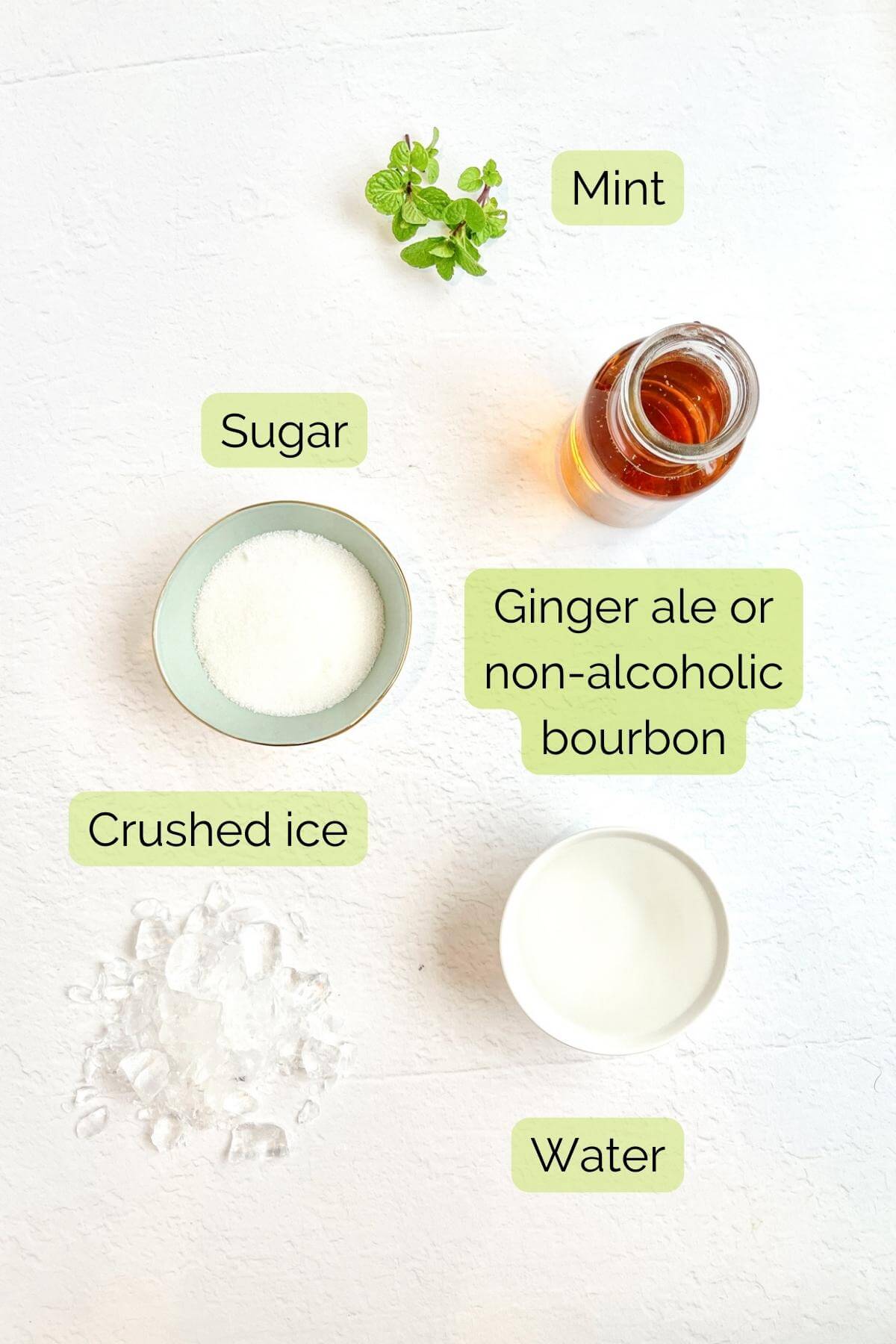 A delicious mint julep mocktail is well worth the wait. It's a perfect spring mocktail as the weather warms and entertaining comes to mind.
Fresh mint leaves: cool, refreshing mint is the signature flavor of this julep. Select a bunch from the grocery store or pick fresh from the garden. Mint is packed with Vitamins A and K, so it's healthy and tastes good.
Hint: make the most of the mint by using the leaves and stalks to flavor your simple syrup. It's strained before serving, so no one will ever know.
Caster sugar: the fine white grains of caster sugar are ideal for simple syrup as they dissolve quickly. I've reduced the usual quantity of sugar in half for this recipe, as ginger ale offers some sweetness. So, whilst this recipe is not strictly low in sugar, it contains less sugar than many other mint julep mocktail options.
Ginger ale or non-alcoholic bourbon: if mint were to have a best friend, it would probably be ginger ale. Spicy and sweet ginger ale perfectly balances the freshness of the mint. For a lower sugar option, choose diet or sugar-free ginger ale.
If you're a traditionalist, you may argue that mint juleps must contain bourbon! Luckily there are many alcohol-free spirit options available. I used Lyre's American Malt and it was divine! Choose a malt style alcohol-free spirit for the most authentic flavor.
Crushed ice: I wouldn't usually include ice as an ingredient, but you cannot make a mint julep mocktail without it. Crushed ice (not cubed) is essential for keeping your julep at the perfect temperature. Hint: use a blender to make crushed ice. Alternatively, place cubes in a sealed bag and hit them with a rolling pin or hammer until they have broken into tiny shards.
Equipment You'll Need
There's a little prep involved to make this recipe. But I promise you the steps are simple and just a few everyday kitchen tools are required. You'll need a:
Saucepan: a medium-sized saucepan is perfect for making simple syrup. It doesn't matter if it's non-stick or regular. Either way, your syrup will be cooked to perfection.
Metal strainer: a mint julep mocktail has a smooth texture, so use a metal strainer to remove any pieces of mint from the syrup. The result is a clear, simple syrup with a gorgeous hint of green. Ensure you strain once the liquid has cooled to avoid the risk of burns.
Wooden spoon: a long-handled spoon is perfect for stirring the sugar syrup mix as it begins to dissolve. A wooden or plastic spoon works, so use what you have available.
Julep cup or tall glass: a traditional julep cup is made from stainless steel or copper. It has a flared base and is designed to keep your drink chilled for longer, similar to the mugs used for a non-alcoholic Moscow mule. The mint julep mocktail is more commonly served in a highball glass, so you're not alone if you've never heard of a julep cup!
Pitcher: entertaining a crowd? A pretty pitcher is perfect for serving an alcohol-free mint julep. Simply combine the syrup and ale (or non-alcoholic spirit) in a pitcher. Have guests fill their glasses with ice as they help themselves.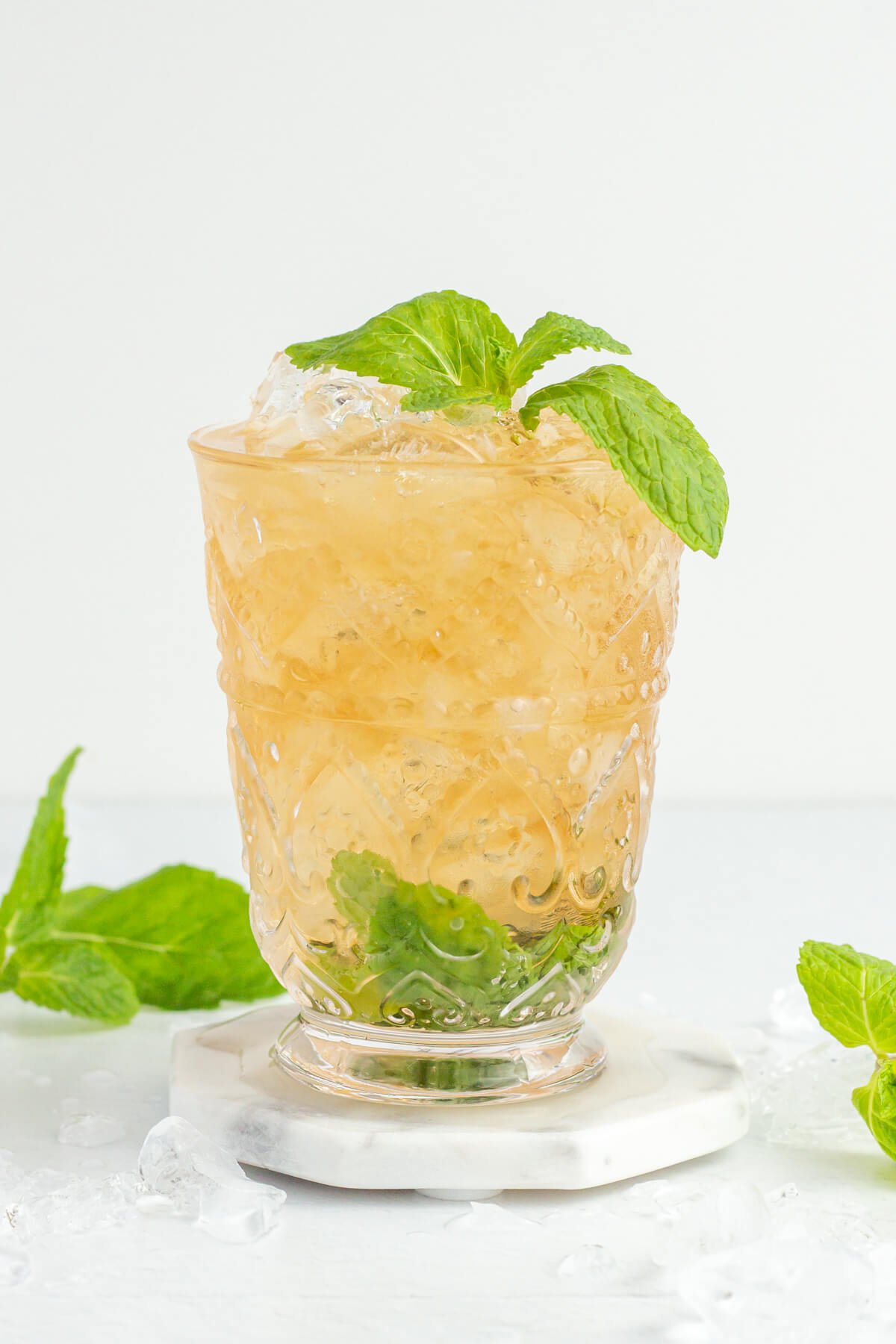 How To Make An Alcohol-free Mint julep
There are two ways to make a mint julep mocktail. One method includes making a mint syrup, while the other utilises fresh mint.
For the mint syrup version:
Fill your cups with crushed ice. Add ½ cup of ginger ale or non-alcoholic bourbon to each cup, then ¼ cup of mint syrup (see recipe card below for a simple mint syrup).
Stir gently and garnish with a mint sprig.
For the fresh mint version:
Clap mint together in your hands, then add it to your glass.
Add sugar cubes or sugar to your glass (you could also use a sugar syrup here, but I prefer regular sugar).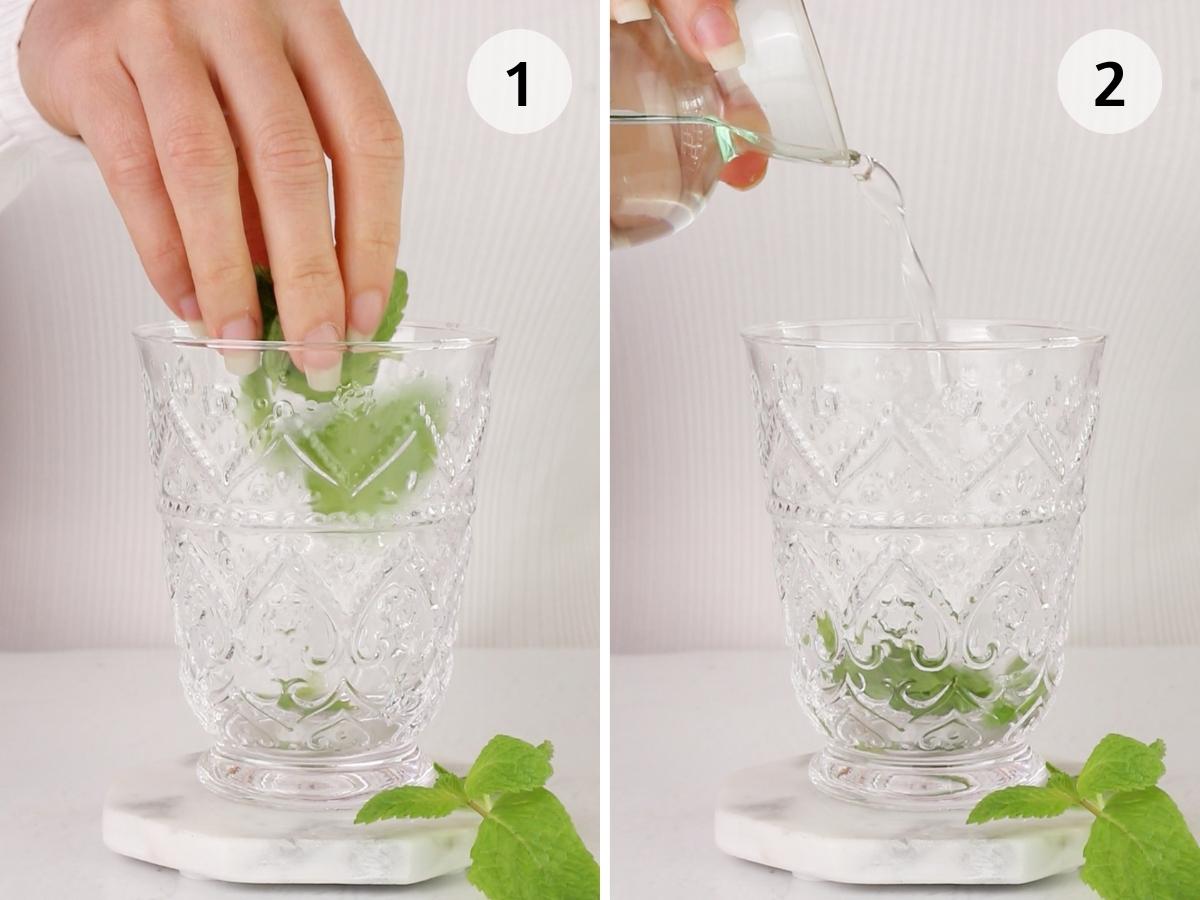 3. Muddle the mint gently, until the oils are released from the mint. Don't go overboard - a few gentle presses is fine.
4. Fill your glass with crushed ice.
5. Fill your glass with ginger ale (or non-alcoholic bourbon). Stir gently.
6. Garnish with a sprig of mint.
Frequently asked questions
What is a julep cup?
A julep cup is a stainless steel or copper cup with a flanged base. The cup tapers down from the top to form a slightly conical shape. Combining a metal cup and shaved ice allows the to cup frost up and keep your drink cool for longer.

A julep cup is a perfect way to retain the ice temperature of a mint julep mocktail. 
If you don't have a julep cup on hand, simply serve the julep in smaller quantities. 
How did the mint julep get its name?
A julep is a sweet drink that was traditionally used medicinally. The word is derived from the Spanish Arabic word 'julepe' and the Persian word 'Golâb' which means rosewater.
 
The sweet and syrupy nature of the julep allowed medicine to be swallowed more easily.

Overtime they were adapted into the drink as we know it today with variations such as mint. 
Julep mocktails were created to appeal to a broader audience.
Do you need to refrigerate simple syrup?
Simple syrup, particularly the mint syrup used in this mint julep mocktail, is best stored in the fridge. Please keep it in an airtight container and serve within two weeks for best results.

Non-flavored simple syrups can last about a month. After this, the syrup may become cloudy.
If you love the tingle of fresh mint, then these mint mocktail recipes are for you:
I hope you love this delicious mint julep mocktail as much as I do!
Love this recipe?
Please leave a 5-star 🌟🌟🌟🌟🌟 rating in the recipe card below or leave me a comment if you REALLY love it!
Like what you see? Stay in touch with me via Instagram, TikTok, Facebook and Pinterest. I love connecting with you!
Mint Julep Mocktail
A fresh mint julep mocktail that's perfect for celebrating the Kentucky Derby or just because.
Print
Pin
Rate
Ingredients
For the mint syrup (see Note 1 below if you want to skip the syrup and make it with fresh mint instead)
1

cup

water

½

cup

sugar

1

cup

mint
For the julep mocktail
1

cup

ginger ale or non-alcoholic bourbon

Crushed ice

Mint sprigs to garnish (optional)
Instructions
To make the mint syrup, combine sugar and water in a small saucepan over medium heat. Stir until the sugar dissolves.

Add mint and increase the heat until the mixture comes to a gentle boil, stirring occasionally.

Reduce heat to low, replace the lid and simmer for 10 minutes.

Remove from the heat and leave covered until the mixture cools (the longer you leave it, the stronger the mint flavor will be).

Leave to cool, then strain.

Fill your cups with crushed ice. Add ½ cup of ginger ale or non-alcoholic bourbon to each cup, then ¼ cup of mint syrup. (See note 2)

Stir gently and garnish with a mint sprig.
Notes
Note 1: if you'd prefer a quick recipe and don't want to wait for the simple syrup to cool, try this version with fresh mint:
Makes 1
8 mint leaves
1-2 teaspoons sugar (or sugar cubes)
½ cup ginger ale
Muddle mint and sugar in the bottom of your glass, just enough to release the scent and oils from the mint. 
Fill your glass with crushed ice. Top with your choice of ginger ale or non-alcoholic bourbon.
Stir gently, garnish with mint and serve.
Note 2: if the ratio of ½ cup ginger ale and ¼ cup syrup is too sweet, you can adjust it to ¾ cup ginger ale and 1 tablespoon mint syrup.
Note 3: Traditionally, mint juleps are made with bourbon.
Although it is delicious with ginger ale, if you're looking for a more authentic experience, find a non-alcoholic bourbon in your area (most likely online!).
I tested this recipe with Lyre's American Malt in place of the ginger ale and it was delicious.
Nutrition
Serving:
250
mls
|
Calories:
57
kcal
|
Carbohydrates:
14
g
|
Protein:
1
g
|
Fat:
1
g
|
Saturated Fat:
1
g
|
Polyunsaturated Fat:
1
g
|
Monounsaturated Fat:
1
g
|
Sodium:
14
mg
|
Potassium:
135
mg
|
Fiber:
2
g
|
Sugar:
11
g
|
Vitamin A:
1010
IU
|
Vitamin C:
8
mg
|
Calcium:
62
mg
|
Iron:
1
mg
NUTRITIONAL VALUES ARE ESTIMATES ONLY AND DO NOT INCLUDE CARBS FROM SUGAR ALCOHOLS.