With just a few simple ingredients, you can mix up A Shirley Temple mocktail for any occasion. This drink is perfect for kids, mamas to be and those going alcohol free.
It's fizzy. It's sweet. It's utterly refreshing. And it's non-alcoholic, making this easy Shirley Temple mocktail recipe a favorite drink to add a splash of class to any event. As a kid, I always loved them because I felt so grown up.
Even now though, I love this easy mocktail because it has such a light and revitalizing taste. Whether it's for kids, an expecting mama, or for someone who just doesn't feel like drinking alcohol, the Shirley Temple drink is one of the best there is for raising your glass in celebration.
What is a Shirley Temple Mocktail?
Yes, the drink is related to famous child actress from bygone years, and Shirley in her curly-haired glory is behind this now-famous mocktail. The cute story behind the drink goes like this: one night when out for dinner with her parents, Shirley was frustrated she couldn't have one of the fancy cocktails her parents were drinking. The bartender, not wanting to upset the star, whipped up this pretty, non-alcoholic drink, garnished it with a cherry and called it the Shirley Temple.
Researching this story made me go down a Ms Temple rabbit hole online – if you haven't read about her amazing life, I encourage you to do so!
I also encourage you to make this drink, especially if you haven't had one since you were a child. No doubt it will take you on a journey down memory lane.
Why You Should Make it
There are so many reasons but here are just a few. This recipe is:
Simple: It takes just minutes to make. Just pour the ingredients into a glass filled with ice, stir, and serve!
Fast: And yes, I mentioned it takes minutes to make. You won't waste precious time away from your guests to make this mocktail.
Great for parties: This recipe can also be made in larger batches to make it even easier to serve and enjoy. Increase the serving sizes accordingly and you can put it in a pretty pitcher everyone so everyone can refill as needed. It also makes a perfect virgin punch.
Ingredients and How to Make it
Typically served in a Collins glass, the Shirley Temple recipe is traditionally made using just ginger ale and a splash of grenadine, then garnished with a maraschino cherry.
There have been plenty of variations over the years, this is how I made mine:
1 cup ginger ale
1 teaspoon grenadine
A squeeze of fresh lime juice
Maraschino cherries for garnishing
To make it, just fill a tall glass with ice, then add the ginger ale, grenadine and lime. Stir and garnish with a maraschino cherry.
What in the World is Grenadine?
Don't worry…while grenadine is used to make many cocktails, it is completely non-alcoholic. It's a sugar-sweetened pomegranate syrup. Even though it has no alcohol, you'll likely find it at a liquor store or in the liquor aisle of your local supermarket. Check by the club soda or ask for it.
It is very sweet, so you don't need much at all! This is the liquid that creates the beautiful sunrise effect in sunrise mocktails.
Healthier Substitutions
Want to make your drink healthier and lower in sugar? That's very easy to do. Instead of using regular ginger ale, you can use diet ginger ale. This will shave off some of the calories.
Additionally, since grenadine has lots of sugar, you can replace it with regular pomegranate juice. As far as juices go, pomegranate is one of the healthiest. If you love it, be sure to try my delicious pomegranate mocktails too.
These swaps won't compromise flavour OR your healthy goals. So you can enjoy your non-alcoholic beverage with even less guilt than ever before!
Throw in the cherry and maybe a little sprig of mint too and it just looks so pretty. That brilliant red color really pops in the glass, making it a non-alcoholic drink that kids and adults alike will enjoy drinking.
I hope you enjoy making this Shirley Temple mocktail as much as I did!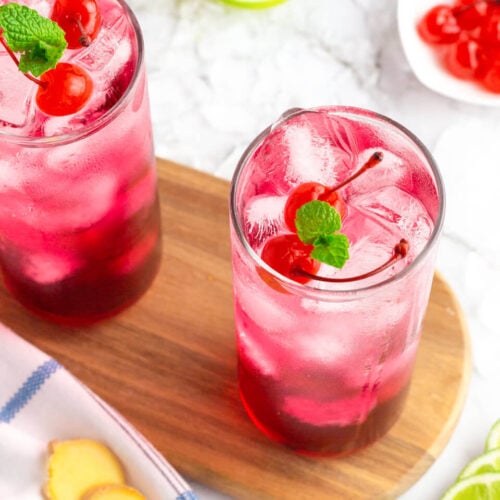 The Best Shirley Temple Mocktail
An easy Shirley Temple mocktail recipe made with ginger ale, grenadine and fresh lime juice. Perfect for kids, pregnant women and non-drinkers.
Print
Pin
Rate
Ingredients
1

cup

ginger ale

1

teaspoon

grenadine

1

squeeze of fresh lime juice

Maraschino cherries to garnish

optional
Instructions
Add ginger ale, grenadine and lime to an ice filled glass and stir.

Garnish with a maraschino cherry and serve.
Notes
For a healthier option, use diet ginger ale and replace the grenadine with pomegranate juice.
Nutrition
Serving:
260
mls
|
Calories:
101
kcal
|
Carbohydrates:
26
g
|
Sodium:
19
mg
|
Potassium:
4
mg
|
Sugar:
25
g
|
Calcium:
8
mg
|
Iron:
1
mg
NUTRITIONAL VALUES ARE ESTIMATES ONLY AND DO NOT INCLUDE CARBS FROM SUGAR ALCOHOLS.