Do you adore a drink garnish? Me too! Here are 5 super quick, super easy drink garnishes to up your mocktail (or cocktail!) game in minutes.
These gorgeous drink garnishes add a bit of class and sophistication to any drink. I love them because they are easy to make and so pretty look at.
If you want to make life easy for yourself, you can make these ahead of time and keep them in the fridge. An hour or two works well, so they stay fresh.
Apple Rose Garnish
First up we have the apple rose garnish. These apple roses are perfect for Fall mocktails, red drinks, and I absolutely adore them for Christmas too! I have a friend who loves to put these on her platters and they look just divine.
To make it:
Peel a long strip from a red apple using a vegetable peeler.
Roll tightly and thread onto a cocktail pick
Thread a piece of mint on the pick to create the 'leaf'.
TIP: If you're making these in advance, squeeze a little lemon juice on the apple so it doesn't go brown.
Take a look at the video below:
Cucumber flowers
Seriously, would you take a look at these gorgeous cucumber flowers?!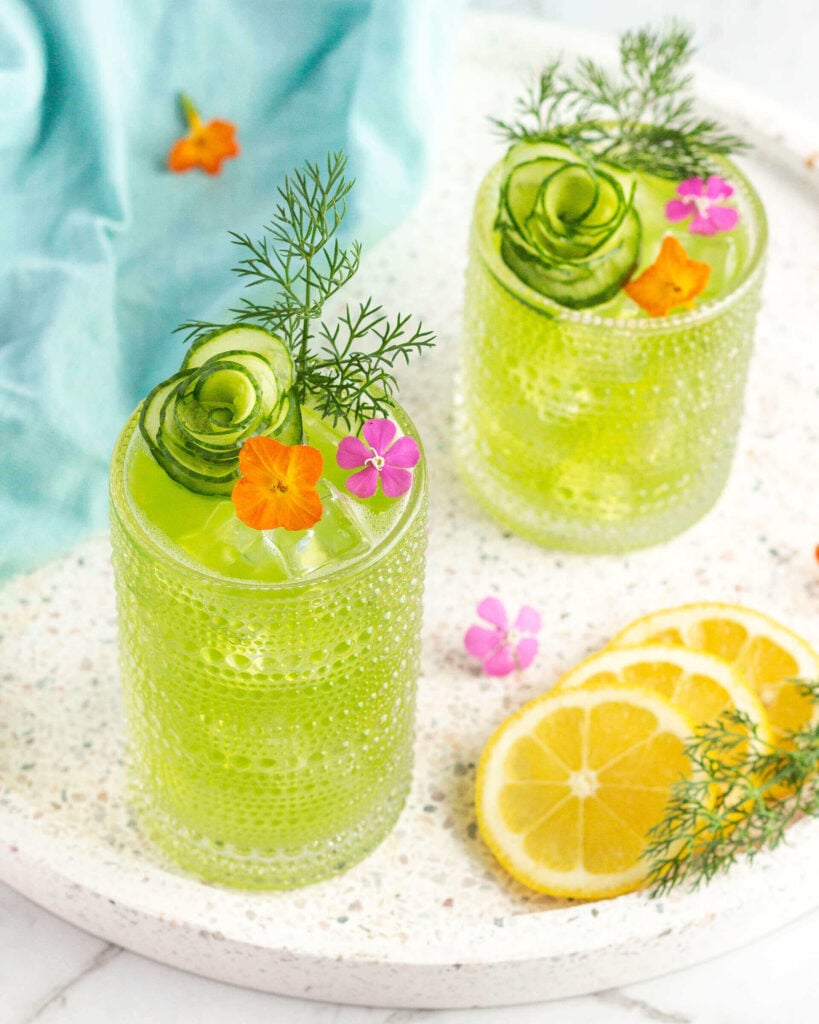 Again, these work well on both platters and drinks. I served the one below with my healthy cucumber mocktail and it was an absolute hit! I feel like these have a bit of a Christmas vibe too, and can certainly imagine them on an antipasto platter with some red and gold to make it festive.
How to make them:
Cut a small piece of cucumber (as shown below in the video) and use a sharp knife to create a hole in the middle.
Thinly slice about 10 pieces of cucumber using a knife or mandolin. I had better results with a mandolin, but it can still be done with a knife if needed.
Lay them flat as shown in the video and roll as tightly as you can. Be careful - they are quite delicate!
Once you have rolled them together, insert one end into the cucumber base.
Fan out to form a flower shape.
Tip: These can be made in advance and kept in the fridge for a few hours.
Lemon Twists
This next drink garnish needs no introduction because it's an absolute classic! Lemon twists have been around for such a long time, but there is a good reason - they are simple to make and look great.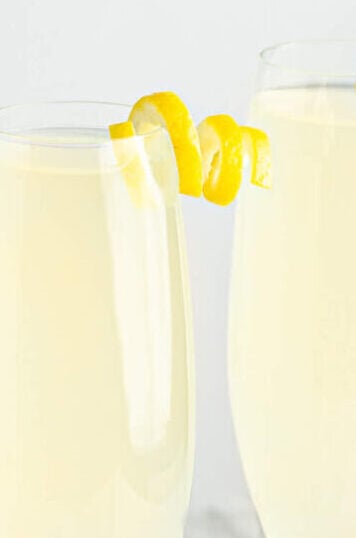 How to make them:
Cut a thin slice of lemon (refer to the video below for the width I used).
Make a slice from the inside of the rind, all the way through to the other side.
Cut the flesh off the rind. You will be left with a long piece of rind.
Twist the rind around a skewer or similar. The rind will hold it's shape and can be used on a glass.
There are a few different ways to make these but this is the method I find the quickest and easiest. You can make them with lemon or lime!
Tip: when you twist the citrus around the skewer, hold it over your glass. The delicious citrus oils will fall into the glass and make you drink taste even better!
Strawberry Rose drink garnish
This strawberry garnish is just so beautiful and takes less than a minute to make. These can be made in advance and kept in the fridge.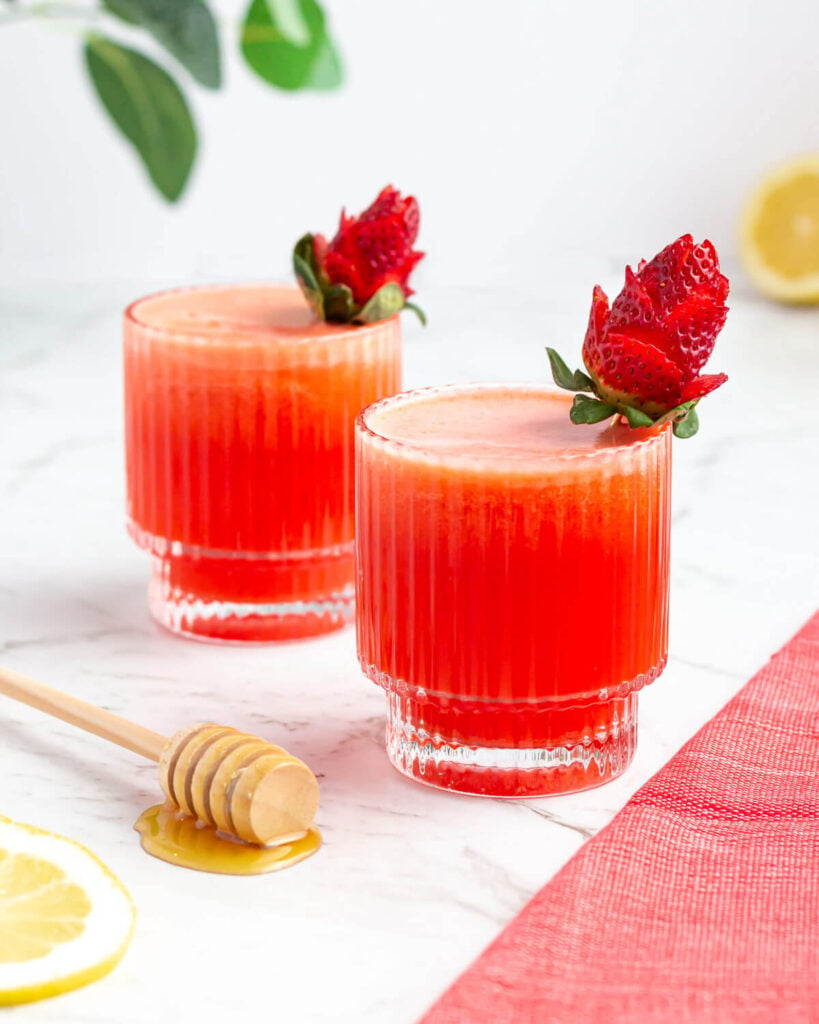 Use them on platters, in drinks and as a way to entice your kids to eat more fruit (trust me - it works!).
How to make them
Place your strawberry on a cocktail pick or skewer.
Make 4 angled cuts on the base of the strawberry.
Repeat in the middle of the strawberry, making the cuts in between the 'petals' below.
Make 2 cuts in the tip of the strawberry and fan them out.
Fan out the rest of your 'petals', and you're done!
Citrus Hearts
These citrus hearts can be made with lemon, lime, orange or grapefruit. I love them on Valentines Day mocktails and they also look just divine on rose lemonade.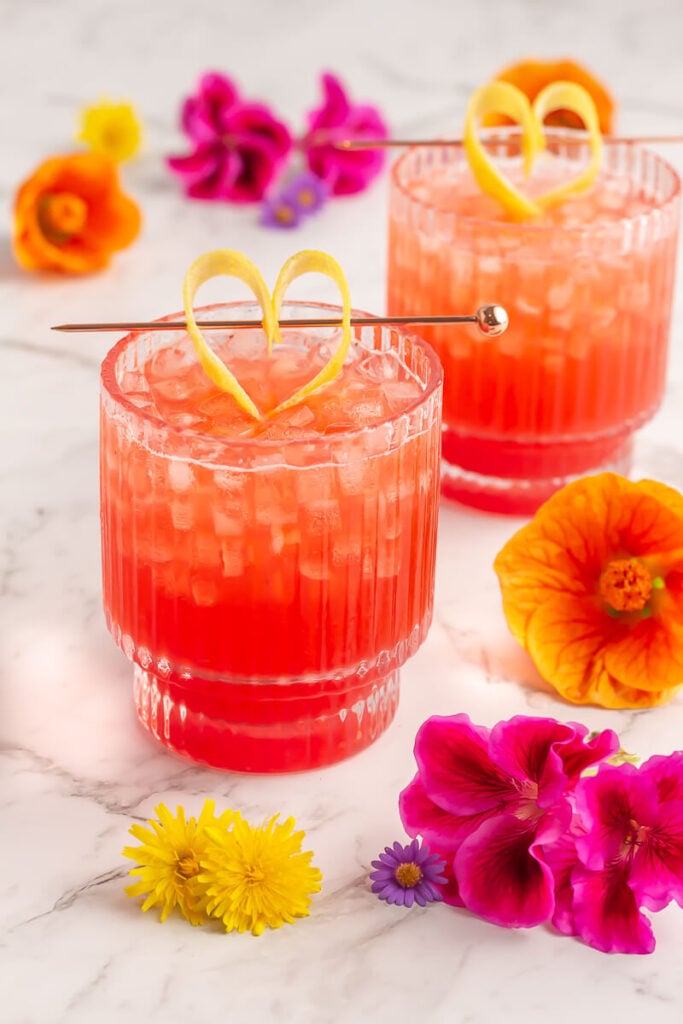 To make them:
Peel 2 slices of citrus rind about the same size, then cut to size if needed.
Thread onto the cocktail pick as shown in the video below to create a heart shape.
I hope you love these drink garnishes as much as I do!