This simple healthy mocktail is brimming with nutritious ingredients to give your immune system a nudge.
If you've been looking for mocktails that are better for you, you're in luck! I created this refreshing drink to support your immune system. With a cleansing blend of tea, honey, citrus, ginger and turmeric, it's bursting with goodness.
Why This Recipe Works
Made with fresh ingredients, this recipe is quick to make and satisfying to drink. You'll adore this recipe because it's
Hydrating and healthy: made with immune support tea (which can easily be sourced online or in health food shops and supermarkets) and an array of nutritious ingredients, you'll be getting a mouthful of goodness with every delicious sip.
Pretty: this healthy mocktail is not just dreamy to sip on, it's also glorious to look at! The turmeric gives this drink a pretty orange color and the optional rose and sugar rim is a crowd pleaser.
Low in sugar: sweetened with a touch honey and the natural sweetness of the immune support tea, this mocktail is relatively low in sugar. Hint: you can replace the honey with your sweetener of choice if you prefer.
Ingredients
This delicious healthy mocktail calls for easy to find ingredients. It reminds me a little of my much loved Wellness Shots, which are a fabulous addition to your healthy drinks menu!
Ginger: you just can't go wrong with fresh ginger. Not only does it offer a spicy bite, it is also brimming with nutrients and contains gingerol which has medicinal properties.
Hint: frozen ginger is much easier to grate, so don't be afraid to keep your ginger in the freezer.
Immune Boosting Tea: I originally created this recipe with the Buds & Beads Defence blend, which is rich in antioxidants, helps reduce inflammation and aids in detoxification. Most tea brands will have an immune support tea as part of their range, so if you don 't have access to Buds & Beads where you are, take a look in your local supermarket, tea shop or health food shop - it is relatively easy to find!
Pineapple or citrus juice: this healthy mocktail calls for either pineapple or orange juice, plus some lemon juice. Freshly squeezed is always best, except for the pineapple juice, which will likely need to be purchased! I thought both orange and pineapple where equally delicious in this recipe. If you're more of a sweet tooth, I'd be more likely to go for pineapple juice because it is slightly sweeter than orange.
Ground turmeric and a pinch of black pepper: turmeric contains a natural compound called curcumin, which is known for its antioxidants and anti-inflammatory properties. Adding black pepper helps the body to absorb the turmeric at a faster rate, making the most of this powerhouse ingredient. 
How to make A Healthy Mocktail
Brew the tea and add the honey while the tea is still warm. Stir to dissolve, then chill. Add to your shaker.
Add the orange or pineapple juice, then the lemon juice.
3. Add the powdered turmeric.
4. Grate the ginger into your shaker. You might find it easier to grate into a small bowl first - whatever works for you!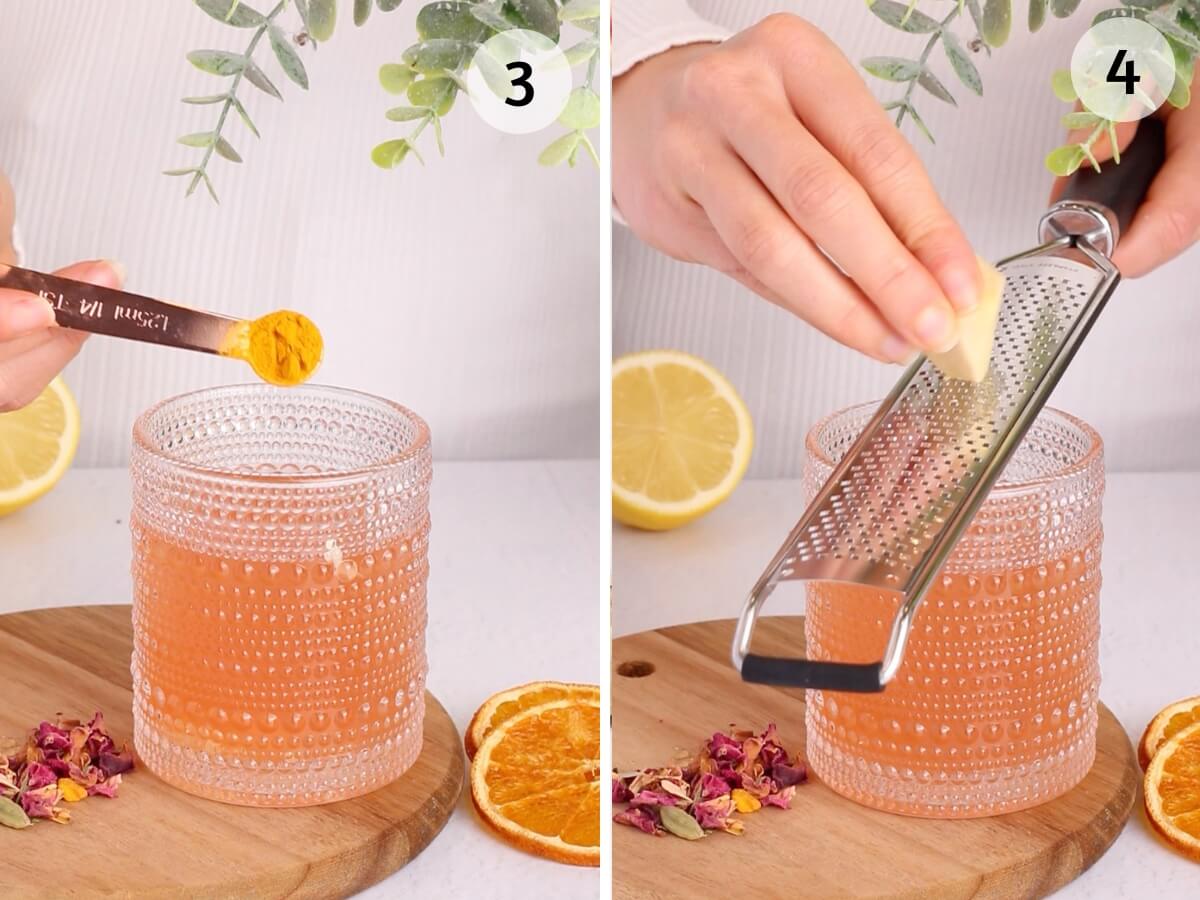 5. Shake with ice, then pour over ice into a short tumbler.
6. Garnish with dehydrated orange (optional).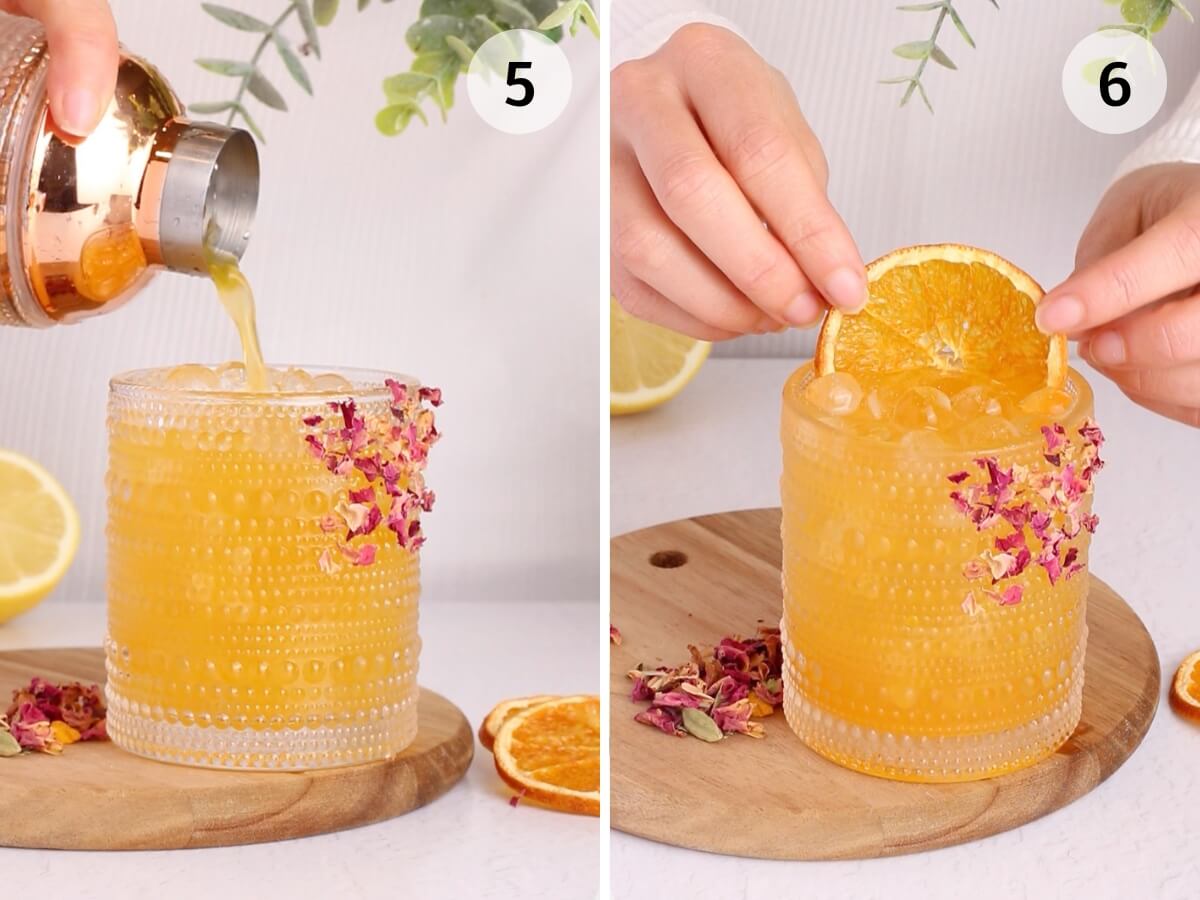 Optional: create a sugar and rose petal rim using 2 parts edible roses and 1 part sugar.
Frequently Asked Questions
Are mocktails healthy?
Mocktails can certainly be a healthy choice, it just depends on their ingredients and preparation. 
Let's not forget the fact they don't contain alcohol automatically makes them a healthier choice, but no one wants to abstain from alcohol just to replace it with sugary, unhealthy drinks.
The healthiness of a mocktail hinges on what goes into it. Choose mocktails that are made with fresh fruits, vegetables and herbs, that are low in sugar and don't contain a heap of simple syrups and bottled juice. It's the high sugar content that often gives mocktails a bad name, but we certainly have come a long way from a few years ago!
What are the benefits of turmeric and black pepper?
Turmeric with black pepper is a match made in (health) heaven! 
Turmeric contains curcumin, known for its anti-inflammatory and antioxidant properties, but its absorption is limited when consumed alone. 
Black pepper contains piperine, which enhances curcumin absorption by up to 2000%.
This combination offers enhanced anti-inflammatory effects and improved antioxidant benefits.
Expert Tips
When choosing an immune support tea, look for ingredients such as ginger, rose, rosehip, turmeric, lemongrass, ginkgo and/or hibiscus. 
Dehydrated orange

is easy to make and creates a gorgeous garnish for your healthy immune boosting mocktail.
I made a quick rose and sugar rim for my glass because I think pink and orange are a match made in heaven! I just crushed some dried edible rose petals in a mortar and pestle, then added a little sugar and mixed with my fingers. Rim your glass with orange or lemon, then press it into the rose mix. Simple and gorgeous!
Related recipes
Looking for more healthy mocktail recipes? Try these!
I hope you love this healthy mocktail as much as I enjoyed creating it!
Healthy Immune Boost Mocktail
Make this simple, healthy mocktail recipe when your body is in need of a nutritious immune boost.
Print
Pin
Rate
Ingredients
3

oz

immune boost tea of your choice

(see note 1)

1

teaspoon

honey

2

oz

pineapple or orange juice

1

oz

lemon juice

1

tablespoon

grated ginger

¼

teaspoon

ground turmeric

Pinch of black pepper
Instructions
Brew the tea and add the honey while the tea is still warm. Stir and chill.

Add the tea, juices, ginger, turmeric and pepper to a shaker with some ice and shake well.

Pour over ice into a short tumbler and garnish with a piece of orange and/or a rose sugar rim (see note 2).
Notes
Note 1: You can use an immune boosting tea of your choice for this recipe. These can be easily sourced online, in health food shops or in supermarkets and are often called 'Defence tea', 'Immune Boost Tea' or 'Immunity Tea'.
Note 2: Make an optional rose and sugar rim using 2 parts edible dried rose petals and 1 part sugar.
To do this, break up the rose petals a little using a mortar and pestle.
Add the sugar, then use your fingers to mix the rose petals and sugar together. 
Rim your glass with lemon or agave and firmly press the glass into the rose and sugar mixture. Simple and pretty!
Nutrition
Calories:
55
kcal
|
Carbohydrates:
14
g
|
Protein:
1
g
|
Fat:
0.2
g
|
Saturated Fat:
0.04
g
|
Polyunsaturated Fat:
0.04
g
|
Monounsaturated Fat:
0.03
g
|
Sodium:
1
mg
|
Potassium:
159
mg
|
Fiber:
0.3
g
|
Sugar:
11
g
|
Vitamin A:
115
IU
|
Vitamin C:
39
mg
|
Calcium:
9
mg
|
Iron:
0.4
mg
NUTRITIONAL VALUES ARE ESTIMATES ONLY AND DO NOT INCLUDE CARBS FROM SUGAR ALCOHOLS.