Cloudy apple juice and a dash of lemon juice give my vodka mocktail a delicious zing. Get out the shaker because this non-alcoholic vodka martini is best shaken, not stirred.
There's something special about serving a drink in a martini glass. It encourages you to sip and savor your drink. Plus, it just feels a little bit fancy.
Inspired by the appletini mocktail, my vodka mocktail can be served tart or sweetened to taste.
If you love non-alcoholic vodka or want to give it a try, this drink is a great place to start.
Best of all, if you're not quite ready to dive into the world of non-alcoholic spirits, I've got an inexpensive substitution.  You may already have it in your pantry!
This apple martini is perfect to serve on a special occasion. It's quick and easy to make so you'll be able to get back to your guests in no time.
You'll love this easy mocktail because it's:
Healthy: apple juice is packed with vitamin C. If you pick a cloudy version, you'll reap the benefits of increased polyphenols which help with inflammation. Select freshly squeezed if you can, so less goodness is lost in processing.
Easy: there are just a few simple ingredients and steps to make this mocktail. Simply squeeze, pour, shake, and serve. Tip: pre squeeze your lemon juice so you can easily make more drinks on demand.
Low in sugar: if you love the satisfying pucker of tart flavors, this recipe can be enjoyed without adding sugar. If you prefer a sweeter vodka mocktail, you can add a little sugar to taste. Monkfruit sweetener is a good choice for a lower sugar drink. However, you can use any sweetener of your choice.
WHEN WAS THE APPLETINI INVENTED?
The appletini is a recently new cocktail, having been invented in a bar in Los Angeles in the mid 1990's. The alcoholic version traditionally contains vodka and apple juice, an apple liqueur, or apple cider.
Even if you've never had an apple martini before, chances are you've heard of them. They've featured in TV shows such as Scrubs and The Social Network.
Neon green, super sugary and easy to drink. The original cocktail has become less popular as people have become mindful of sugar intake.
Luckily, my vodka mocktail makes the most of fresh, healthy ingredients. So, you can get that delicious apple hit without all of the sugar.
VODKA MOCKTAIL INGREDIENTS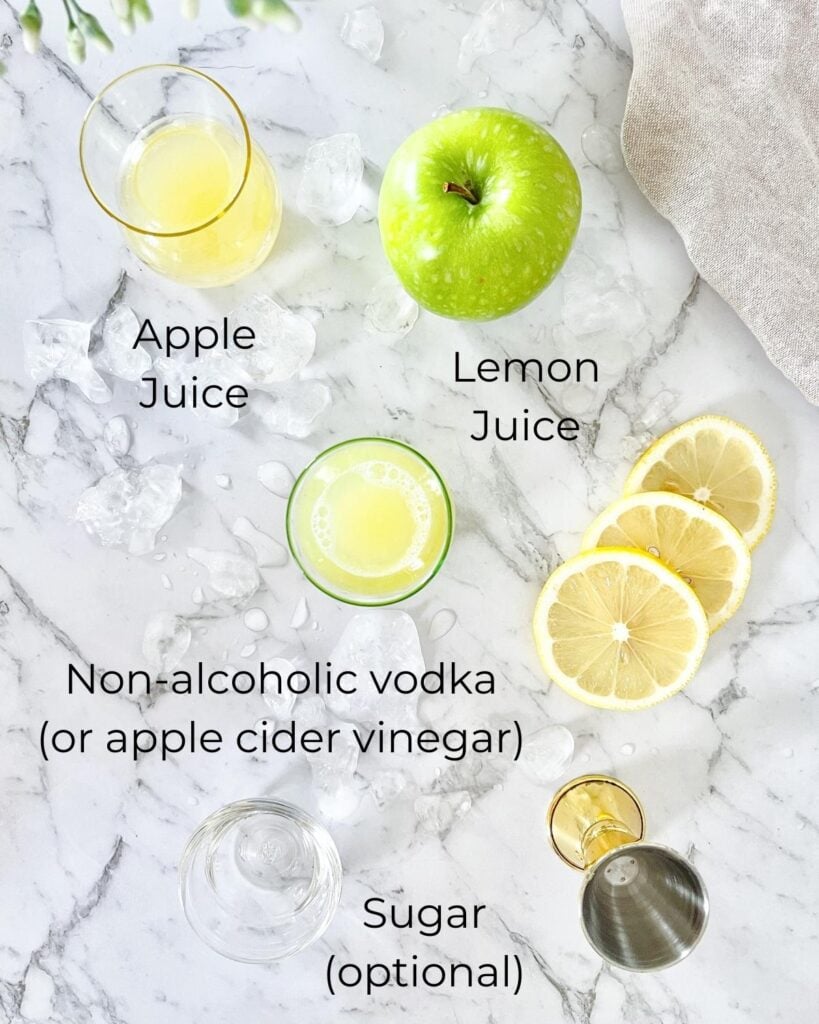 This non-alcoholic vodka recipe calls for easy to find ingredients that combine to make a tart and tasty drink. It's a perfect fall mocktail as apples come into season but can be enjoyed year-round.
Cloudy apple juice: cloudy apple juice is the barely sweet base of this mocktail. Cloudy juice retains more health benefits than clear juice so it's worth searching for.
Clear apple juice also works in this recipe if you can't find cloudy apple. However, it will be sweeter and have a different feel in your mouth.
Non-alcoholic vodka or apple cider vinegar: you might be surprised to learn that apple cider vinegar is an excellent substitute for alcohol-free vodka. Tart and acidic, it adds a wonderful bite to this recipe.
Tip: select an organic apple cider vinegar to make the most of its health benefits.
If you're using a spirit, it's useful to know that most alcohol-free vodkas rely on botanicals for their taste. There are plenty of choices on the market, and the range continues to grow. Keep the apple base of this vodka mocktail in mind.
Lemon juice: there's nothing quite like freshly squeezed lemon juice. It has a powerful tart flavor that bottled lemon juice can't quite compare to. Bottled juice works too if you can't get your hands on fresh lemons.
Sugar: if you prefer a sweeter cocktail, you may want to add sugar to taste. For a lower sugar vodka mocktail, replace sugar with your favorite sweetener. Monkfruit sweetener is a great option.
Tip: add sugar in increments and taste test from the shaker. This way you'll find the perfect balance of sweetness.
EQUIPMENT YOU'LL NEED
This mocktail recipe is as cool to mix as it is to drink. Best of all, it's easy to make, so you'll be sipping your vodka mocktail in no time.
Martini glass: the thin stem and wide rim of the martini glass ooze sophistication. Of course, your mocktail with vodka will taste just as good in any glass you have on hand. But, if you can find martini glasses, it will elevate the look.
Cocktail shaker: a cocktail shaker will ensure that your mocktail is well mixed and at the right temperature. If you don't have a shaker, any container with a tight lid will work. Mason jars, smoothie shakers and drink bottles are a good choice.
Citrus juicer: there's nothing quite like fresh lemon juice when it comes to mocktails. So, get out the juicer and get squeezing! If you're short on time or can't find lemons, you can use bottled juice. It won't have quite the same taste, so it's worth using fresh juice if you can.
Tip: batch squeeze lemons and freeze them in an ice cube mould. This way, you'll always have fresh lemon juice available.
HOW TO MAKE AN APPLETINI MOCKTAIL
Tart, tangy and ready in a few shakes. This vodka mocktail is easy to make, just:
Add all ingredients to an ice-filled cocktail shaker and shake well to combine.
Pour into a martini glass.
Garnish with an apple fan or apple slice and serve.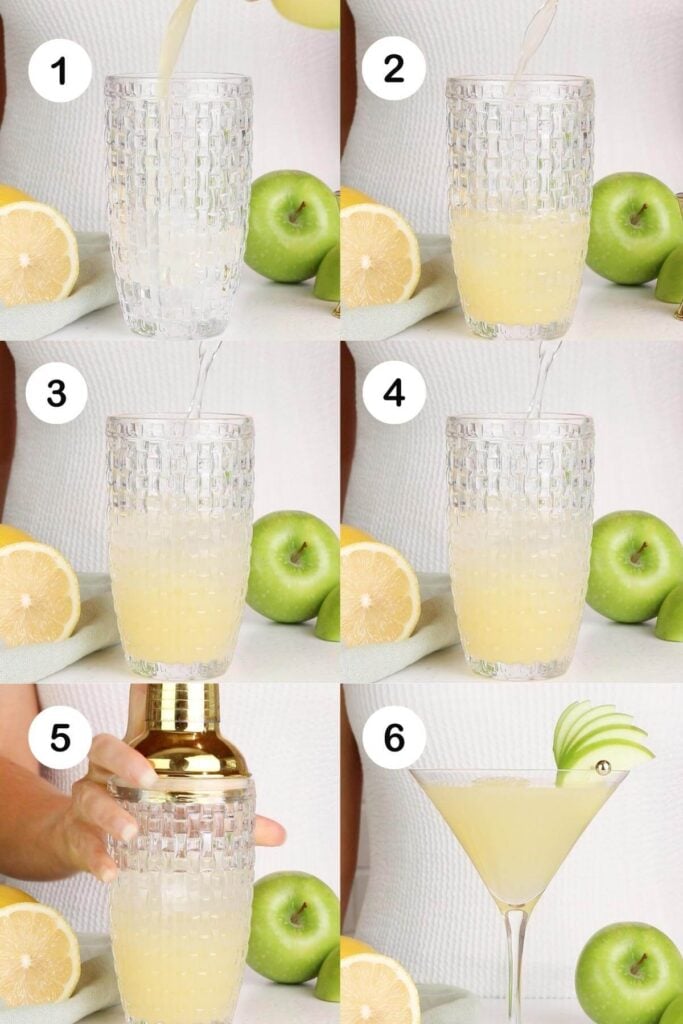 Frequently asked questions
Is there a non-alcoholic substitute for vodka?
There are several substitutes for traditional vodka. The great news is they work wonderfully in non- alcoholic vodka cocktails. 

There are many alcohol-free vodkas and spirits on the market. Each has its own flavor profile, so, it may take some experimentation until you find the one that's right for you.

An inexpensive option is to use apple cider vinegar. Because it's a byproduct of alcohol it's got some of the same characteristics. It adds a lovely acidic bite and is cheaper than non-alcoholic vodka. It's a great option if you'd like to make this vodka mocktail, but aren't ready to invest in non-alcoholic spirits just yet.

Lastly, (and bear with me on this one) some people suggest using boiled potato water. 
I haven't tried it myself. However, it's said that the potato water has some of the underlying flavors of vodka. Since vodka is often made from potatoes, I can see the connection.

Perhaps something to try the next time you boil some spuds!
Does a martini glass make a difference?
Aside from looking cool, the shape of a martini glass serves a purpose.

The long stem allows you to hold the glass without your body warming the drink.

And the inverted cone shape of the bowl allows the botanicals to disperse across the surface. This allows the softer flavors of the drink to shine through.
What can I use instead of a martini glass?
Drinks served in martini glasses generally don't contain ice.
My appletini mocktail is no different. Ideally, you want a glass that you can hold without warming your drink.\
The best substitute for a martini glass is a long-stemmed glass like a small wine glass or champagne flute. Even a fancy teacup could do the trick and look fabulous at a kitchen tea or the like!
If you love mocktails that cocktails have inspired, then you'll love these recipes:
I hope you enjoy this vodka mocktail as much as I enjoyed creating it!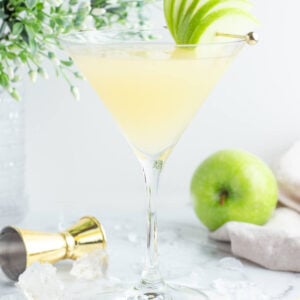 Vodka Mocktail
My non-alcoholic vodka martini is a healthy twist on the classic appletini.
Print
Pin
Rate
Ingredients
3

ounces

cloudy apple juice

1

ounce

freshly squeezed lemon juice

1

ounce

alcohol free vodka or 1 teaspoon apple cider vinegar

1

teaspoon

sugar or sweetener (optional)
Instructions
Add all ingredients to a shaker with a few cubes of ice and shake until combined.

Pour into a martini glass.

Garnish with an apple fan or apple slice and serve.
Notes
If you don't have a cocktail shaker, anything with a tight lid will work - I love using a mason jar or water bottle.
I love tart mocktails so I only add a pinch of sugar to this. If you're unsure, add the sugar or sweetener in increments and taste test from the shaker until you find your perfect balance.
Cloudy apple juice is healthier and tastier so I prefer to use it in this recipe. You can use regular apple juice if you prefer, just keep in mind the color and flavor will be different.
Nutrition
Serving:
200
mls
|
Calories:
45
kcal
|
Carbohydrates:
12
g
|
Protein:
1
g
|
Fat:
1
g
|
Saturated Fat:
1
g
|
Polyunsaturated Fat:
1
g
|
Monounsaturated Fat:
1
g
|
Sodium:
4
mg
|
Potassium:
115
mg
|
Fiber:
1
g
|
Sugar:
9
g
|
Vitamin A:
3
IU
|
Vitamin C:
12
mg
|
Calcium:
9
mg
|
Iron:
1
mg
NUTRITIONAL VALUES ARE ESTIMATES ONLY AND DO NOT INCLUDE CARBS FROM SUGAR ALCOHOLS.