this decadent christmas pudding mocktail can be made ahead of time and is the perfect non-alcoholic cocktail for the holidays.
So you love Christmas pudding? And you love mocktails? You are in for a treat with this Christmas pudding mocktail.
You are reading correctly. This non-alcoholic cocktail actually tastes like Christmas pudding!
It has a combination of pomegranate and cranberry juice, mixed fruit, spices and citrus.
Even better, it's easy to make and can be made a day or two ahead of time, so its one less thing to prepare on the day.
For those experiencing a white Christmas, this can be served hot in a big cosy mug. If you're looking for more Winter mocktails, my non-alcoholic mulled wine is perfect too.
If you'd prefer it cold, it is perfect served over ice with some extra orange slices. The more ice, the better! Prefer a sparkling version? Fill your glass with half of the mocktail recipe and top up with sparkling water. Non alcoholic sparkling champagne would also make it extra special.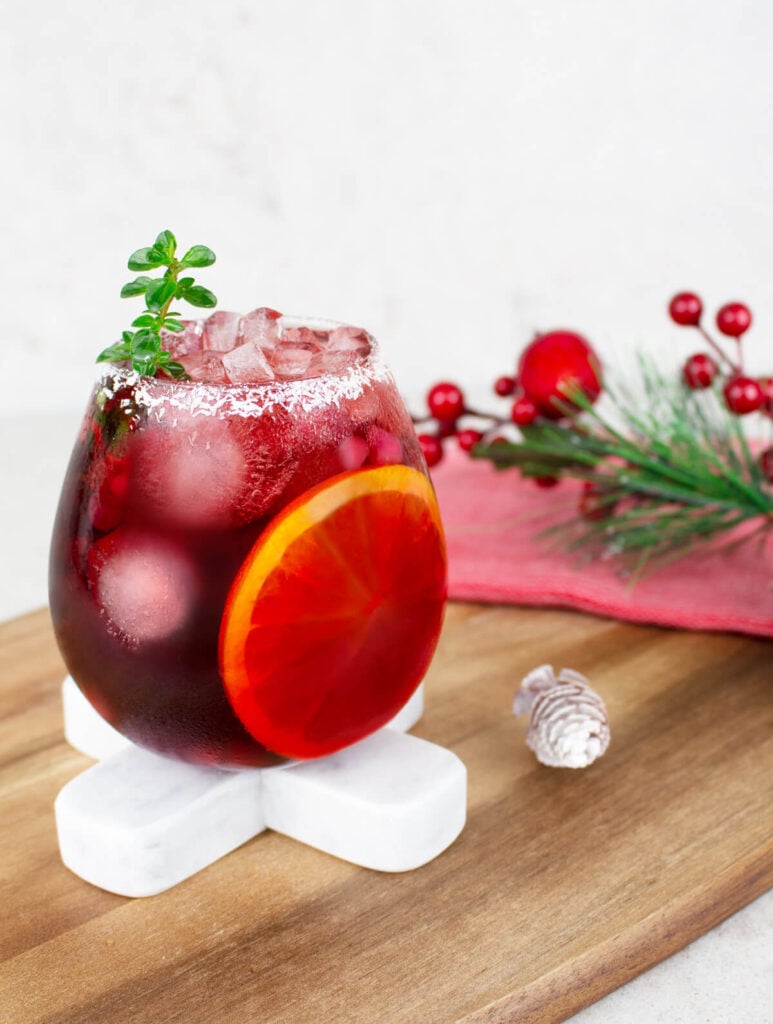 Christmas pudding mocktail ingredients
Cranberry juice: I always choose organic juice for my recipes where possible. A good grocer or supermarket is the best place to buy it.
Pomegranate juice: I personally love Bickfords or Sunraysia. Both have a 5 star health rating and taste delicious.
Dried mixed fruit: Usually found in the baking aisle, look for dried mixed fruit with orange and lemon rind if possible. If you can't find one with added rind, don't worry!
Fresh orange and lemon: These citrus fruits give the mocktail a beautiful flavour. When zesting, be sure to only remove the very top layer. If the skin goes really white, you've grated a little too far! Both the zest and the fruit is used for this drink. TIP: grate the zest before cutting the orange and lemon.
Cloves: I love Masterfoods whole cloves, but a clove is a clove - the brand really doesn't matter.
Mixed spice: This is also called pudding spice, or pumpkin pie spice, depending on where in the world you are from!
Nutmeg: This mocktail tastes amazing with fresh nutmeg, so use it if you have it. If not, the ground version is fine.
How to make the Christmas mocktail:
This recipe could not be easier to make, and can be made a day or 2 ahead of time.
Place all ingredients in a large jug or bowl.
Cover and leave overnight in the fridge. You can leave this for up to 2 days and it will still work perfectly.
Remove the larger pieces of fruit, then strain the mixture using cheesecloth. If you don't have cheesecloth, don't worry - a similar cotton replacement will do. Pillow cases and cotton tea towels work well.
Serve in a glass with ice for a cold version. Heat in the microwave for warm. Garnish with orange slices, herbs and/or a cinnamon stick! The coconut rim adds a little festivity too. Simply moisten the rim with orange or lime, then dip the glass in a shallow dish of coconut.
I hope you enjoy this Christmas pudding mocktail as much as I loved creating it!
Cheers!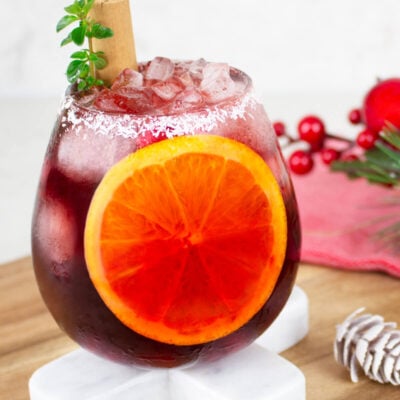 Christmas Pudding Mocktail
An easy mocktail that tastes just like Christmas Pudding.
Print
Pin
Rate
Ingredients
1

cup

Cranberry juice low sugar

1

cup

Pomegranate juice

½

cup

Dried mixed fruit

2

teaspoons

Orange zest

4

slices

Orange

1

teaspoon

Lemon zest

2

slices

Lemon

2

Whole cloves

½

teaspoon

Mixed spice

¼

teaspoon

Grated nutmeg (fresh or ground)

1

tablespoon

Fine desiccated coconut (for garnish)
Instructions
Place all ingredients in a large jug or bowl.

Cover and leave overnight in fridge.

Using a fine strainer (I recommend cheesecloth or similar) strain into a clean jug or glass.

Serve in a glass with lots of ice or heated in a mug. Garnish with a cinnamon stick, orange slice and greenery of your choice.
Nutrition
Serving:
1
cup
|
Calories:
92
kcal
|
Carbohydrates:
23
g
|
Protein:
1
g
|
Fat:
1
g
|
Saturated Fat:
1
g
|
Sodium:
13
mg
|
Potassium:
385
mg
|
Fiber:
2
g
|
Sugar:
20
g
|
Vitamin A:
63
IU
|
Vitamin C:
23
mg
|
Calcium:
41
mg
|
Iron:
1
mg
NUTRITIONAL VALUES ARE ESTIMATES ONLY AND DO NOT INCLUDE CARBS FROM SUGAR ALCOHOLS.