easy lime, orange and lemon salts for mocktails, hot dishes, salads AND MORE. A PERFECT BUDGET FRIENDLY, LOW WASTE GIFT.
This lime, orange and lemon salt is so easy and ideal to give as a special gift.
I use a lot of citrus in my mocktail recipes. I have been trying to reduce waste, and have been looking for ways to use the rind. It made complete sense to give citrus salts a go, because lemon, lime and orange feature frequently in my recipes.
Luckily, citrus salts are super easy and delicious. They make the perfect, budget friendly, thoughtful gift that anyone would love to receive. Or, do yourself a favour and keep them for yourself!
Or course, I made these salts with mocktails in mind. It's super handy having salts ready to go instead of having to make them from scratch every time. But i've also tried them in multiple other dishes and they are perfect for adding some extra flavour!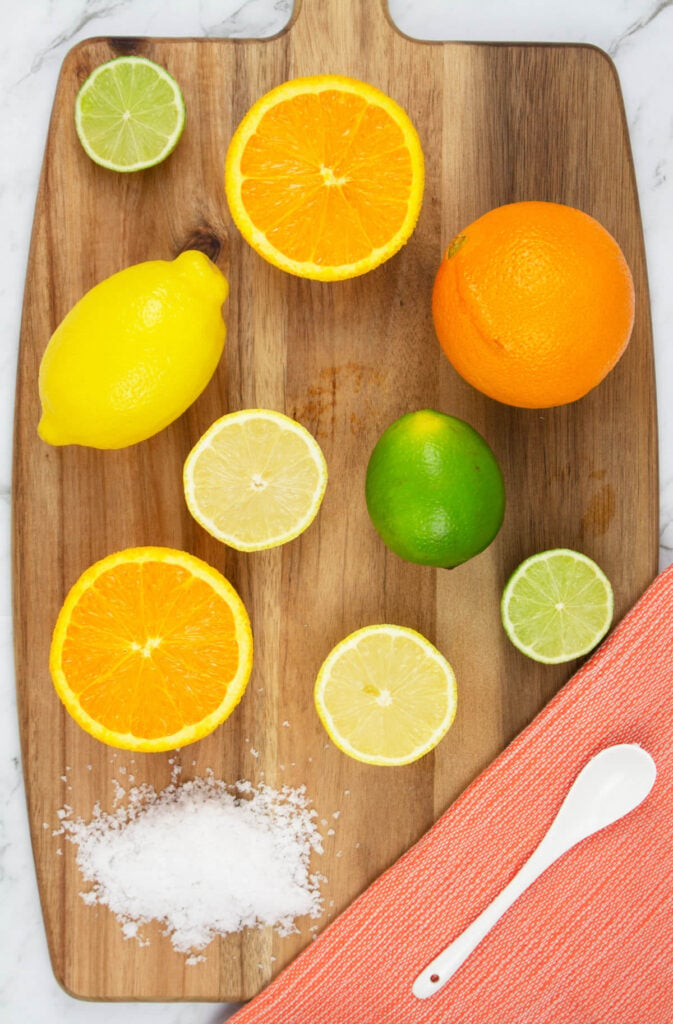 Lemon Salt: how to use it
The lemon salt is my favourite, so lets start there! If you're anything like me, you'll agree that lemon (and salt for that matter!) goes with just about anything.
I've tested these in a number of dishes, including:
Sprinkled on fish
On baked or steamed potato
Tossed through quinoa or rice
In homemade salad dressing with some olive oil and red wine vinegar - yum!
Lime salt dish recommendations
I am a huge fan of Asian inspired dishes, and the lime salt compliments these meals perfectly.
Give it a try:
Sprinkled on soba noodles
Mixed through fried rice
Scattered over salmon fillets - add a little ginger and soy and it is divine
In Asian style dressings with mirin, rice wine vinegar, soy and ginger
and of course, lime is a favourite as a rim for mocktails - I used it recently in my virgin cosmopolitan mocktail and it tastes divine!
The best dishes for orange salt
I find the orange salt quite strong so you only need to use it sparingly. I absolutely love it:
Scattered on chicken thighs or breast
Sprinkled (sparingly) on dark chocolate. Sounds odd but I promise, you are in for a treat. There is something about orange, salt and dark chocolate that just works
To season roast chicken and vegetables.
What type of salt should I use?
I recommend kosher or a high quality sea salt, especially if you will be using the salts to rim mocktail or cocktail glasses. Normal table salt does not taste great on it's own! If you're just using it for cooking, you could use normal salt, but I really do recommend a high quality salt - it tastes better and is much better for you!
How to make citrus salt
This barely even needs a recipe, it is so easy. Simply:
Zest the fruit using a fine grater/zester.
Add an equal amount of kosher salt or sea salt. If the salt is quite course, break it down a little using a morter and pestle before you add it to the zest.
Mix together with fingers (and enjoy that divine citrus scent as you do so).
Spread evenly on a paper towel or plate and leave for a night or two. Alternatively you could dehydrate in the oven at 125 degrees F/50 degrees C until zest is dried through (about 6-8 hours). I personally prefer to air dry it.
I hope you enjoy these lime, orange and lemon salts!
Lemon, Lime and Orange Citrus Salts
Easy citrus salts with lemon, lime and orange for baking and mocktails
Print
Pin
Rate
Ingredients
Equal amounts

citrus zest of your choice and high quality kosher or sea salt
Instructions
Zest the fruit using a fine grater/zester.

Add an equal amount of kosher salt or sea salt.

Mix together with fingers until well combined.

Spread evenly on a paper towel or plate and leave for a night or two (until zest is dry).

If you prefer a fine salt, use a mortar and pestle to crush to desired consistency.

Store in an airtight container for up to 6 - 8 months.
Video
Nutrition
Serving:
20
g
|
Sodium:
7752
mg
|
Potassium:
2
mg
|
Calcium:
5
mg
|
Iron:
1
mg
NUTRITIONAL VALUES ARE ESTIMATES ONLY AND DO NOT INCLUDE CARBS FROM SUGAR ALCOHOLS.