This gorgeous blood orange mocktail recipe is so simple to make and just divine to drink. With fresh blood orange juice, lime juice and your choice of alcohol free wine or ginger beer, you can whip this up in minutes.
I just had to make the most of blood orange season, so I bring you this deliciously easy and refreshing blood orange mocktail.
This recipe is:
Easy: with only 3 ingredients, you can make this virgin cocktail with no bartending experience needed.
Fast: make it under a minute. You don't even need a shaker, just assemble it right in the glass - it even saves the extra washing up!
Glorious to look at: oh blood orange, you are just so pretty. This divine colour reminds me of a spritz or something equally delicious. Garnish with something green for a special touch.
Has nutritional benefits: with freshly squeezed blood orange juice and lime, you'll get an extra kick of vitamin C in this easy mocktail.
If you live somewhere that is lucky enough to have blood oranges in season over Christmas, this alcohol-free cocktail would be a perfect festive drink.
But if not, no worries.
You can just freeze some fresh-squeezed blood orange juice into an ice cube tray and keep it in the freezer to make Christmas mocktails!
What are Blood Oranges?
As you can see from the photos, blood oranges look similar to any other orange on the outside.
But it's what's inside that counts here. When you slice open a blood orange, you'll see it has a deep red colour inside. The juice also comes out red, thanks to anthocyanin, a pigment that this fruit contains.
Because of that pigment, the colour develops when blood oranges ripen during warm days while the nights are cool. That's pretty neat!
And here's something else…blood oranges are usually easier to peel than other types of oranges. They tend to have fewer seeds too.
But they come with a warning - they make a mess! Avoid getting the juice near any porous material because it will stain.
What Do They Taste Like?
Blood oranges are also sweeter than those other oranges, which is why they are perfect for a non alcoholic cocktail. 
To describe the taste, I'd say they're less tangy than other oranges and are more floral with a hint of tartness in the flavour. Some say they taste like orange juice with raspberry or cranberry added in. Best of all, they're not sour so they are a wonderful fruit to use for any drink.
The juice comes out red so that's why it's a timely beverage to put on your Christmas gathering list. This would even be a great mocktail for kids (just be sure to use the ginger beer instead of the alcohol free wine).
How to Make a Blood Orange Mocktail
You'll only need 3 ingredients to make this delicious non alcoholic drink!
Blood orange juice: I always recommend freshly squeezed juice because it tastes the best! Of course you can squeeze it a couple of hours in advance if you like. This is especially handy if you're making it for guests.
Lime juice: again, I recommend freshly squeezed but if you only have bottled, that works too.
Alcohol free rosè or ginger beer: Personally I prefer this with alcohol free rosè to make it a true wine spritzer. But if you don't have any (or you like ginger beer better!), go for ginger beer. You could even try non-alcoholic white wine if you are feeling adventurous.
How to make it
First, you'll fill a large wine glass with ice. Add a fresh blood orange slice inside. Push it against the glass so it can be seen from the outside.
Next, add the blood orange juice followed by the lime juice and your alcohol-free Rosé. Then, stir it together gently. Before serving, grab a sprig of rosemary to garnish it for a pop of colour that puts red and green together for the holidays.
If you're not a fan or rosemary or can't find it, don't fret. Anything green will do here - try thyme, mint or even basil.
One last thing…don't forget to share this recipe if you love it. I hope you love this blood orange mocktail as much as I loved creating it.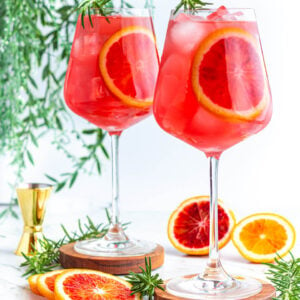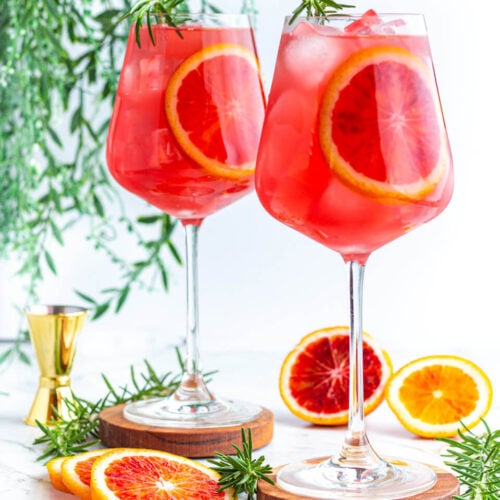 Easy Blood Orange Mocktail
This gorgeous blood orange mocktail recipe is so simple to make and just divine to drink. Perfect for Christmas or other special occasions.
Print
Pin
Rate
Ingredients
2

tablespoons

blood orange juice

freshly squeezed

1

tablespoon

lime juice

freshly squeezed

1

cup

alcohol free Rosé or alternative

see notes
Instructions
Fill a large wine glass with ice. Take a slice of blood orange and press it against the inside of the glass.

Add the blood orange juice, lime juice and alcohol free rosé (or alternative). Stir gently.

Garnish with a sprig of rosemary, thyme or mint.
Notes
You can replace the alcohol free wine with ginger beer or ginger ale if you prefer. Be mindful that the final colour of the drink will change.
Another option is a lime sparkling water or regular soda water.
The nutritional panel does not include the alcohol free Rosé, as these numbers vary too widely.
Nutrition
Serving:
250
g
|
Calories:
19
kcal
|
Carbohydrates:
5
g
|
Protein:
1
g
|
Fat:
1
g
|
Saturated Fat:
1
g
|
Polyunsaturated Fat:
1
g
|
Monounsaturated Fat:
1
g
|
Sodium:
1
mg
|
Potassium:
87
mg
|
Fiber:
1
g
|
Sugar:
2
g
|
Vitamin A:
77
IU
|
Vitamin C:
22
mg
|
Calcium:
6
mg
|
Iron:
1
mg
NUTRITIONAL VALUES ARE ESTIMATES ONLY AND DO NOT INCLUDE CARBS FROM SUGAR ALCOHOLS.